Sometimes The Big Idea is The Bad Idea
If the 20th century did nothing else, it can claim to have produced and given a warm howdy-doody to more of mankind's monumentally bad ideas than any other century in history. But from communism to marching on Moscow in winter to...
If the 20th century did nothing else, it can claim to have produced and given a warm howdy-doody to more of mankind's monumentally bad ideas than any other century in history.
But from communism to marching on Moscow in winter to running ads in Strategy using bloody-baseball-bat humour, bad ideas have a maddening way of only showing up in retrospect.
Bad ideas are a feature of The Human Condition, of course, as a few hours sitting around in small claims court will confirm. Furthermore, most humans get to exercise their bad ideas more or less in private, except in the case of particularly messy divorces.
But if you're the kind of guy or gal who gets involved in major land wars in Asia, or winds up having your bad ideas shot on 35mm film and run on television till the cows come home, you've got to exercise particular vigilance. You gotta spot those questionable calls and crush 'em before they turn really ugly and bite you on the ass.
Here's an example. A few years back, I was working with a guy who'd made millions by taking small, mom-and-pop operations and growing them into profit-spewing powerhouses through the application of sound business controls and disciplines.
He rang me one day and said he figured he'd nailed the next grassroots industry, and a candidate company within it, that could be turned into a bonanza with one wave of his business-acumen wand.
The industry was catering trucks. A bunch of lonely guys who peddle coffee and sandwiches and Export As on construction sites and plant parking lots until they run out of stale doughnuts and go home around three and watch All My Children. But he'd found a catering guy in a small Ontario market who was really gung ho about growing his business. The guy had a fleet of trucks that ran 10 or 12 hours a day with on-board computers and freshness controls and menu management and whatever. Simply buy into the outfit, infuse capital, roll out the concept internationally and springboard to success.
There's only one small problem said my friend. What's that? I asked. The name he replied. The guy won't change the company name for anything.
So what is it? There was a pause on the line. 'Stomach Man' he said.
So there it was. The bad idea. The small, raging tumour that was bound to rampage into some ghastly dog's breakfast of Crotchburgers and Armpit Salads before you'd have known what hit you. Sadly, but I believe wisely, he threw Stomach Man back.
You flip through the channels, and there's just so much stuff that sets off your alarm bells these days. Like the Domino's Pizza spot. The Meatsa Trio! Three fat guys in tuxedos doing cheesy impressions of The Three Tenors and bellowing A-SPICY-PEPPERONIIIIII!!! with their bulging eyes and wet, gaping mouths a few inches off the surface of the product. Yuck!
There's a spot running where a slightly fey cosmetic dentist admonishes us to inquire about having work done by dialing 1-800-NU MOUTH. The teeth are fine, but the mouth has to go! Ha Ha!
I guess if it really turns your crank, you can duct-tape a 65-pound dog around your neck and pull your clothing up over your head so somebody can button your shirt collar around the dog's neck and, if it doesn't scratch you to death or pee itself, you can run around the living room yelling LOOK I'M A DOG I'M A DOG! I am not kidding, somebody talked Honda into doing an Odyssey spot where people with dogs strapped to their heads sit in the car, wave from the car, read books in the car, drink pop in the car, and you sit there astounded and go what could they have been thinking?
I've given it a lot of thought for a commercial, and frankly I think it was a bad idea to bring Colonel Sanders back as a cartoon. Even if it was a good idea, it's the wrong cartoon. I mean he was a pretty weird old buzzard in the flesh, with the wispy Fu Man Chu beard and the cane and everything, but the cartoon version is a travesty. An unctuous, blustering hick! A pushy, corn-pone huckster. Would you buy a chicken from this cartoon?
You know, there used to be a chicken chain called The Red Barn. They had a cartoon spokeschicken. A rooster, in a tux. Why? Because their chicken was dignifried, that's why! But I'll tell ya, compared to this pallid, obsequious cartoon Colonel, the Red Barn rooster was Alistair Cooke.
If I told you that the makers of NyQuil had come up with a line extension called DayQuil, would you believe me? Yes? With that, I rest my case!
Barry Base creates advertising campaigns for a living. He writes this column to blow off steam, and as a thinly disguised lure to attract clients who may imagine working with him could be a productive and amusing experience. Barry can be reached at (416) 924-5533, or faxed at (416) 960-5255, at the Toronto office of Barry Base & Partners.
Meat and plant-based sales are both strong at Maple Leaf
Both priority areas performed well in the company's full-year results, helped by a boost in marketing for new products.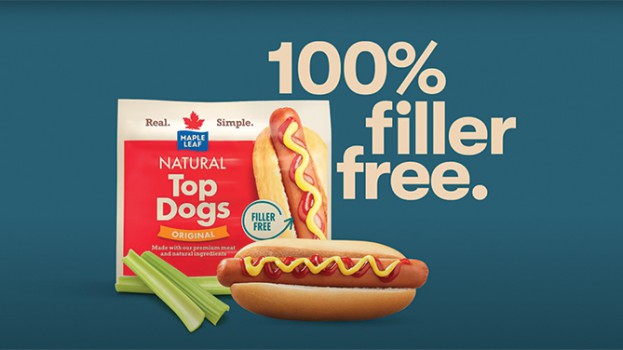 Maple Leaf Foods reported higher Q4 and full-year 2020 sales, driven by its sustainable meats and plant-based proteins. 

The CPG co. reported quarterly sales of $1.13 billion, up from $1.02 billion for Q4 2019, as well as net earnings of $25.4 million, compared to $17.5 million for the same period the year prior (an increase of 45.2%).

For full fiscal 2020, the company reported a total increase of 9.2% in sales, driven by what it says is "strong growth in both the meat and plant protein groups."

"We have repositioned our portfolio towards two high-growth categories now representing 20% of our annual sales generating a compounded growth rate in excess of 25% over the last three years," says Michael McCain, the company's president and CEO.

Meat protein group sales – comprised of prepared meats, ready-to-cook and ready-to-serve meals, snack kits, value-added fresh pork and poultry products that are sold to retail, foodservice and industrial channels, and agricultural operations – grew 11.3% for the quarter. 

Meanwhile, sales of plant protein products – refrigerated plant protein brands such as Lightlife and Field Roast, premium grain-based protein, and vegan cheese products sold to retail, foodservice and industrial channels – was up 5.5% over the same period. 

Sales growth for its meat portfolio was driven by "a favourable mix-shift towards sustainable meats and branded products," but also growth in exports to Asian markets, and pricing actions implemented to mitigate inflation and other structural cost increases, according to the company. Strong demand in the retail channel was offset by lower volume in foodservice as a result of COVID-19.

For its plant-based offerings, sales for 2020 were $210.8 million compared to $176.4 million last year, representing a growth of 19.5%, or 18.1% after excluding the impacts of foreign exchange. The segment was driven by expanded distribution of new products, continued volume increases in its existing portfolio, and pricing actions implemented to mitigate inflation and other structural cost increases.

SG&A expenses totalled $144 million for the plant group alone in 2020, with investments focused on advertising, promotion and marketing to build awareness, as well as supporting brand renovation and new product innovation. SG&A for meat proteins were $346.6 million for the full year, and the company says it expects SG&A levels and marketing investment in 2021 to be largely in line with where they were in 2020.

The company, which in 2019 announced it had gone carbon neutral, says it's amplifying this commitment while "focusing on eliminating waste in any resources it consumes, including food, energy, water, packaging, and time."