AOL, Time Warner deal spells end of 'old media'
Rob Young is a founding partner and senior vice-president, planning and research at Toronto-based Harrison, Young, Pesonen & Newell, one of Canada's largest media management operations. I've owned a Bugs Bunny mouse pad for years. That makes me a futurist...
Rob Young is a founding partner and senior vice-president, planning and research at Toronto-based Harrison, Young, Pesonen & Newell, one of Canada's largest media management operations.
I've owned a Bugs Bunny mouse pad for years.
That makes me a futurist because Bugs, that famous Time Warner icon, on a mouse pad, which symbolizes all things computer, new media and Internet, turns out to have been a most appropriate symbol of convergence. And I've been staring at it every working day, years before Steve Case and Gerald Levin had their recent and now famous meeting in China.
Bugs stands, carrot in hand, stoically dealing with the never-ending rolling of my mouse ball. It was a 'joke' pad, given to me by someone who thought I'd appreciate the comedic juxtaposition of an 'old media' Looney Tunes' character with a 'new media' accessory.
The joke came to an abrupt end on Jan. 10, 2000 around 8:30 a.m. (EST) when news about the AOL merger with – or is it acquisition of? – Time Warner was released.
The story hit like a bomb. Convergence might have talked the talk in 1999, but on Jan. 10, it walked the walk.
The AOL Time Warner merger was a huge story because it was one of those rare business deals involving two very high profile, consumer-based partners. Most North Americans are familiar with Netscape and Looney Tunes, so the story had meaning for a broad spectrum of the population.
The most fascinating question raised in the media coverage that followed related to the impact on consumers' day-to-day lives. Post-release conjecture ranged from 'little' to 'significant'. To my mind, if you want to understand the story's impact on our collective lives, simply examine how you became aware of the news in the first place.
Apparently, the first hint of the merger was posted in cyberspace at 1:54 p.m. EST, Sunday, Jan. 9 by cyber-reporter Minister 7X72001, who posted a message indicating that Ted Turner and AOL executives were meeting at a New York law office. Dow Jones Newswires broke the story about the proposed merger at 3 a.m. EST Monday, Jan. 10 and by 6:03 a.m., the news had become official. At 8:30 a.m., a press release was issued and Webcasts of the press conference were available through the morning.
You might have heard the news on your car radio or perhaps from people gathered at the fax machine in your office. The newspapers missed the story because of timing. For most of us, our examinations of this story, its background and its implications took place on the Internet.
AOL.com was my first stop. I listened to the analysts' conference call and watched the video stream of the press conference. I downloaded the corporate backgrounders for AOL and Time Warner and refreshed my understanding of the main divisions of each company. I then dialed up CNNfn.com (a Time Warner company) and examined both companies' annual reports. I read through a great Web article that compared the financial performance of the two organizations. I also tracked down a very useful report that identified other media companies that could be likely candidates for a similar strategic manoeuvre. I checked out each company's share prices and continued to track the process through the day. By midday, most of us had a full and complete grasp of the story, the competitive set and the deal's implications.
All of this knowledge and information came to us thanks to the very medium that was in the process of taking out one of the world's largest 'old media' companies.
Twenty-four hours later, the newspaper medium featured the story. Too late. By Tuesday, Jan. 11, there was nothing new to report. There were hundreds of newspaper column inches but little in the way of new knowledge devoted to the subject. Lots of 'paper' but not much 'news'. Such are the ways of the old media when dealing with a new media story.
The moral of this 'new' and 'old' media story and the implication of the AOL Time Warner development is this: When the quick and powerful connectivity provided by the new media converges with pertinent content – be it dramatic, fast-breaking news or entertainment – old media is rendered irrelevant.
So remember Jan. 10. It was the day they drove old media down.
Send your comments via e-mail to ryoung@hypn.com.
RBC, TD and Lululemon among most valuable brands
Once again, the financial institutions and apparel brand landed in Kantar's top 10 lists for their sectors.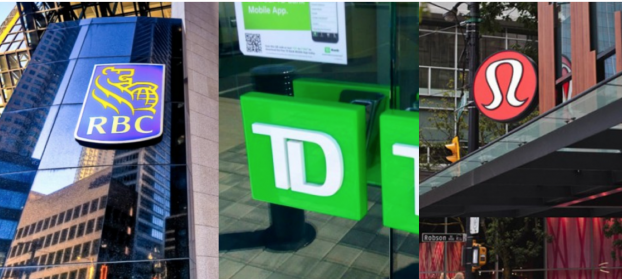 In the recently released 2022 edition of the Kantar BrandZ Top 100 Most Valuable Global Brands survey, several Canadian companies landed in the top rankings, namely in the financial institutions and apparel categories.
Two Canadian brands made an appearance in the survey's global banks rankings: RBC holds second position (57th overall), while TD ranks eighth (72nd overall), with brand values worth US$39.5 billion (up 43% from last year) and US$29.7 billion (up 47%), respectively. TD was among the fastest risers in the overall Top 100 survey, climbing 18 positions.
Lululemon takes fourth place as the most valuable apparel brand, behind Nike, Zara and Adidas. The Canadian athletic-wear company is valued at US$20.4 billion.
"Our 2022 rankings demonstrate both the resilience of our Canadian banking brands and their ability to create brand value by connecting with consumers to outperform other brands on the world stage," said Scott Megginson, president of Kantar Canada in a release. "They are leaders among brands in the global financial services sector and the number one position is coming within reach for RBC.
"It is also encouraging to see how Lululemon has continued to build brand value as people return to work," adds Megginson. "Its reputation for innovation, quality and reliability allows them to command a premium in the market."
Overall, Apple has landed in the #1 position and is projected to become the first trillion-dollar brand. It's brand value sits at US$947.1 billion, and is commended in the survey for its ongoing diversification strategy across its hardware, software and services portfolio. Apple moved up from second position in 2021.
Google has taken the second top spot, up one from the previous year, increasing its brand value by 79% to US$819.6 billion. In third place, Amazon dropped down two spots from last year's #1 position, and this year its brand value equates to US$705.6 billion.
In 2022, more than three quarters of brand value originated from U.S. companies, with media and entertainment, business solutions and technology providers and retail categories contributing to over half the total value of the Top 100.
According to Kantar, sector leaders emerged from a variety of industries, with technology and luxury brands growing the fastest – 46% for consumer technology and 45% for luxury. Automotive growth grew by 34%, and banks by 30%, compared to other sectors such as apparel at 20% and personal care by 17%.
Combined, the value of the world's Top 100 most valuable brands has increased by 23% to US$8.7 trillion in the last year. Set for release in October 2022, Kantar will rank Canada's top 40 most valuable brands, along with reports and insights for its market.