Seagull Pewter sells at shows
Everyone's heard the clichés before. 'We're living today in a world without borders.' 'There is no such thing as a Canadian company anymore.' 'The whole world is our marketplace now.' But what, exactly, does all of this mean in terms of...
Everyone's heard the clichés before.
'We're living today in a world without borders.' 'There is no such thing as a Canadian company anymore.' 'The whole world is our marketplace now.'
But what, exactly, does all of this mean in terms of concrete, day-to-day reality? What do Canadian firms go through in the effort to market their products and services internationally? How do they build brands on a global basis? What are the challenges – and the rewards?
For this special report, Strategy's writers profile the global marketing activities of several noteworthy Canadian companies.
When Seagull Pewter began marketing its products in the U.S., it had just one small problem to contend with: At the time, most people had no idea what the hell pewter is.
'No one had ever used pewter in any other way, except to make Paul Revere bowls,' says Harry Moore, marketing and merchandise manager with the Pugwash, N.S.-based company.
A family-run operation, Seagull produces an extensive line of fine pewter giftware, including picture frames, candleholders, flatware and ornaments. By 1983, the company was enjoying success here in Canada, and had decided to make a move into the U.S. market.
Undaunted by consumer unfamiliarity with the product category, Seagull began to make its presence felt at major U.S. giftware shows. 'That's a significant step,' Moore says. 'But there wasn't a place we showed where people didn't have a tremendous response to the product line.'
Today, Seagull Pewter does business in Canada, the U.S. and more than 20 other territories around the world, including Australia, the U.K., Scandinavia, France, Germany, Japan, Israel, Italy, Mexico, Chile, Argentina and South Africa.
The company handles all North American distribution in-house, and works with a number of independent distributors to get product into other markets. In the U.S., regional sales representatives are hired to sign up retail customers. (Finding enthusiastic reps has never been a problem, Moore says. Indeed, within five years of its initial push into the U.S., Seagull had 48 states covered.)
With the North American giftware market now growing increasingly crowded and competitive, Seagull Pewter intends to adopt a more aggressive stance in the U.S.
Moore says the plan is to reposition the company as a 'design-based' firm, rather than simply a maker of pewter products. It will drop the word 'Pewter' from its name, and adopt a new tagline: 'Design for life.'
'Good designs always sell,' he explains. 'It doesn't matter if it's made of pewter, glass, nickel or garbage – if it's good design, it sells. So we want to build our design story. That's how we're branding the company.'
Seagull will continue to advertise on a modest scale in consumer and trade publications, Moore says. It will also expand its participation in trade shows.
The company has long been a fixture at gift and tableware shows in North America and abroad, he notes – and there's no reason Seagull shouldn't take part in other types of shows as well. 'Why wouldn't we go to the National Stationery Show? We have a lot of office-related products.'
In addition, Seagull is in the process of re-evaluating its pricing. That's a particularly critical factor in the U.S. market, Moore says, where the company must compete both with offshore importers and larger discount retailers.
Also in this report:
- Tim Hortons issues wakeup call: Builds underdeveloped breakfast category p.25
- Faces adapts to local market: Cosmetics retailer leverages awareness of cultural differences p.25
- Honeydew pegs future on U.S. sales p.26
- Buckley's takes bad taste message abroad: Cough syrup marketer making steady inroads in U.S. and overseas p.27
- Great Canadian Bagel makes slow but sure gains in Moscow p.27
- Southbrook Farms and Winery proves its worth abroad: Ontario winemaker uses foreign success to boost sales at home p.28
- Clearly Canadian launches in U.S. first p.28
RBC, TD and Lululemon among most valuable brands
Once again, the financial institutions and apparel brand landed in Kantar's top 10 lists for their sectors.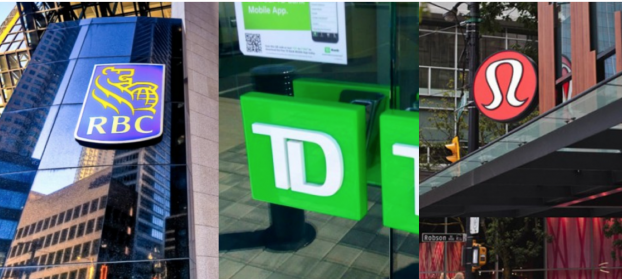 In the recently released 2022 edition of the Kantar BrandZ Top 100 Most Valuable Global Brands survey, several Canadian companies landed in the top rankings, namely in the financial institutions and apparel categories.
Two Canadian brands made an appearance in the survey's global banks rankings: RBC holds second position (57th overall), while TD ranks eighth (72nd overall), with brand values worth US$39.5 billion (up 43% from last year) and US$29.7 billion (up 47%), respectively. TD was among the fastest risers in the overall Top 100 survey, climbing 18 positions.
Lululemon takes fourth place as the most valuable apparel brand, behind Nike, Zara and Adidas. The Canadian athletic-wear company is valued at US$20.4 billion.
"Our 2022 rankings demonstrate both the resilience of our Canadian banking brands and their ability to create brand value by connecting with consumers to outperform other brands on the world stage," said Scott Megginson, president of Kantar Canada in a release. "They are leaders among brands in the global financial services sector and the number one position is coming within reach for RBC.
"It is also encouraging to see how Lululemon has continued to build brand value as people return to work," adds Megginson. "Its reputation for innovation, quality and reliability allows them to command a premium in the market."
Overall, Apple has landed in the #1 position and is projected to become the first trillion-dollar brand. It's brand value sits at US$947.1 billion, and is commended in the survey for its ongoing diversification strategy across its hardware, software and services portfolio. Apple moved up from second position in 2021.
Google has taken the second top spot, up one from the previous year, increasing its brand value by 79% to US$819.6 billion. In third place, Amazon dropped down two spots from last year's #1 position, and this year its brand value equates to US$705.6 billion.
In 2022, more than three quarters of brand value originated from U.S. companies, with media and entertainment, business solutions and technology providers and retail categories contributing to over half the total value of the Top 100.
According to Kantar, sector leaders emerged from a variety of industries, with technology and luxury brands growing the fastest – 46% for consumer technology and 45% for luxury. Automotive growth grew by 34%, and banks by 30%, compared to other sectors such as apparel at 20% and personal care by 17%.
Combined, the value of the world's Top 100 most valuable brands has increased by 23% to US$8.7 trillion in the last year. Set for release in October 2022, Kantar will rank Canada's top 40 most valuable brands, along with reports and insights for its market.