Braemar embarks on repositioning
With an eye to reversing its sagging fortunes, women's clothing retailer Braemar is eliminating national brands from its inventory and concentrating its efforts exclusively on its own private label product. Analysts, however, say the company will face a major challenge to...
With an eye to reversing its sagging fortunes, women's clothing retailer Braemar is eliminating national brands from its inventory and concentrating its efforts exclusively on its own private label product. Analysts, however, say the company will face a major challenge to brand itself as a fashion destination.
Although Braemar's strategy incorporates a new store design and advertising campaign, the foundation of the repositioning is the chain's move away from national labels, which used to comprise about half its inventory. In fact, the company is aiming to have nothing but its 'Braemar' private label in stock come fall.
'Our position is we're going to produce a really good private label product for women,' says Margaret Cooper, who joined the company as marketing director less than a year ago. 'We don't carry everyone else's product that we mark up just to mark down, because everyone's playing that game.'
So rather than compete with department stores to sell big-name brands like Liz Claiborne and Louben, Braemar will attempt to sell on the basis of its own name. However, the chain's own research indicates that it is clearly not a fashion leader – it has a good name for quality, say the company's customers, but it's stuck in the '80s.
One retail analyst calls the repositioning 'dangerous' and says she doubts whether Braemar can pull it off.
'To build a brand takes a lot of time, a lot of expense and a lot of advertising. You have to be fashion leaders,' says Wendy Evans, president of Toronto-based retail marketing consultancy Evans & Company. 'Somebody like the Gap has 300 suppliers and have their garments made all around the world. They've got design people in New York and they're travelling all around Europe. I'd doubt very much that Braemar has the resources to do that. I think this is a big leap and it doesn't allow for much flexibility.'
Late last summer, Braemar called in Andy Macaulay and his new Toronto agency, Zig, to help it fashion a new brand identity. One key goal, says Macaulay, was to avoid making a radical jump without bringing the core customer – 35 to 50-year-old women – along for the ride. He adds they didn't want to make the same mistakes Tip Top – another Dylex division – did with its failed repositioning.
The core of the campaign is direct mail, which targets Braemar's database of 250,000 regular customers. Creative ranges from postcards to catalogues, and has a dual message, Macaulay says.
'There's always an of-the-moment message, which is generally related to a fashion season, but the backdrop of it is an impression we're trying to leave of a more modern, more stylish and more friendly Braemar,' he says.
In-store posters featuring the new line have been integrated into window displays that have been likened to those of the Gap. But Braemar has taken a different tack, choosing not to show people in the clothes. Cooper says that's so customers can imagine themselves in the clothes rather than some '20-year-old skipping along the beach in something that looks great on her.'
Macaulay admits a repositioning of this kind can't be done with posters and direct mail alone, but won't say where the campaign is headed. The initial stage, he says, is to ensure the core customer will tag along, before the company embarks on a hunt for new customers.
Designs of the three prototype stores round out the repositioning with lighter fixtures, more wood, glass and brushed stainless steel, 'limestoney' concrete floors and variable lighting in the change rooms. The lighting, says Cooper, has two settings to allow customers to see an outfit as it would appear in the office and out on the town.
RBC, TD and Lululemon among most valuable brands
Once again, the financial institutions and apparel brand landed in Kantar's top 10 lists for their sectors.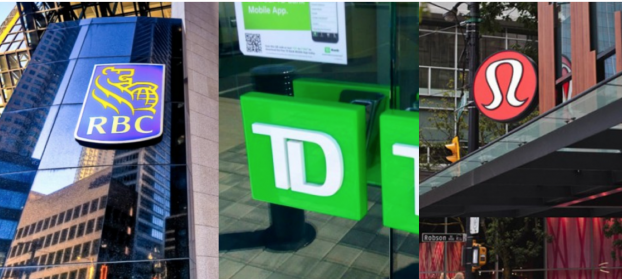 In the recently released 2022 edition of the Kantar BrandZ Top 100 Most Valuable Global Brands survey, several Canadian companies landed in the top rankings, namely in the financial institutions and apparel categories.
Two Canadian brands made an appearance in the survey's global banks rankings: RBC holds second position (57th overall), while TD ranks eighth (72nd overall), with brand values worth US$39.5 billion (up 43% from last year) and US$29.7 billion (up 47%), respectively. TD was among the fastest risers in the overall Top 100 survey, climbing 18 positions.
Lululemon takes fourth place as the most valuable apparel brand, behind Nike, Zara and Adidas. The Canadian athletic-wear company is valued at US$20.4 billion.
"Our 2022 rankings demonstrate both the resilience of our Canadian banking brands and their ability to create brand value by connecting with consumers to outperform other brands on the world stage," said Scott Megginson, president of Kantar Canada in a release. "They are leaders among brands in the global financial services sector and the number one position is coming within reach for RBC.
"It is also encouraging to see how Lululemon has continued to build brand value as people return to work," adds Megginson. "Its reputation for innovation, quality and reliability allows them to command a premium in the market."
Overall, Apple has landed in the #1 position and is projected to become the first trillion-dollar brand. It's brand value sits at US$947.1 billion, and is commended in the survey for its ongoing diversification strategy across its hardware, software and services portfolio. Apple moved up from second position in 2021.
Google has taken the second top spot, up one from the previous year, increasing its brand value by 79% to US$819.6 billion. In third place, Amazon dropped down two spots from last year's #1 position, and this year its brand value equates to US$705.6 billion.
In 2022, more than three quarters of brand value originated from U.S. companies, with media and entertainment, business solutions and technology providers and retail categories contributing to over half the total value of the Top 100.
According to Kantar, sector leaders emerged from a variety of industries, with technology and luxury brands growing the fastest – 46% for consumer technology and 45% for luxury. Automotive growth grew by 34%, and banks by 30%, compared to other sectors such as apparel at 20% and personal care by 17%.
Combined, the value of the world's Top 100 most valuable brands has increased by 23% to US$8.7 trillion in the last year. Set for release in October 2022, Kantar will rank Canada's top 40 most valuable brands, along with reports and insights for its market.