Stop the presses: Dailies are changing
Karen Sayed and Fiona Gallagher are, respectively, associate media director and senior vice-president, media director, with TN Media in Toronto. If that old adage 'Change is good' really is true, then this must be a great time for newspapers. Not...
Karen Sayed and Fiona Gallagher are, respectively, associate media director and senior vice-president, media director, with TN Media in Toronto.
If that old adage 'Change is good' really is true, then this must be a great time for newspapers. Not only are publications experiencing significant changes within their own medium – they are also confronting the enormous changes that have affected all media.
Within the newspaper arena, we have seen the debut of a major new competitor on the national level, which in turn has led many existing papers to refocus their efforts. At the same time, we have witnessed the advent of online technology, which – among many other things – has opened up new options for delivering and receiving news.
Newspaper today just isn't the same medium we grew up with.
The ways in which both consumers and advertisers use papers are changing. And it stands to reason that the old ways of selling the medium no longer apply, either.
When the National Post arrived on the scene, it very quickly became a force, particularly in the business press arena. No longer can the players in this category enjoy the luxury of simply acting as order-takers.
This spells good news for advertisers interested in a business audience.
Last summer, for example, our client TD Green Line set about relaunching under the new name TD Waterhouse. Business newspaper was, obviously, the ideal medium for promoting the relaunch: It was targeted, and offered flexibility with respect to the start date – a key factor in this situation. And, if you agree that the medium is the message, then newspaper advertising clearly heightened the 'newsworthiness' of the whole initiative.
The challenge was finding a way to break through, in the busy environment of the business pages, and communicate clearly the new TSE symbol for the TD Waterhouse brand – TWE. To this end, TN Media briefed all of the major dailies and gave them carte blanche to propose impact units and/or positionings suited to this kind of launch.
It was the National Post that came up with the concept of stock page shadowing, whereby the 'TWE' symbol would be shaded in green into the actual stock listings. Coupled with a banner ad carefully positioned at the bottom of the same page, this would immediately communicate all the information potential investors needed to participate in the public offering.
The idea was mocked up and taken to the client, who embraced it wholeheartedly. Other dailies were then asked if they could incorporate it into their own proposals, and they quickly agreed. Clearly, the 'can-do' attitude promoted by the Post is creating opportunities for advertisers to make more creative use of the newspaper medium.
Indeed, whether you attribute it to competitive pressures or the impact of new media, newspapers have become increasingly willing to depart from the tried and true.
Recently, for example, we attempted to purchase space in a major daily to support TD Bank loan products. Our parameters included positioning within the automotive section. We believe that the positioning of our ads is an important component in the value equation, and one of the keys to ensuring the effectiveness of our clients' campaigns. We also believe that the environment is one of the major strengths of the newspaper medium – something that papers should be leveraging to attract advertisers.
We were therefore understandably surprised when the newspaper in question informed us that, as a matter of policy, the automotive section was reserved exclusively for car dealership advertisers.
TN Media challenged the policy, encouraging the paper to consider the larger purpose of the section: to provide an information resource that helps readers make informed car purchase decisions. Clearly, our client's message would work to that end.
In the past, it is quite likely that the newspaper would have been unbending in its policy. But in a marketplace where readers can gather information from so many new sources, and advertisers have such a wide range of new vehicles for reaching their targets, inflexibility just isn't an option anymore. The paper agreed that it was time to rethink its policies, and positioned our ad in the requested section.
The multi-faceted changes that newspapers are experiencing have an effect on everything we do in the medium. We are continuing to push the boundaries, and the newspapers are responding.
Certainly we believe that change is good. It is encouraging the development of exciting new strategies and solutions – and that's good for all of us.
Also in this report:
- Launch of Post good news for advertisers: Upstart daily has jump-started the industry, prompting offers of better rates, bonus ads and new loyalty programs p.NP3
- Picture perfect: It's obvious that visually driven creative works well in newspaper. So why don't more advertisers use it? p.NP5
- Telcos reward readers with a laugh: MTT and Bell Mobility employ unusual formats to nab attention p.NP6
- Savingumoney.com builds awareness offline: Coupon portal uses newspapers as linchpin of media strategy p.NP7
- Cadillac takes the long view: Used frequency of newspaper creatively by telling a different story every week p.NP10
- Edmonton Journal: Time for a change: Daily goes for a facelift p.NP10
- Whistler taps fast turnaround times: Newspaper lets ski resort react quickly to changing circumstances p.NP13
- Talvest co-brands funds with FP Index: Helped Montreal financial services provider to crack Ontario market p.NP14
Meat and plant-based sales are both strong at Maple Leaf
Both priority areas performed well in the company's full-year results, helped by a boost in marketing for new products.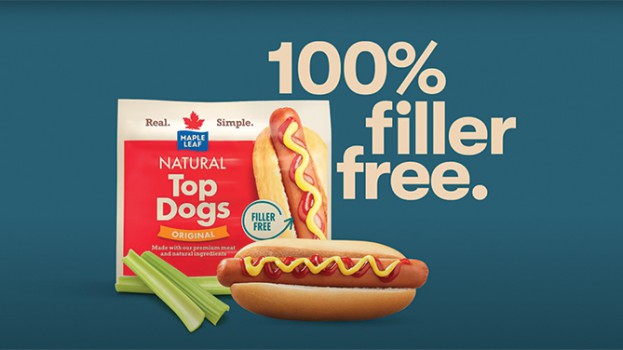 Maple Leaf Foods reported higher Q4 and full-year 2020 sales, driven by its sustainable meats and plant-based proteins. 

The CPG co. reported quarterly sales of $1.13 billion, up from $1.02 billion for Q4 2019, as well as net earnings of $25.4 million, compared to $17.5 million for the same period the year prior (an increase of 45.2%).

For full fiscal 2020, the company reported a total increase of 9.2% in sales, driven by what it says is "strong growth in both the meat and plant protein groups."

"We have repositioned our portfolio towards two high-growth categories now representing 20% of our annual sales generating a compounded growth rate in excess of 25% over the last three years," says Michael McCain, the company's president and CEO.

Meat protein group sales – comprised of prepared meats, ready-to-cook and ready-to-serve meals, snack kits, value-added fresh pork and poultry products that are sold to retail, foodservice and industrial channels, and agricultural operations – grew 11.3% for the quarter. 

Meanwhile, sales of plant protein products – refrigerated plant protein brands such as Lightlife and Field Roast, premium grain-based protein, and vegan cheese products sold to retail, foodservice and industrial channels – was up 5.5% over the same period. 

Sales growth for its meat portfolio was driven by "a favourable mix-shift towards sustainable meats and branded products," but also growth in exports to Asian markets, and pricing actions implemented to mitigate inflation and other structural cost increases, according to the company. Strong demand in the retail channel was offset by lower volume in foodservice as a result of COVID-19.

For its plant-based offerings, sales for 2020 were $210.8 million compared to $176.4 million last year, representing a growth of 19.5%, or 18.1% after excluding the impacts of foreign exchange. The segment was driven by expanded distribution of new products, continued volume increases in its existing portfolio, and pricing actions implemented to mitigate inflation and other structural cost increases.

SG&A expenses totalled $144 million for the plant group alone in 2020, with investments focused on advertising, promotion and marketing to build awareness, as well as supporting brand renovation and new product innovation. SG&A for meat proteins were $346.6 million for the full year, and the company says it expects SG&A levels and marketing investment in 2021 to be largely in line with where they were in 2020.

The company, which in 2019 announced it had gone carbon neutral, says it's amplifying this commitment while "focusing on eliminating waste in any resources it consumes, including food, energy, water, packaging, and time."