Overview
Most marketers are keenly aware that the digital age is not only revolutionizing how agencies are servicing their clients, but the very heart and soul of traditional marketing communications. The speed and dynamism of the change, locally and globally, is breath-taking...
Most marketers are keenly aware that the digital age is not only revolutionizing how agencies are servicing their clients, but the very heart and soul of traditional marketing communications.
The speed and dynamism of the change, locally and globally, is breath-taking and unprecedented. Marketers, who sell their expertise in spotting and exploiting consumer and media trends better than their competitors, are being challenged like never before to predict the future – ironically, a future that is perhaps harder than ever to predict.
While no one person claims to know exactly where it's all headed, the three agencies profiled in this supplement – one small, one medium-sized, and one multi-national – have forged their own ideas about what it means to be a smart, strategic marketer in a new millennium – a world where the consumer is king, media channels are proliferating like rabbits, and bottom line accountability is an ever-increasingly reality.
According to Aldo Cundari, CEO of Toronto-based Cundari Integrated Advertising, a 40-person shop he founded 20 years ago, in the near future there will be virtually no limitations to what marketers can send down the media piplines and the degree of interaction possible with consumers.
'Customer segmentation, profiling, and technological interaction are going to be integral to any form of business' he maintains. 'If you don't forge a real dialogue with consumers on a massive scale, customize programs and products for individual needs and anticipate them in advance, your brand will die.'
The current, ongoing expansion and convergence of media channels, ensuring there is enough room for large amounts of information to traffic back and forth between marketers and consumers, is paving the way to a not-too-distant world where, for example, 'smart fridges' will digitally monitor your food consumption and preferences, build a personalized customer profile, and respond accordingly. The smartest agencies, Cundari believes, will focus on how to creatively and strategically drive consumer traffic and then convert it into ideas that generate revenue; everything else will automatically fall into place.
In this brave new, one-on-one world, Cundari says that proven, traditional principles of advertising – appealing to the head, heart and gut of the consumer with smart creative – will remain constant; the ways of how to best reach them have simply grown richer and more sophisticated. And that means agencies have to be more versatile than ever before.
Rapp Collins Worldwide, with its strong history in direct marketing in Canada, feels it is uniquely positioned to capitalize on the
current revolution in marketing communications.
'With the onslaught of on-line marketing, we're finding that established direct marketing disciplines are now surfacing across the board for entirely new reasons' says Terry Hughes, Chairman and CEO of RCW. 'The tail is now wagging the dog. It's having a cascading influence from the clicks-and-mortar back to the bricks-and-mortar businesses. We're seeing a communications environment that is rapidly changing to demanding measurable accountability, which I think is the single most surprising development in our industry over the past few years. We're in the middle of a great sea change.'
The democratizing dynamism of the internet is also rapidly re-defining who owns the brand. 'More than ever, the customer is in control today' says Rob Morgan, RCW's Executive Vice-President. 'You need to understand consumers multi-dimensionally – behaviourally, attitudinally, financially – or else you can't service them properly. What we do for clients at the end state is what sets us apart because our heritage has always been about measuring and proving the value of our work.' Rooted in the art and science of managing their clients' customer franchises, RCW's proprietary methodology, Morgan says, is 'uniquely sustainable because of its built-in accountability component.'
Richard Truman, owner, CEO and Creative Director of Campaign House Worldwide, prides himself for not having sold out to the 'media-monster, cookie cutter media plan.' His 18-person agency's flat structure, cutting through the bureaucratic red tape of larger organizations, allows him to form direct, strategic partnerships with his clients that ultimately save time and money.
Wholly Canadian-owned, Campaign House can meet marketing challenges in dozens of major world markets: 'With one simple conference call, we can give our clients all the advantages of marketing globally' says Truman, whose early training in advertising began in Africa. 'That's an advantage that no Canadian multinational could pretend to have.'
Specializing in marketing to the Over-50 demographic, the single most affluent segment in Canada, Truman believes there's a myth in advertising that clients routinely kill superior creative ideas because they can't appreciate how great they are.
'Creating good advertising is demanding and difficult, but sometimes not as demanding and difficult as evaluating campaigns and approving them to run' he says. 'The hardest thing in advertising is saying OK to an ad that somebody else has created.'
Truman says any successful campaign is composed of an integrated amalgam of pieces of special expertise in which no one piece is dominant. 'We are what clients ask for' he claims. 'That means bringing strategic experience, delivering on an agreed positioning and strategy, having outstanding creative, acting quickly, and costing at least 50% less than the multi-nationals – and we've brought the fun back into the business, too.'
Also in this sponsored supplement:
- Rapp Collins Worldwide: Taking its heritage in knowledge and customer-centric marketing to higher ground p.S14
- Cundari Integrated Advertising: Head, heart and gut p.S15
- Campaign House Worldwide: The hardest thing in advertising is saying OK to an ad somebody else has created p.S16
Zulu grows its team and makes a slate of promotions
A director of interactive production for Zulubot is among dozens of new faces and roles at the agency, in response to recent wins.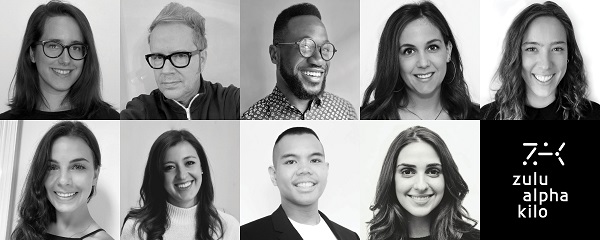 Toronto indie shop Zulu Alpha Kilo had made several new hires and promotions on the heels of new business and also organic growth from existing clients.

Zulu could not officially announce the account wins at this time.

However, it can report that Ece Inan, most recently at Toronto design and tech shop Array of Stars, has been named the agency's new director of interactive production for Zulubot, the agency's production arm. In the new role, Inan will lead AR, VR, voice and other digital innovation projects.

Also on the production side, James Graham, who has spent the last 17 years with Grip, has joined the agency as its studio director.

Zulu has also made numerous additions on the client services side, led by Michael Brathwaite, also from Grip, as account director.

It's also announced a spate of new account supervisors, including Hayley Blackmore (from G Adventures), Risa Kastelic (from BT/A), Kara Oddi (also from BT/A), Emily Anzarouth (also from Grip), Chris Rosario (from FCB/Six) and Sarah Shiff (from Rethink).

In addition to the new hires (pictured above), the agency has also announced several promotions: Alyssa Guttman moves from account director to group account director, while Nina Bhayana, Michelle Fournier, Jenn Gaidola-Sobral and Erin McManus have all been promoted to account director, and Haley Holm to account supervisor. On the strategy team, strategists Carly Miller and Spencer MacEachern have both been promoted to strategy director, while Shaunagh Farrelly, who has been with Zulu for two years in a client service role, moves into a new role as a digital strategist.

In December, the shop also announced that Stephanie Yung would be returning to the agency after a stint in New York as its head of design. Recent wins the agency has been able to announce including work as AOR for the Ottawa Senators, as well as a new arrangement with existing client Consonant Skincare, setting up an in-house team to support growth after taking an equity stake in the company.

Zulu president Mike Sutton says it's wonderful, in a new year, to welcome new faces and energy to the team and says the agency is fortunate to have had so many people across the agency step up to support its clients.

"Simply put, they were rock stars, and the promotions are very well deserved," Sutton says.