Clearnet clusters creative
Agency/Media Company: Media Experts Client: Clearnet Brand: Clearnet PCS Team: Mark Sherman; Cynthia Fleming; Lisa Di Marco Timing: Spring 1999 Best Use of Out-of-Home: Second Runner-up (tie) The Background Our objective was to launch a national advertising campaign...
Agency/Media Company: Media Experts
Client: Clearnet
Brand: Clearnet PCS
Team: Mark Sherman; Cynthia Fleming; Lisa Di Marco
Timing: Spring 1999
Best Use of Out-of-Home: Second Runner-up (tie)
The Background
Our objective was to launch a national advertising campaign for Clearnet, a Canadian wireless communications company. The campaign included television, out-of-home and newspaper. This submission focuses on the out-of-home portion of the campaign.
The key media challenge was to magnify Clearnet's advertising investment, which was small compared to that of the competition. Our job was to make it seem larger by using a media strategy that would engage the consumer in Clearnet's story.
The Plan
Incorporating outdoor into the plan gave us the opportunity to skew impressions toward mobile consumers, at times when they might actually be using a wireless device. It allowed us also to intercept consumers while they were en route to purchasing a new device at retail. And it would help support and stretch the awareness generated by the TV campaign.
Media Experts and TAXI Advertising & Design worked in tandem to develop a campaign that had clear synergies across all the media. Out-of-home, in particular, was key to our efforts to magnify the client's advertising investment.
Our idea was to break through the clutter by using outdoor media to tell a story. The approach, which we dubbed 'Clearnet Clusters,' was designed to maximize visibility and engage the consumer in a Barbasol-style outdoor experience, whereby a group of related boards are positioned in close proximity to one another.
TAXI produced three complementary pieces of creative, incorporating the now-familiar image of a red-eyed tree frog. The first ('Why have a home phone?') presented the situation, showing the frog in a jar. The second ('Unlimited evening & weekend calling.') offered the solution, showing the same frog leaping from the jar. And the third ('The future is friendly.') showed our amphibian friend smiling invitingly from behind a leaf.
Without precise placement, the 'Clearnet Cluster' concept would not have worked. The Media Experts team spent more than 300 hours in 'drives,' handpicking each and every cluster across the country, and then verifying visually that the boards were posted correctly.
Six specific cluster types were identified, located in each market, and then bought and maintained. The cluster variations included sets of two or three poster units, placed side-by-side or in driving sequence, as well as tri-vision executions employing all three pieces of creative.
The Results
The synergy between the TV, out-of-home and newspaper worked extremely well. Consumer awareness of Clearnet PCS reached its highest level since the brand entered the wireless market – and Clearnet hit the threshold of 500,000 subscribers ahead of its key competition.
Also in this report:
* Bates takes the cake p.BMP2
* MaxAir fires on all cylinders: Multi-tiered plan for high-menthol gum was imbued with irreverence p.BMP3
* Dentyne Ice kisses up to teens with party promo: Initiative was designed to drive both brand awareness and sales p.BMP4
* Kool-Aid placement reflected fun, refreshment p.BMP6
* Aussie creates 'in your face' presence: Repositions brand as funky, outrageous p.BMP8
* Guerrilla tactics get Panasonic noticed: Campaign used underground channels to reach club crowd p.BMP10
* Much VJ follows his Natural Instincts on air p.BMP12
* Chapters stands out in dot-com crowd: Multimedia approach helped retailer create perception of market and category dominance p.BMP15
* Campbell's cooks up targeted advertorial: Partners with CTV, magazines to create a presence beyond traditional ad buy p.BMP16
* Looking at Philips through fresh eyes: Redefinition of target market sparked departure from the traditional choice of television p.BMP18
* Jays plan hits home run p.BMP21
* Minute Maid aims for morning ownership p.BMP24
* Western Union a global Villager p.BMP28
* Scotiabank breaks out of the mold p.BMP32
* The Judges p.BMP43
Zulu grows its team and makes a slate of promotions
A director of interactive production for Zulubot is among dozens of new faces and roles at the agency, in response to recent wins.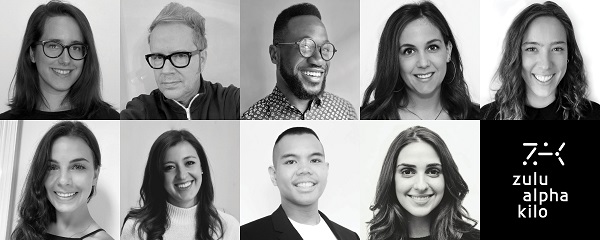 Toronto indie shop Zulu Alpha Kilo had made several new hires and promotions on the heels of new business and also organic growth from existing clients.

Zulu could not officially announce the account wins at this time.

However, it can report that Ece Inan, most recently at Toronto design and tech shop Array of Stars, has been named the agency's new director of interactive production for Zulubot, the agency's production arm. In the new role, Inan will lead AR, VR, voice and other digital innovation projects.

Also on the production side, James Graham, who has spent the last 17 years with Grip, has joined the agency as its studio director.

Zulu has also made numerous additions on the client services side, led by Michael Brathwaite, also from Grip, as account director.

It's also announced a spate of new account supervisors, including Hayley Blackmore (from G Adventures), Risa Kastelic (from BT/A), Kara Oddi (also from BT/A), Emily Anzarouth (also from Grip), Chris Rosario (from FCB/Six) and Sarah Shiff (from Rethink).

In addition to the new hires (pictured above), the agency has also announced several promotions: Alyssa Guttman moves from account director to group account director, while Nina Bhayana, Michelle Fournier, Jenn Gaidola-Sobral and Erin McManus have all been promoted to account director, and Haley Holm to account supervisor. On the strategy team, strategists Carly Miller and Spencer MacEachern have both been promoted to strategy director, while Shaunagh Farrelly, who has been with Zulu for two years in a client service role, moves into a new role as a digital strategist.

In December, the shop also announced that Stephanie Yung would be returning to the agency after a stint in New York as its head of design. Recent wins the agency has been able to announce including work as AOR for the Ottawa Senators, as well as a new arrangement with existing client Consonant Skincare, setting up an in-house team to support growth after taking an equity stake in the company.

Zulu president Mike Sutton says it's wonderful, in a new year, to welcome new faces and energy to the team and says the agency is fortunate to have had so many people across the agency step up to support its clients.

"Simply put, they were rock stars, and the promotions are very well deserved," Sutton says.