NADbank building on solid base
Anne Ruta is executive director of Toronto-based NADbank. Given the heightened attention that the newspaper war has focused on the annual NADbank readership study, Strategy figured it was time to check in and find out what's up with the Canadian newspaper...
Anne Ruta is executive director of Toronto-based NADbank. Given the heightened attention that the newspaper war has focused on the annual NADbank readership study, Strategy figured it was time to check in and find out what's up with the Canadian newspaper industry's principal research body. This is Ruta's report.
It has been a tumultuous year for newspapers – and for newspaper research – in Canada. A little more than 18 months ago, a new national daily was launched into a fragmented media marketplace, and consumers were exposed to one of the most fiercely aggressive campaigns to build newspaper readership that this country has ever seen.
The result was a significantly more dynamic newspaper marketplace. The results of the NADbank 1999 Survey – the first to include the new National Post – were awaited anxiously by the industry. With so much at stake, NADbank chose to postpone the release of the study in order to complete a review, so that our members could be assured that the data was, indeed, an accurate reflection of the marketplace. And as our review confirmed, the survey results reflected a wildly volatile market.
Newspaper readership research in Canada has evolved and grown along with the newspaper industry, and the needs of the buying community.
In 1997, NADbank became a tripartite organization. Where our membership once consisted solely of daily newspapers, it now encompasses advertisers and agencies as well.
Today, our expanded board of directors includes a number of leading Canadian advertising and media executives, who motivate the organization to consider future market directions and the changing role of media buying. And, with their support, NADbank is now able to source membership fees from a growing roster of agencies and advertisers, to provide funding for the study and other new initiatives.
Two and a half years ago, NADbank's technical committee began the task of shaping what was already a comprehensive survey into a piece of leading-edge media research.
As an organization, our mandate is to measure accurately the size, quality and characteristics of the medium; NADbank, however, has expanded beyond this key role, and now provides its advertiser and agency members with information on consumer buying patterns, lifestyles and media habits, across a wide range of product and retail categories.
NADbank 1999 includes readership data on a total of 60 dailies in 40 urban markets, representing 92% of the total daily newspaper circulation in Canada. In all, 26 markets now have product data that can be directly linked to newspaper readership data.
As a rule, newspapers have funded half-samples each year, to provide buyers with larger samples than would otherwise be financially feasible on an annual basis. Last year, in response to the buying community's need for larger and more current samples, three markets conducted full samples: Toronto, Vancouver and Ottawa – all of which now have data on the National Post.
In addition, a supplementary database with aggregated 1999 data provides members with readership information on the National Post, The Globe and Mail, The Toronto Star, the Torstar Daily Newspaper Group and Sun Media papers for 16 English markets and three major regions across Canada.
In order to standardize newspaper research in Canada and bring smaller newspapers into the study, NADbank also introduced its "Readership Only" study in 1999, which covers markets with populations of less than 150,000. A total of 13 new NADbank members participated in this study.
To provide added value to members, NADbank has formed partnerships with Compusearch and Generation 5, thereby making it possible to do geo-demographic and psychographic analysis with the NADbank product data.
Currently, NADbank conducts its study annually. However, as the economy changes and markets grow more dynamic, there may well be a need to provide data more often. So in the fall of 1999, NADbank introduced a second "Readership Only" study. The goal was to gauge the level of interest in more frequent measurement of dailies, and to provide updated information on the highly competitive Toronto market. The methodology was identical to the spring survey, and the results directly comparable.
With this strong base to build upon, NADbank has some ambitious plans for 2000.
Because it's important to maintain continuity in an annual study, changes can be difficult to introduce. Still, it is essential that we continually evaluate our product – both to assure ourselves that it measures what it's supposed to measure, and to make certain that it keeps pace with the changing media landscape.
A technical review of the NADbank Study during the summer of 1999 confirmed that it continues to meet our criteria for accurate and reliable data. At the same time, however, the review highlighted a number of issues for further consideration – and as a result, changes have been made to the methodology, thereby establishing a more stable research platform.
The 2000 study will include 66 daily papers in 46 markets across Canada. Product data will be available for 26 markets.
Given the breadth and complexity of the NADbank study, it is essential that we continue to work with our members to ensure that they understand how to use it effectively. Through presentations and training, we endeavour to keep our members across Canada up to date on any enhancements made to the study.
Ongoing dialogue with our software suppliers, meanwhile, helps to ensure that the study is readily accessible and the software easy to use.
The NADbank Web site (www.nadbank.com) offers extensive information on newspaper readership. And designated "members only" areas within the site provide NADbank members with access to even more detailed data.
Looking forward, there are many new opportunities upon which the NADbank study may choose to capitalize. Some of the possibilities we are considering include: larger sample sizes, more frequent measurement in the major markets, ongoing expansion of the product survey, a focus on teen readership, more detailed sectional readership information and expanded multi-media data. As time passes, the study will continue to evolve to meet the needs of the advertising industry.
Also in this report:
- Flying blind: Without knowing the answers to some pretty fundamental questions about newspaper readership, media buyers are forced to make their decisions based on assumptions, not facts. And that's not good enough, says one expert. p.B16
- The war: views from the sidelines: The battle of the national dailies is causing other papers to redesign, rethink their news delivery p.B20
- Spotlight on Newspaper Creative p.B23
Meat and plant-based sales are both strong at Maple Leaf
Both priority areas performed well in the company's full-year results, helped by a boost in marketing for new products.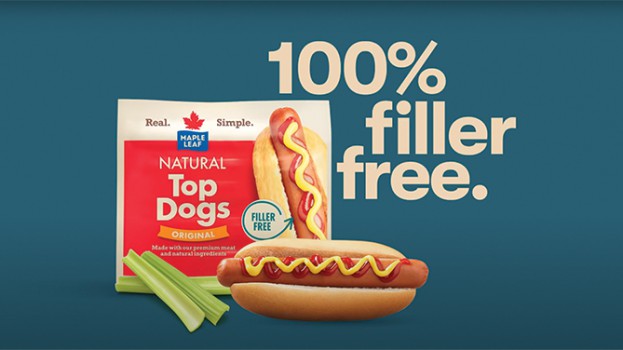 Maple Leaf Foods reported higher Q4 and full-year 2020 sales, driven by its sustainable meats and plant-based proteins. 

The CPG co. reported quarterly sales of $1.13 billion, up from $1.02 billion for Q4 2019, as well as net earnings of $25.4 million, compared to $17.5 million for the same period the year prior (an increase of 45.2%).

For full fiscal 2020, the company reported a total increase of 9.2% in sales, driven by what it says is "strong growth in both the meat and plant protein groups."

"We have repositioned our portfolio towards two high-growth categories now representing 20% of our annual sales generating a compounded growth rate in excess of 25% over the last three years," says Michael McCain, the company's president and CEO.

Meat protein group sales – comprised of prepared meats, ready-to-cook and ready-to-serve meals, snack kits, value-added fresh pork and poultry products that are sold to retail, foodservice and industrial channels, and agricultural operations – grew 11.3% for the quarter. 

Meanwhile, sales of plant protein products – refrigerated plant protein brands such as Lightlife and Field Roast, premium grain-based protein, and vegan cheese products sold to retail, foodservice and industrial channels – was up 5.5% over the same period. 

Sales growth for its meat portfolio was driven by "a favourable mix-shift towards sustainable meats and branded products," but also growth in exports to Asian markets, and pricing actions implemented to mitigate inflation and other structural cost increases, according to the company. Strong demand in the retail channel was offset by lower volume in foodservice as a result of COVID-19.

For its plant-based offerings, sales for 2020 were $210.8 million compared to $176.4 million last year, representing a growth of 19.5%, or 18.1% after excluding the impacts of foreign exchange. The segment was driven by expanded distribution of new products, continued volume increases in its existing portfolio, and pricing actions implemented to mitigate inflation and other structural cost increases.

SG&A expenses totalled $144 million for the plant group alone in 2020, with investments focused on advertising, promotion and marketing to build awareness, as well as supporting brand renovation and new product innovation. SG&A for meat proteins were $346.6 million for the full year, and the company says it expects SG&A levels and marketing investment in 2021 to be largely in line with where they were in 2020.

The company, which in 2019 announced it had gone carbon neutral, says it's amplifying this commitment while "focusing on eliminating waste in any resources it consumes, including food, energy, water, packaging, and time."