The sweetest battleground
Some of the wackiest, most innovative advertising lately is coming from the candy industry. Is confectionery the new hotbed of creativity? In other words, is candy the new beer?
Over the last few years, Caramilk ran its "Key to the Secret" campaign, Skittles launched "Touch the Rainbow" YouTube spots and M&M's "Find Red" was the
first-ever digital scavenger hunt.
This year, Skittles gets a boost from mythical creatures, Cadbury created a real "Joy Department," M&M's debuted chief chocolate officer Ms. Brown (who has her own Twitter handle, and does interstitial commentary on hit shows), not to mention this is the year a consumer's face will be literally turned into a candy for Maynards.
We're in the thick of the candy renaissance, says Philippe Garneau, president and ECD, GWP Brand Engineers, thanks to a hyper-competitive market, cut or fragmented budgets, and more creative content being shared on social media than ever before. So, confectionery marketers have had to step up by creating uber-creative content.
Garneau points to the 2008 Cannes Grand Prix winning Dairy Milk "Gorilla" campaign (featuring an ape pounding on drums to Phil Collins) as the catalyst for the creative shift from rational advertising to fun, silly and, most importantly, engaging creative, aimed at making people smile.
Despite concerns that the campaign may have been too abstract for viewers, the commercial led to increased sales and huge viral reach with many fan-created versions popping up on YouTube.
"Everyone knew what a Dairy Milk chocolate [bar] was," says Simon Creet, VP, CCO, The Hive, which works with Cadbury. "[And the marketers said], 'We're going to take a little leap and show people the benefit of the chocolate: pure joy. We're not going to tell people Dairy Milk will give you joy – we're just going to give you joy.'"
Once the success of the campaign became apparent, Creet says companies began shifting advertising strategies and got a bit braver.
"The brief used to say 'Sell more (insert candy). Now it says 'Surprise and delight the consumer,'" says Michelle Prowse, group account director, The Hive.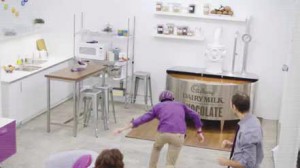 For example, Cadbury Dairy Milk's latest venture is the Joy Department: a department created for the sole purpose of spreading joy through videos and online posts. The spots currently airing have a room full of people engaged in a peanut butter-induced food fight, culminating in the new peanut butter and pretzel bar.

"It's a real, living, breathing division," says Ian MacKellar, CCO, Ogilvy, which created the campaign. "The sole purpose is to help spread joy through chocolate."

The recession further propelled the sea change to creative carte blanche. Once the economy started fluctuating, people looked to affordable luxuries to keep their moods up and the confectionery industry saw an increase in sales over the recessionary months.

Despite the increased sales and leeway, Prowse says budgets were likely cut as a result of the recession, or fragmented across different channels.

But MacKellar says this is a good thing. "You realize you have to do more with less. So you rely on creativity to set you apart from other brands."

And in the online space, creative needs to be share-worthy; otherwise it languishes in
the cloud.

"Brands need to be as interesting as the culture they live in. Most of our consumers [are] constantly seeing new things and the craziest new internet memes," says Creet, "So [with] candy, the only way to stay top of mind is to be as interesting as this other stuff that's going around."

With the immense success of last year's "Touch the Rainbow" campaign (market share rose in the double digits), ACDs Mike Donaghey and Chris Joakim, BBDO, knew they needed to up the creative ante.

At first, "Touch the Untouchable" looks like the old campaign with a new cast of characters. One spot has a small werewolf baby sitting in a rocking swing as the viewer's finger, placed on the screen, pokes the kid's stomach. Another spot has a princess rubbing her nose against it.

But delve deeper and consumers will find digital Easter eggs, links that remain hidden in the videos until users hover over them, leading to new content.

While the company seeded the videos to bloggers mid-March, the Easter eggs go live on April 2 and tell a story unto themselves. For example, the princess's egg brings viewers to her personalized photo shoot, where she sexily poses as she trims her toenails, while the werewolf baby video lands on a digital children's book with a macabre ending.

As brands compete for online love, more and more gamification of candy emerges.
Following the success of Caramilk's "The Key to the Secret" campaign, which doubled sales and brand equity with a Willy Wonka-inspired competition that hid keys in wrappers, The Hive launched a new scouring competition, this time online.

The online Easter egg hunt features a Cadbury Crème egg hidden in ads on different websites. As the user hovers over the ad, the cursor changes to some method of egg destruction (ninja blades or a guillotine, anyone?). Once the users spot the egg, they goo it – or destroy it – and earn badges for a chance to win the ultimate Goo Grail, with back-end cookies tracking the users' progress. It's a low-maintenance way of engaging users and reviving the suicidal egg from 2008.

Social media has breathed life back into candy advertising, Garneau says. While it took a few years to figure out how to utilize social networks, confectionery marketers are now in the vanguard of leveraging the online space to tell interesting stories and engage users.

The industry is on the cusp of super-cool marketing as more brands dive in, hell bent on pure entertainment, says Garneau, predicting it will trickle into the store aisles and onto packaging.

"I suspect we haven't seen the end of the shenanigans," he says. "The desire to entertain, to occupy that – forgive the pun – sweet spot has always been there, but marketers realized we're going to have to earn it."