Stops, starts and changes: Telus gets touchy at Laval store
In this edition of our monthly column, we round up some stops from Zellers and Whole Foods, a start from Club Monaco and some changes from Telus and Target.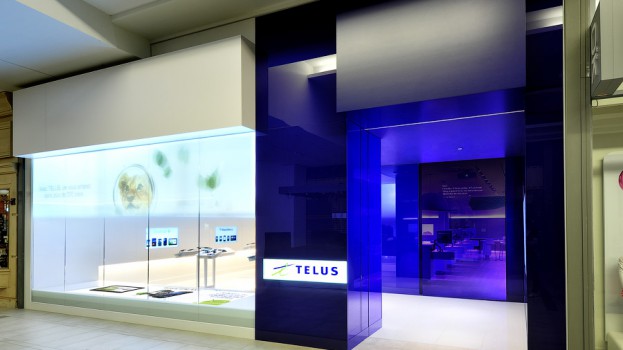 Changes:
Telus, working with design agency Figure 3, has teched out its latest store opening in Laval, Quebec. The first "Next Generation" store features interactive technology throughout – all monitors will be touch technology – as well as ditching the typical mock-up phones often found in cell retail locations. "Our new stores are designed to give everyone the opportunity to use the devices and try the technologies on the spot," said Joe Goodbaum, VP and president of Telus Retail, in a release. Wall projections will also display in-store advertisement for products, as well as the traditional Telus critters. The second Next Generation store is scheduled to open in the next few weeks.
The Government of Canada is reviewing Target's move into Canada to determine if the retail giant will carry enough Canadian content. The review, being undertaken through the Investment Canada Act, was ordered by heritage minister James Moore and will examine cultural product selection, such as books, DVDs and music. When Amazon.ca was reviewed under similar provisions, it was ordered to invest more than $20 million in Canadian content. A similar finding could sway Target's product line up. Can a Canadian version of Fashion Star, the design-based U.S. reality show that sees winning weekly entries become available for sale at retailers the next week, be far behind?
Starts:
According to a recent Flare article, Joe Mimran, the creative director of Joe Fresh, says the brand (available through Loblaw and eponymous stores) is looking to e-commerce in the future. Reps from Loblaw declined to comment further on the possibility. Mimran's other retail legacy, Club Monaco, just entered the online shopping space Wednesday. We'll see if Joe Fresh follows in its footsteps.
Stops:
Beginning on Earth Day, April 22, Whole Foods Market will cease selling red-rated seafood. Red ratings indicate a breed has been overfished, as determined by advocacy group Blue Ocean Institute and Monterey Bay Aquarium in California, meaning Atlantic halibut, grey sole, octopus and other seafood will be pulled from the shelves. The company will focus on sustainable stock, as part of an initiative to be a more sustainable organization. But don't worry, as the saying goes, there's plenty of other fish in the supermarket.
The end is nigh for Zellers pharmacies across the country. Since the stores will begin shuttering doors soon, and because incumbent retailer Target opted out of buying the business, Zellers has been on a selling spree for its prescription files. This month Metro announced it would take over seven businesses in Ontario and BC-based grocery chain Overwaitea purchased all the Zellers pharmacies in the province, following Loblaw's $35 million prescription file takeover at 95 locations across the country last month.