Walmart searches for Mom of the Year
The retail giant makes its first foray onto Facebook and introduces a new program celebrating Canadian mothers.
There are 9.2 million moms in Canada, many of whom likely don't get the recognition they deserve for what can be a thankless job. With 3.5 million of those moms walking through the doors of Walmart stores across the country every year, it seems a natural fit that the retail giant would start a program to give those moms a little time in the spotlight.
Launching May 10, Walmart is asking Canadians to nominate their mothers for the title of Mom of the Year through a microsite, Momoftheyear.ca. Visitors can create a profile for their mom (with mom's email permission), which will be evaluated by Walmart's "Mom Ambassadors," consisting of hockey player and Olympic gold medalist Hayley Wickenheiser; Karine Ewart, editor-in-chief of Today's Parent magazine; opera singer Natalie Choquette; and two Walmart Canada executives – president and CEO Shelley Broader and CMO Emma Fox.
Nominations close on July 8, and the selection committee will then choose up to eight finalists, each winning $10,000, plus an additional $10,000 towards a cause that's close to their hearts. An overall winner will be announced at a gala event in September, and will also take home $10,000, but with $100,000 going towards her cause of choice.
"The more time we spent listening to moms in focus groups, in online forums, through mommy bloggers and through our interactions with customers in our stores, the more we came to admire the enormous contribution they make to their families and their communities," says Emma Fox on why the brand has decided to dedicate a program to mothers.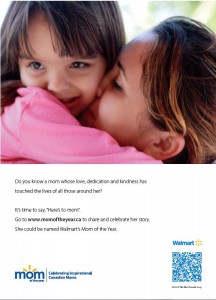 The campaign concept design and strategy was handled by Walmart's agency of record, JWT, which also developed creative materials such as 60- and 30-second TV spots, as well as print executions in magazines such as Chatelaine, Canadian Living and Today's Parent and their sister publications in Quebec, including a tear-out postcard that can be sent to moms thanking them and notifying them of their nominations. Media for the campaign was handled by Mindshare.

The brand has also partnered with The Marilyn Denis Show and Salut, Bonjour! in Quebec, with in-show segments and interviews planned with nominees. The Mom Ambassadors will also be conducting media interviews as part of a PR plan by Apex.

The media buy includes an online component, with banner ads and takeovers of high-traffic sites such as YouTube, Skype, MSN and Facebook.

The online creative was handled by Walmart's new digital agency Twist Image, which helped usher the brand onto Facebook for the first time. Walmart Canada's Facebook page will host information about "Mom of the Year," as well as localized store information and other communications about the brand.

Jennifer Stahlke, marketing director, customer strategy & store experience, Walmart Canada, says that after observing the Facebook experiences of the retailer's international counterparts, and after entering the world of e-commerce in the fall, it was time for Walmart Canada to finally get social.

"Walmart US is heavily involved in Facebook, as is Asda (Walmart's UK subsidiary)," says Stahlke. "It's a perfect storm for us right now, we feel really confident in those learnings and how we, starting off on our social journey, can leverage [them]."

TV spot credits:

Agency: JWT
EVP/ECD: Martin Shewchuk
EVP managing director: Susan Kim-Kirkland
VP/ACD: Don Saynor
Copywriter: Sarah Loranger
Producer: Shelby Spigelman
Group account director: Lili Formoso
Account supervisor: Lindsay Ditkofsky
Production house: Soft Citizen
Director: Arni Thor Jonsson
Music House: Grayson Matthews
Editing: Panic & Bob (David Baxter)