Stops, Starts and Changes: Harry Rosen and Le Clos Jordanne pair up for Father's Day
In this edition of our round-up, unexpected stops from the City of Toronto and Giant Tiger, anticipated starts from Loft and Target, and some changes from Sobeys and Canadian Tire.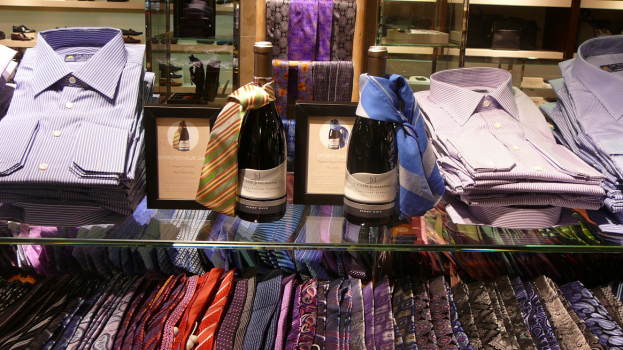 Starts
Harry Rosen and VQA winemaker Le Clos Jordanne kicked off a Father's Day promotion, pairing the wine's different Pinot Noir blends with a tie or bow tie available at Harry's. Built around the idea of finding a gift for the "hardest guy to shop for," the wine and tie pairings are meant to reflect different dad personalities, including the creative dad (with wacky tie print), the gadget dad (with a bow-tie to boot), a sporty dad and entrepreneur dad. The wines and ties are sold separately, but a big PR campaign and in-store push at Harry Rosen locations is showing prospective buyers what to pair.
Yet another international clothier is moving north. U.S. retailer Loft is opening its doors at Yorkdale Shopping Centre in Toronto in late 2012. This is the first international location for the women's clothing and accessory chain, part of the Ann Taylor group. The mid-cost retailer offers casual work clothes, skewing to a slightly younger crowd.
Target has kicked off its hiring spree, putting out recruitment notices in B.C. looking to fill 2,500 positions across the province. It has also begun its study of the Canadian shopper, realizing its traditional Canadian clientele of cross-border shoppers will behave differently once the shop opens its local doors.
Stops
The economic turbulence has not been kind to Canada's discounters. Giant Tiger, Canada's third-largest discount retailer (behind Walmart and the now-defunct Zellers chain) has put its expansion plans on hold citing a too-competitive market. The original plan, signed in 2001 with the North West Company, was to open 70 new chains in Western Canada by 2033. To date it has netted out at 32 new stores in the West, before slowing down its plans.
Toronto has announced it will be the first Canadian city to ban the plastic bag. Starting in 2013 retailers in Toronto will join the likes of Seattle and Los Angeles, finding alternative ways of bringing home products. After a city council motion passed eliminating the 5-cent fee on plastic bags – collected by retailers – councillors' took the motion a step further and eliminated the bags all together. Toronto mayor Rob Ford has called the ban "the dumbest thing ever," further saying it was the fault of the public for not pushing back. Paper and cloth bags are not included.
Changes
Canadian Tire is focusing on aggressive growth for its fitness brands, expanding Sport Chek and Atmosphere stores, adding two million square feet of retail space through new store openings or through conversions of some of its other FGL Sport chains (corporate banner for the two brands), such as Sport Mart, Athlete's World and Fitness Source  – among others – into the aforementioned stores. On the flip side, underperforming locations will be closed entirely.
Sobeys has promoted Marc Poulin to CEO and president of the grocery chain, from his previous role as president, IGA operations business unit. Poulin replaces outgoing CEO Bill McEwen. Taking over for Poulin as president of IGA is Claude Tessier, formerly VP finance and strategic planning, Sobeys.