The next generation of consumer involvement
The hottest trends in ad creativity right now are all about getting consumers involved. But does it work? Is it smart? And what if it all goes off the rails?
The hottest trends in ad creativity right now are all about getting consumers involved. Brands are increasingly turning to everyday folk to shape the outcome of a campaign – be it through social or submitted content – giving them the power to drive creative forward. On the other end of the spectrum, brands are turning on the consumer, forcing involvement by making innocent bystanders the butt of a prank.
But does it work? Is it smart? And what if it all goes off the rails?
UGC gets easy
When people hear "user-generated content" they often associate it with the idea of having consumers create ads on behalf of brands. But that trend is so 2009. People who participated in these types of contests more than likely just wanted jobs in advertising, says ad strategy pundit Philippe Garneau, president of GWP Brand Engineering, so it didn't necessarily translate into a declaration of brand love.
Now we're seeing more brands inviting folks to help shape the outcome of a campaign through easy tasks: send a tweet and we'll draw something. Add a hashtag and we'll paint something on a parking lot wall (like the above shot of Molson M's twitter-powered mural). Shoot a few minutes of video and we'll incorporate it into a commercial.
This is a much easier ask for consumer participation, Garneau says, and signals that brands are listening. "It's the idea that everyone counts, so it sets up the brand as being in touch," he says. "If [brands are] open to that kind of exchange, then they're open to feedback about their product and it sets up a network and a connection with the brand that's very positive."
Garneau warns brands not to forget the strong, silent types. Consumers who remain mute on the sidelines – quietly enjoying a product without any desire to participate in crowd-sourced initiatives – shouldn't be forgotten in the trendy fray. "Just because you don't want to write to a manufacturer about a candy bar, doesn't mean you don't love it in your own private way." Not everything has to be "talk to us so we can talk to you." Some consumers still just want to be talked at.
AD HACKATHONS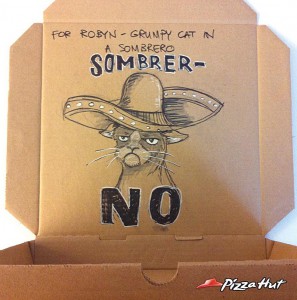 Pizza Hut's Facebook-powered box art
In April, Pizza Hut and Toronto agency Grip wanted to celebrate its 500,000th fan in style by hosting a Facebook-powered pizza-box drawing marathon. Fans were invited to tell the brand what to draw over an afternoon-long, non-stop drawing session broadcast live over YouTube (requests included pictures of lobsters fighting with knives and a pizza eating a man).
The CTC curates Canada
The Canadian Tourism Commission and agency DDB's Vancouver office invited everyone in the country to submit a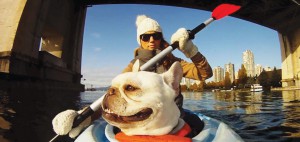 short video highlighting this great nation. The summer 2012 drive resulted in 8,000 submissions with more than 65 hours of footage, which was boiled down to two minutes for broadcast. The result was a widely-shared video with praise from the press.
Did you know? Though his footage didn't make the cut, Canadian author and artist Douglas Coupland also submitted video, including a cameo from his house nestled in the trees on Vancouver's Grouse Mountain.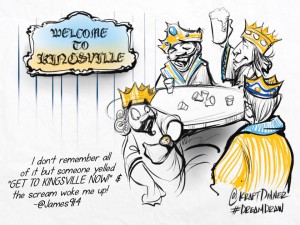 Kraft's dreamy Twitter push
Last August, Kraft Dinner and Taxi's Toronto office invited KD followers to tweet their dreams with the hashtag #Dreamdraw to have them sketched by Kraft. Nothing was off-limits: from a naked Prince Harry sitting in a hot tub to conjoined twins smoking a hookah.
***
Prankvertising scares up viral success
You walk into a building, the elevator door opens and you find yourself witness to an attempted murder. What do you do? That's the genesis behind the March campaign for the Colin Farrell movie Dead Man Down by New York-based viral-video agency Thinkmodo, which caught people's reactions on hidden cameras. It's the latest in a wave of advertisers pranking unsuspecting consumers and is the update to the nearly dead flash-mob craze.
"Everyone is craving authenticity right now," Garneau says. "Prankvertising is based on seeing a spontaneous and real reaction. It's marketing's
answer to 'How can I believe this ad?'"
The reactions from these ambushes tend to be genuine looks of surprise, fear or happiness. "That type of advertising used to be confined to lottery commercials," Garneau says.
While a hot trend – and one he says won't disappear soon – it also has a risk. "Because everything is going to be discussed simultaneously [as the ad airs], those who do it poorly and inauthentically will be called out immediately."
In the case of the "Elevator Murder," the reaction was not positive, with people calling out the brand for a tasteless ad designed purely to scare people and many questioning the authenticity of participants' involvement.
While the elevator murder scene was staged, things could have gone off the rails very quickly. What if someone had pulled out a gun? To prevent any real risks to those being pranked or the actors, people were pre-screened as part of a "focus group" session and then invited to come in. Actors were coached when to admit the whole thing was a prank, while crews waited in the wings ready to jump in.
GOTCHA!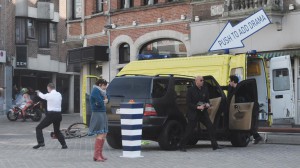 A dramatic surprise
TNT's 2012 "Push to Add Drama," by Belgium-based Duval Guillaume Modem  seemingly started the craze, creating a dramatic surprise for passersby. Those who dared to push a giant red button in the middle of the street prompted a police shootout involving a random football team and bikini-clad motorcyclist to appear. The video has more than 45 million hits on YouTube.
A set-up pool party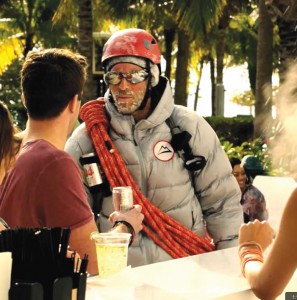 In April, as a group of tanned pool-goers enjoyed the sun, someone asked for a Coors Light, and suddenly mayhem began. A man in a parka jumped out of a freezer as a helicopter full of parka-clad guys arrived to dish out cold beer. The ad teeters on the edge of authenticity:  the desciptor says it's an ordinary pool (but nary a hint of cellulite), and Chicago-based agency Cavalry says reactions are real, but the people knew they were being filmed and were likely pre-screened. Despite this, more than 750,000 people have watched the video on YouTube.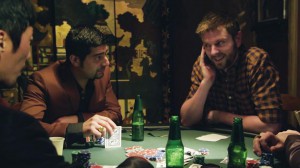 Faked-out friends
In March, Denmark's Carlsberg and Duval Guillaume Modem gathered a half-dozen guys to test the limits of friendship. They each call a friend for help, claiming they've lost money at a club and can't leave. The friends arrive at a dodgy nightclub with questionable clientele (all actors) but when they find their pal, a party's thrown for them. At press time the video had garnered more than four million hits.
Hijacked juice bar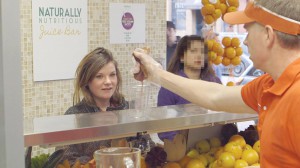 Canadian comedian Gerry Dee took over a juice bar this past January, filling people's drinks with Dempster's bread (to show it's filled with nutrients). The stunt – created by Toronto-based agency Cundari – got genuine reactions, including some unhappy customers demanding the drink they ordered. The video has more than 850,000 views on YouTube so far.
CRISIS CONTROL
Before you hit the airwaves, Katie Clark, national practice leader, crisis and risk at Toronto-based PR firm Edelman, recommends running your creative past a few different groups. Legal or a PR team seem the obvious first choices, but she also recommends hitting up a third party, perhaps a non-profit organization that may be loosely tied to the prank (such as trauma counsellors, if you're taking the scary route). Also, while certain jokes may resonate well with target audiences, Clark says potentially controversial ads should be aired for groups that are anything but a brand's core demo. It's not the people who love a brand that marketers need to worry about, so much as everyone else.