Meet the new leaders
Q&As with the new head of Twitter Canada, Kirstine Stewart, and Samsung's new VP marketing, Mark Childs.
By Matthew Chung and Megan Haynes
Is it a sign of the times when a CPG marketer jumps from the grocery aisle into the electronics industry and a TV exec leaps into social media? After eight years as VP marketing at Campbell Company of Canada, Mark Childs set out to make his mark at Samsung, while Kirstine Stewart, a CBC stalwart since 2006, joined Twitter. But with Samsung in the midst of strengthening emotional ties with consumers (something the soup brand has a history of) and Twitter stepping up its video content game, the category cross-pollination reads savvy.
**********
Kirstine Stewart struck two high-profile deals for Twitter with TV giants Shaw and Bell Media while boxes were still being unpacked at the social media company's new downtown Toronto offices in June.
First, Shaw joined Twitter's Amplify program, which allows media brands and their advertising partners to promote TV show clips on the platform. Then Bell signed an analytics research agreement to help better understand Canadian TV viewers' habits. The moves gave a clear indication of Twitter's ambitions for the North and showed that Stewart, former EVP English services at the CBC and the new managing director of Twitter Canada, had hit the ground running, leveraging her 25 years in the broadcast industry.
So far she's hired a dozen account execs and managers for the sales-focused office and is working on more deals, all while tweeting from @KirstineStewart (at 18,600 tweets and counting with more than 16,800 followers).
You've had a few months to settle in at Twitter Canada. How are you finding it?
It's been great. I think the one thing that probably took me by surprise the most was how much pent-up demand there was for Twitter Canada. Clients have obviously been working with my colleagues in the U.S., but I didn't realize how eager Canadians were to have their own representation.
What challenges and opportunities have you identified since joining?
It is interesting to be in a place where the most serious challenge is hiring fast enough and hiring well. That's a big change from the kind of decisions I had to make [at the CBC], where I was looking at a group of really talented people and deciding not everything could go forward. There is an opportunity in that, with my content experience, I have a different background than the other country directors. That's why they came to me.
What have you learned over your 25 years in the TV industry that you will apply to your new job?
My job has been 25 years in media. You cannot look at the industry and separate television – it has always been interrelated. Digital is ubiquitous and part of the evolution in media.
I reorganized the CBC to break down the separation of "digital" from the rest of the organization because everyone and everything touches digital, and ultimately it is driven by content and the technology that drives it.
There are no defined lines. You have to be everywhere.
Stewart: in tweets
@strategyonline
What do you like to do when you're not tweeting?
@kirstinestewart
Things that take concentration and two hands. Driving or eating for example.
@strategyonline
Who are three of your favourite Twitter users to follow and why?
@kirstinestewart
My faves change… Some great comedy FF @TheTweetOfGod (pretty sure God is Cdn) @stats_canada (fake) & @chrisrock
@strategyonline
You often tweet or retweet quotes from famous historical figures. Which of them would you have most wanted to follow on Twitter?
@kirstinestewart
Reading @aristotle alongside real life @calvinandhobbes would hv been perfect
@strategyonline
How do you think they'd have put their Twitter accounts to use?
@kirstinestewart
Like most, tweeting Vines of their feasts and pithy philosophy tweet wars
@strategyonline
Do you have any golden Twitter rules that you live by?
@kirstinestewart
Be yourself, be interesting, be brief
**********
Mark Childs made the leap to the consumer electronics space as Samsung's new CMO, leading a team of 40-plus marketers, after more than 20 years in the food biz.
The Mississauga-based company produces more than 1,000 SKUs, including market-share leading phones, TVs and dishwashers. The brand is on the rise in Canada, jumping 29 spots (from 47 to 18) in the 2013 edition of Ipsos Reid's Most Influential Brands Study. But Childs says there's plenty of room to grow by moving deeper into an emotionally-charged space, and he brings a wealth of experience on that front from his time as a food marketer.
Only a month into the job, Childs chats about why he made the leap, what he brings to the table and how he inspires his new team creatively.
Why did you decide to move into the electronics space?
I've moved to Samsung, not just the electronics space. The company and its values deeply connected with me, particularly as a brand that's rooted in consumer reputation quality.
The brand is best described as allowing our consumers to reach higher levels of discovery and potential through the devices and products we offer, which is what I'm about. The opportunity for me at Samsung was about being the marketer I could be, in a new space, with a fresh challenge.
What is the biggest difference [from CPG]? No question, it's the pace of change. The tech space lives on [the] new, innovative and different. You have to keep ahead of the curve. The pace of it is like nothing I've ever experienced in CPG food. [But] in Samsung-values language, I think the challenge is an opportunity to build a much stronger and deeper connection with the brand through innovation.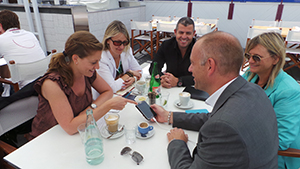 What are some of the skills you've developed in the CPG world that are most transferable to Samsung?
Putting consumers first, getting closer to understanding, appreciating and leveraging the value of insights and benefits, and helping bring to light not just functions and features, but the emotional connection with the brand.
There's a lot of great foundational elements [at Samsung], and it's about bringing those to the fore and shaping a more 360 connection with the Canadian consumer. Not just about the latest product and how it functions, but also how products can help simplify or bring greater rewards to [Canadians'] lives through the platform of discovery and possibilities.
You're known for having a creative streak. You once assigned colour-coded scooters to your team [while working at Kellogg's]. Have you had a chance to do anything fun like that with your new team?
We had a completely blue-sky oriented ideation session, not just with the marketing team but with the sales team and our agency partners. We had 30-plus people shooting ideas from their right brain  that could potentially bring brands to life and win the hearts and minds of Canadians.
We didn't bring in colour-coded scooters, but we did bring a bevy of dollar store toys and interactivity. The most exciting of which was Play-Doh.
We had a round-robin approach. One station was oriented on consumer-first [ideas], one was oriented on how to step up change performance against some of our product categories, and the other was thinking about the innovation plan, [from] which we ultimately identified four big ideas. My hope is that we bring at least one of those to life by the end of the year.