Brand partner of the year: Bell Media turns sponsors into TV stars
With successful partnerships around The Amazing Race Canada and the MuchMusic Video Awards, as well as plenty of branded content with MTV, Bell is taking sponsorships by storm.
For advertisers in today's fragmented, multi-screen marketplace, having their brands integrated into great content that consumers won't easily switch off has become vital. Bell Media proved this year that it gets it, executing seamless integrations that let sponsors share the spotlight with the stars of its shows.
The results have left advertisers such as Craig Landry, VP marketing, Air Canada, with smiles on their faces. The airline was one of six sponsors of The Amazing Race Canada (which averaged 3.3 million viewers per episode throughout the season and has been renewed for another), and Landry says millions of Canadians engaged with Air Canada through its partnership with Bell Media.
The company had its branded planes and customer service reps integrated into episodes, and benefited from cross-promotions on other Bell Media platforms. Meanwhile, the "Air Canada Cheer to Win Contest" microsite (where people supported a team for a chance to win a free international round-trip flight) had more than 800,000 unique entries, well above the 200,000 Air Canada anticipated.
"Bell Media is helping to set a very high standard in terms of branded content opportunities in the Canadian marketplace," Landry says. "They brought a lot to the table in terms of enhancing the partnership beyond just buying advertising."
Bell Media's parent company BCE bought Astral Media this summer and launched a one-stop advertising opportunity, Bell Media Mix, allowing advertisers to leverage all of its brands and platforms. But as it's grown, the company has shown it won't shy away from pushing boundaries. Dave Caporicci, managing director, brand partnerships at Bell Media, says the brand treats the Much and MTV stations as "innovation incubators," where new ideas are trialed.
"We're not cowboys, but we want to push the envelope," he says. "Our advertisers expect that."
For example, at its annual mega-event, the MuchMusic Video Awards, Bell Media worked on brand activations for the program's seven sponsors, including nine branded content vignettes that were created over the MMVA weekend, quickly edited and aired during the main show. For instance, H&M had bloggers on the red carpet incorporated into the broadcast three times. And BlackBerry was a central piece of the MMVA's second-screen experience, with its BlackBerry Lounge also featured twice on the televised show to help drive traffic to the microsite. (The success of that MMVA lounge laid the groundwork for the mobile co to sponsor an Amazing Race digital aftershow, Inside the Race with BlackBerry, Caporicci says.)
"We make sure that every promo looks exactly like our station. It always looks like it's coming from the MuchMusic voice," says Cat Halliday, manager, brand partnerships at Bell Media.
Bell Media had two other innovative branded content successes this year on MTV, including social project Instamissions, launched in May. To help Sony launch its Xperia ZL, MTV produced a web series (with production by Free Agency and media by PHD) about Instagram users who had garnered massive followings. The brand also put out a call to action to Sony's target demo of 18- to 35-year-olds, to complete specific missions to win a Sony Xperia ZL. Bell Media reports millions of impressions were generated on social channels.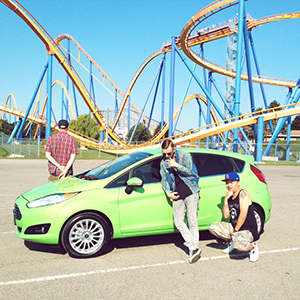 #IN24, launched in August, was what Bell Media called a socially-led branded content initiative between the media co, Ford, Free Agency and Mindshare to promote the automaker's Fiesta. It featured six Canadian artists travelling somewhere in Canada in the vehicle, giving Ford lots of exposure while positioning the program with a lifestyle angle to appeal to the target of 30-year-old females.
While those projects skewed to a millennial audience, Caporicci says that the learnings from MTV and Much are often applied to other channels. After all, what might seem groundbreaking now can become old news very quickly.
"There's a constant evolution," he says. "We laugh sometimes when we look back at some of the programs we used to do."