Finding a smart purpose for internet of things
A scale that measures CO2 levels? OneMethod's Amin Todai and Lionel Wong ask, who needs that?
By Amin Todai and Lionel Wong
The internet of things – the new generation of everyday connected objects that text you when your milk and eggs are low, or your insurance company connecting directly to your car to dynamically adjust your insurance rates based on how you actually drive.
Sounds super futuristic… and a little bit scary, but there is some real power in this digital meet-up of data and technology. The question then, is how do we truly harness this power? How do we transform all this data to something useful? When attempting to answer this, many challenges arise, including the notion that the more data you have, the better. But as Seer Labs chief design officer and San Francisco Internet of Things Meetup founder/organizer Alfred Lui says, "just because data is beautiful doesn't make it useful," and we tend to agree. Unnecessary data, or non-relevant data, can be very confusing and ruin a consumer's experience.
For example, the Withings Smart Body Analyzer – essentially a scale on steroids – not only tracks your weight, your lean-to-fat ratio and your heart rate, but it also monitors the carbon dioxide levels and temperature in your room. Why, you ask? What's the relevance of air quality in your room to your weight?
Beats us.
The old adage that "less is more" still holds true. And yes, we had to Google that example because companies that fail to give their data relevancy don't tend to end up in our feeds.
Focused, single purpose devices with very clear and specific missions will thrive.
Think of the three most
For instance, the Nike+ FuelBand and a $5 pedometer do the exact same thing at their cores. But it's not about the actual product; it's about the service they provide. Why spend $150 on a FuelBand? Well, the FuelBand is more than just a pedometer; in fact it's not about counting the steps at all. Instead, it's about the interpretation of the data, the assessment of your health and the social sharing. Oh the social sharing. successful and well-known internet of things items.
Another good example is the Nest Learning Thermostat. The thermostat is just the avatar. The service they're selling is actually energy management. It learns your schedule and lifestyle, and then programs the climate around you accordingly. It also sends you a monthly report on how green you were, how much energy you saved and how you're doing compared to the entire Nest community.
One of the best examples of giving your tech purpose is the Disney MagicBand. On the surface it's just a simple RFID bracelet, but you know Disney goes deeper. It fully integrates you into the magical Mickey experience. It not only allows you to unlock your hotel room and pay for food and gifts, but very soon it will also allow Disney characters to address kids by their names, celebrate their birthdays as they come into the park and make small tweaks to their favourite ride. This will all help make the Disney World your Disney World.
These are for massive global companies, but this approach is not specific to big brands and big budgets, as evidenced by a small ski hill in Quebec providing their ski school students with GPS devices. These tiny instruments – retailing for about $25 a piece – allow the kids to track every move they make on the hill, from kilometers covered to total runs to maximum speed. For the parents, these tools add a level of security by ensuring their children will never get lost. The ski hill then packages all this together, selling the entire experience of fun, progress and safety, making them the obvious choice amongst a small chain of competitors that don't offer this add-on.
So while the bigger fish tend to be the first to experiment with this sort of thing, the ability to integrate low-cost tech and/or aggregate already available data means just about anyone can enter this space and offer a new meaningful experience. If you plan on doing just that, developing a successful Internet-enabled, data-collecting product, we suggest you follow these three steps:
1. Give your pr
oducts a purpose
It has to mean something to the consumer. Attach it to an insight. And sell the service, not the product. If your product uses data in a new way that helps people, you're probably on to something.
2. Make services suck less 
Improve people's lives by making mundane things (like climate control) easier, smarter and increasingly useful. This could involve finding new ways to interpret/utilize existing data or creating new ways to capture and serve up previously unused data.
3. Create a new normalcy for people
Take baby steps. We can't change human behaviour, but teaching people to lock their hotel room with a bracelet is a pretty damn good start.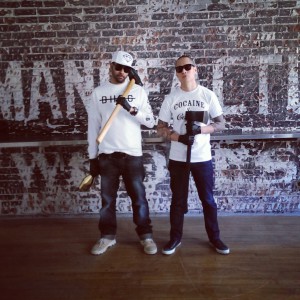 Amin Todai (left) is president and CCO at OneMethod. Lionel Wong is ACD at OneMethod.