Nabob mocks the fixings
The Kraft brand is targeting those who prefer substance over style with its new "Respect the Bean" push from Ogilvy.
What happened to coffee?
That's the basic idea behind the latest campaign from Kraft coffee brand Nabob.
"Nabob believes coffee culture has gotten a little bit out of hand," says Dana Somerville, marketing director coffee, Kraft.
The creative, from Ogilvy, features farmers in Colombia tasting fancy-schmancy drinks (think whipped toppings and iced bevys) oft served in coffee houses, much to the dismay of the farmers. They're handed a cup of Nabob coffee a second later, and look relieved. (These were the real reactions from farmers, assures Somerville.)
The idea is clear: the bean is the important part of the coffee.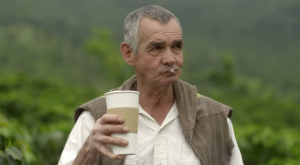 "Everything revolves around this idea of 'respect the bean,'" says Ian MacKellar, CCO, Ogilvy. The current creative, launched last week, will be in market on TV for the next few weeks, before being replaced by different assets, still around the "respect the bean" theme.

This will include some online and digital pieces, including longer two- and four-minute videos, social media, as well as traditional print, OOH and more TV. The campaign will also include some seasonal elements and will run for the remainder of the year. This will also mark the brand's advertising return to the Quebec market in May, when it launches a push in that province, where it's been inactive from a marketing sense for the past 10 years. The team went down to the South American country for a few weeks and interacted with the locals, capturing as much footage as possible for the lengthy campaign.

This is a continuation of Kraft CMO Tony Matta's vision for the company to create a handful of "magnetic brands" and to delve into culturally relevant moments, which we first saw last week with Kraft Dinner. This is a trend we'll continue to see going forward as more Kraft brands debut their 2014 creative offerings.

Like Kraft, Nabob is also doing away with a traditional target demographic, Somerville says, instead targeting consumers who believe substance should always trump style.

Because the brand originated out of B.C., it's much more established in the West than the rest of Canada. This campaign hopes to build the brand up to be a national premium coffee contender.