AToMiC Awards: Product development, joining the maker movement
What will they come up with next? Check out these innovative products that won over the jury.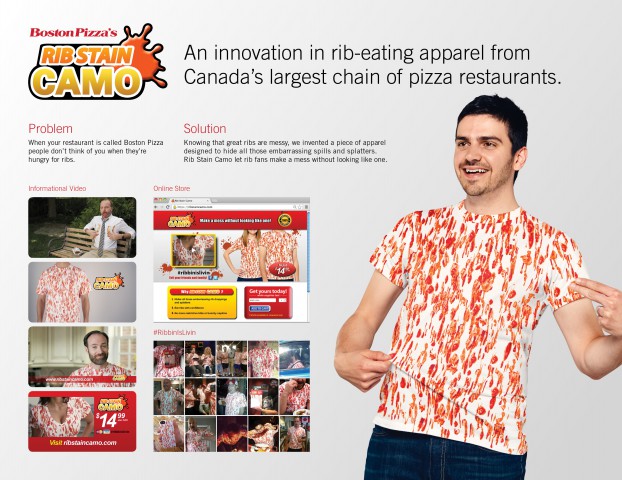 Brands take on functional fashion
Brand-led fashion is a hot topic these days. Some marketers are partnering with seasoned designers, while others are taking it a step further and actually sketching designs for their own clothing products.
And the pieces aren't just typical tees and tanks, they actually provide utility (and humour), such as Boston Pizza's "Rib Stain Camo," which was invented with the help of the restaurant's agency Taxi. Ribs are pretty messy, so the brand decided to design a T-shirt that would catch and camouflage embarrassing spills and splatters from the sticky meat dish.
Marketed as if it was the best thing since the Snuggie, the shirt was featured in TV infomercials with no BP branding and sold on a dedicated, unbranded website. Only when buyers received their shirt in the mail did they discover it was actually made by the restaurant. The shirts sold out in the first three weeks of the campaign, with the brand having to reorder three times to keep up with the unexpected demand. Plus, rib sales increased by 70% in the first month of the campaign.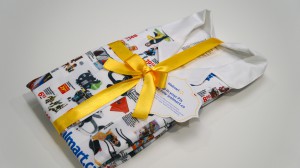 Meanwhile, Walmart used clothing as a lure to online shopping. The retailer, with the help of agency JWT, created a pair of PJs that essentially acted as flyers, featuring products its wearers could browse through and then shop in the comfort of their home. If they liked a blender on their sleeve, for example, they could then go online and purchase it from Walmart's website. Using the sleepwear (which was sent in the mail to consumers), the brand was able to target people where they typically do their online shopping.
A week following the campaign, the retailer's website saw a 147% increase in traffic, and it has since generated an estimated 3.6 million social media impressions across Canada.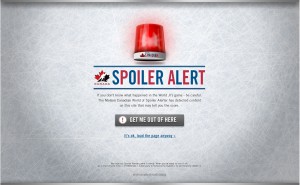 Hockey-fied beer brands score with innovation
Beer and hockey are joined at the hip. The coveted title of beer sponsor is wrestled over by brands with heaps of marketing dollars, and their commercials are never missed during a live game. And it's no surprise Molson and Budweiser are the two most competitive brands on the rink.
But it's interesting to note, when the two decided to step outside their TV spot and signage comfort zone, both delved into product and software development, creating useful tools that would either explicitly announce a hockey game score or purposely hide it from sight.
When Molson Canadian signed on as a sponsor for the World Junior Hockey Championship, which took place in Russia with games airing in Canada at around 4 a.m. (resulting in people recording the game to watch later), the brand and agency Rethink decided to help save Canadians from the frustrations of score spoilers on the internet. So they created a "Spoiler Alerter," which was a browser extension that blocked any website (including Facebook and Twitter) and even email that contained content revealing the score of that day's game. The "Spoiler Alerter" popped up and blocked the page with a warning.
Conversely, Budweiser developed a product to bring attention to scores. Working with agencies UM and Anomaly, the brand created the "Budweiser Red Lights," which are essentially red lights, similar to those used in live hockey games, installed in a hockey lover's home. The light would flash each time the owner's preferred team scored a goal on TV during an NHL game, bringing the fan closer to the game.
The "Red Lights" created a media frenzy, picked up by blogs, news and sports sites, and pro hockey players (who tweeted it to their followers), generating 54 million media impressions. Since launch, the brand has sold over 35,000 Red Lights, generating $5 million in additional revenue.
Harvey's patents burger creations

For most restaurants, it can take a whole team of chefs to formulate the recipe for a new item on the menu. But what if regular customers were able to take on this task? Well, Harvey's found out they'd jump at the chance, as the QSR watched fans go online to customize a burger every 30 seconds on the first day it launched the "Copyright" campaign in November last year.

That's 4,000 burgers Harvey's "copyrighted" (using a fictional lawyer, Morley Gunn of Gunn & Associates) so the creator could claim it as their own. The number of burger creations, at press time, has since jumped to 32,420, with more than 177,000 visits to Myharveyscopyright.com.

What's more, some of the burgers were actually developed, however, not sold in stores. The team at the QSR and agency BBDO, who created the campaign, built some of the patented burgers and created six-second, stop-motion Vine videos for their creators to share on social media. Additionally, the brand designed T-shirts with images of several burger creations to send to fans.

The hardware

Budweiser "Budweiser Red Lights" UM AToMiC Idea: Gold / Best Brand Integration: Silver // Molson Canadian "Spoiler Alerter" Rethink Best Digital Engagement: Silver // Boston Pizza "Rib Stain Camo" Taxi Best Niche Targeting: Gold // Walmart "Pajamas" JWT Best Print Engagement: Bronze // Harvey's "Copyright" BBDO Toronto AToMiC Idea: Silver / Best Brand Integration: Silver