Throwback Thursday: strategy in 2000
For our 25th anniversary, we're travelling through time. In 2000, Roots launched an airline and we survived Y2K.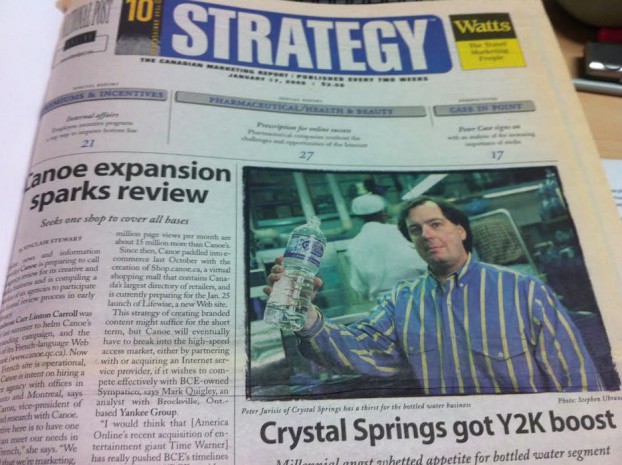 For strategy's 25th anniversary, we're travelling back in time, flipping through the pages of old issues to highlight some big news you may have forgotten, trends you wish you'd had a crystal ball to predict and marketing issues that never seem to change. Check back next Thursday to pick up some valuable insights into Canadian marketing history. This week, we tackle 2000.
Y2K fever
Crystal Springs got Y2K boost Jan. 17, 2000
Though the start of the year 2000 didn't spell the end of days as predicted, that didn't stop consumers from stocking up on basics like bottled water, with Crystal Springs reporting it sold more water on some December 1999 days than it did during the hot days of summer.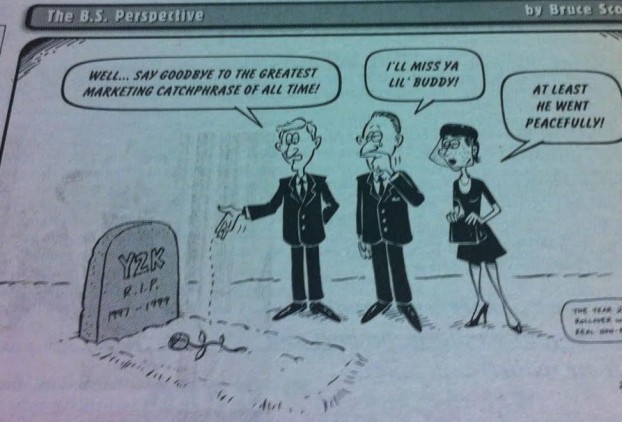 Who's online?
Women start to get their due online April 10, 2000
Mid-2000 was the year that women  were "migrating online," with marketing dollars following closely behind. Women at that time were most likely to use the net to find educational and health information, participate in chat rooms and obtain recipes.
Surprise! Adults 50-plus are booming on the net Dec. 4, 2000
Also making headlines in 2000 was a report that people over the age of 50 were spending more time on the web than any other group. Primary uses for the age group, according to the numbers from Media Metrix Canada, were communicating (primarily through email) and visiting websites in the categories of finance, travel and health.
Industry headlines
Levi's bets on butts Jan. 17. 2000
The jeans brand hoped to turn its "sagging" fortunes around with a contest from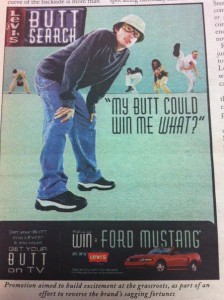 Impact/FCB that asked Canadians to send in images of their posteriors in the jeans for a chance at prizes including a Ford Mustang.
Cablecos get set to launch web-based TV Jan. 31, 2000
Shaw and Rogers both announced plans to begin offering customers "web TV" interactive content, with consumers being able to download movies, music and other programming, as well as shop, bank and communicate through their sets. While some of these things are still yet to hit mass reach in 2014, Forrester Research had forecast that interactive TV would make $11 billion US in ad revenue and $2 billion US in subscription revenue by 2004, with more than 24 million expected to tap into the new services across North America.
Roots charts flight path June 19, 2000
The clothing company partnered with Mississauga, ON.-based Skyservice Airlines to launch RootsAir, a business traveller-focused charter company servicing major cities across the country, like Toronto, Montreal, Ottawa, Calgary, Edmonton and Vancouver. Service from the airline was suspended in 2001 when Air Canada purchased a stake in Skyservice.
Agency headlines
Rethink headed for the big leagues Jan 17., 2000
The agency won three clients without pitching or doing spec creative, picking up A&P Dominion, Earl's Restaurants and A&W Food Services of Canada.
Y&R joins WPP fold May 22, 2000
WPP only had a few agencies in its roster in 2000 when it was announced it would be purchasing Y&R. Recent moves by the holding company in 2014 include purchasing Twist Image and forming a Ford-specific shop called Blue Hive with its agencies Y&R, Mindshare and Wunderman.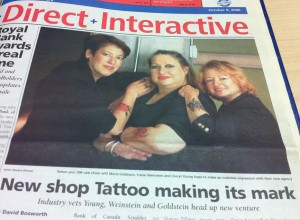 New shop Tattoo making its mark Oct. 9, 2000
Mona Goldstein, Fransi Weinstein and Cheryl Young started up a new Toronto-based direct marketing agency.
Cossette Toronto names Donne Nov. 20, 2000
Phil Donne was named the president of the agency's Toronto office following 15 years at Kellogg's in Canada and abroad. Donne remained in the role until 2001, when he moved over to the Campbell Company of Canada as its president.

The more things change…
Can Canada set roots as a testing ground? Feb. 14, 2000
Heinz was using the U.S.'s smaller neighbour as a test market for new campaigns aimed at repositioning the condiment and making it more relevant to tweens, making the creative available here six months before bringing it to the U.S. in any capacity. Mondelez's Trident brand recently did the same with its short turnaround Project Sprout initiative, launching a clothing line for the gum brand in Toronto before it had gone live in any other market.
Rogers/Jays deal could alter sponsorship model July 31, 2000
Back when Rogers Communications didn't own the Toronto Blue Jays and have half of a majority stake in MLSE, there was industry discussion around whether its possible involvement with the MLB team would bring new opportunities or costs for potential sponsors. The article also pointed to Rogers wanting to buy a 40% stake in the then CTV-owned Sportsnet channel. Spoiler alert, it bought it outright later that year and has since built it out into a multiplex of channels.
Sears lures youth with new format, new merchandise Aug. 28. 2000
Sears Canada attempted a brand revamp in 2000, aiming to introduce new store designs and an expanded selection of merchandise to reach a more youthful audience across its fleet of 188 stores. Fast-forward to 2014 and the chain is up for sale in Canada, with the majority of its flagship stores sold off and owner Eddie Lampert putting it on the market.
Creative Report Card
And as always, we'll wrap up our time travel with the top creative agencies, brands and creatives who graced strategy's annual Creative Report Card. See if you can spot any names still playing big today.
Want more strategy Throwback? Catch up on the headlines from 1989, 1990, 1991, 1992, 1993, 1994, 1995, 1996, 1997, 1998 and 1999.