Throwback Thursday: strategy in 2004
For strategy's 25th anniversary, we're travelling through time. In '04, the sponsorship scandal rocked the industry.
For strategy's 25th anniversary, we're travelling back in time, flipping through the pages of old issues to highlight some big news you may have forgotten, trends you wish you'd had a crystal ball to predict and marketing issues that never seem to change. Check back next Thursday to pick up some valuable insights into Canadian marketing history. This week, we tackle 2004.
Sponsorship scandal sizzles
Federal ad spending clampdown feared March 8, 2004
"The current federal government scandal involving several Montreal-based ad agencies will likely result in reduction in the government ad spend, particularly in the province where much of the controversy is centred."
And there was reason to worry – the feds were the biggest spenders when it came to ads, forking over $130 million in 2002. (Procter & Gamble was second on the list.)
In our March 22 issue, we examined how agencies should respond to the scandal, with some suggesting the ICA and AAPQ should speak up, while others advocated for a wait-and-see approach.
Meanwhile, in April we reported on a poll conducted with Decima, in which 40% of Canadians said "their trust in ad agencies has decreased somewhat or a lot in light of the recent federal sponsorship scandal – a phenomenon most pronounced in Quebec."
Among its findings, the commission assigned to investigate the issue found "gross overcharging by communication agencies for hours worked and goods and services provided" and "five agencies that received large sponsorship contracts regularly channelling money, via legitimate donations or unrecorded cash gifts, to political fundraising activities in Quebec, with the expectation of receiving lucrative government contracts."
Emerging players and potential demos
H&M's 'cheap chic' takes Toronto by storm April 5, 2004
The Swedish fashion giant was generating buzz after debuting in Canada with two Toronto stores in March.

Canada's new fashion leader: the plus-sized woman April 5, 2004
"Top retailers are marketing to the larger woman like never before," we wrote. "And no wonder: sales are growing at three times the overall rate."
The narcissistic metrosexual Feb. 9, 2004
Rob Young weighed in on the emergence of the term "metroseuxal" into the mainstream – "our newest, coolest piece of target group terminology," pegging what seemed to be its first use to 2002.  But he argued it was not a group worth targeting as the term itself was vague, "includes more males than it excludes" and could apply to people from various historical periods.
Will Ricochet fly? June 14, 2004
After launching its Ricochet Branded Content subsidiary earlier that month, we pondered whether Cossette would find success in this space. "For the most part, Canadian ventures into branded content have been underwhelming. What makes Cossette think things will change?"
A decade later, seems safe to say they were on to something.
Introducing Andrew Black July 12, 2004
As Virgin Mobile Canada was just getting its start and undertaking an agency review, we spoke with president Andrew Black about the company's plans to jump into the wireless category and woo the 15- to 30-year-old demo, considered to be under-penetrated at the time.
Plugging into the digital revolution August 2004
In our inaugural glossy mag edition in August, we wrote on the revolution of digital, citing Molson, Schneider Foods and Schick as Canadian pioneers, despite how "the vast majority of marketers are still scratching their heads about how to advertise effectively within the digital domain."
What was shakin'?
Ads get real May 3, 2004
Brands were tapping into the reality show craze, by developing reality events to infuse their campaigns with – all in the name of consumer-brand interaction. Cheerios, for instance, kicked off an audition, giving consumers the chance to be the voice for a campaign launching a new berry version of the cereal.

Death of the Canadian ad? March 22, 2004
With factors such as globalization and tight ad budgets, we reported how more than 90% of ads in categories such as fast food, packaged goods and auto were global, causing us to ask "Is there any hope left for the made-in-Canada ad?" Luckily, it wasn't all doom and gloom, as we pointed to instances where Canadian work still had a fighting chance, such as when a domestic office could prove it was more successful than a global version.
Next wave custom pubs: the new black November 2004
"…The Bay, along with RBC and Kraft, are cluing into the fact that custom publishing is no longer just about building brands; it can be tied to specific goals that enhance a company's bottom line. The best part? It's measurable.
"These marketers are using an editorial approach to deliver on a slew of worthwhile objectives: building closer relationships with existing customers, tracking down new ones, showcasing product intros and teaching folks how to use existing stuff in new ways – all without ramming the info down the consumer's throat."
The latest health and diet crazes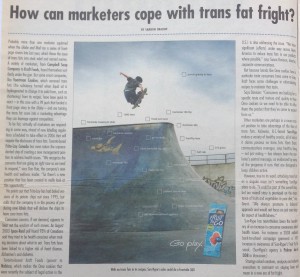 In January, we posed the question, "How can marketers cope with trans fat fright?"
"Probably more than one marketer squirmed when the Globe and Mail ran a series of front-page stories late last year, which threw the issue of trans fats into stark relief and named names," we wrote. "A variety of marketers, from Campbell Soup Company to Kraft Foods, found themselves under the gun."
But we pointed out the opportunity for marketers to play off consumers' fear of trans fats, highlighting Voortman Cookies, which reacted quickly and took the trans fats out of its recipes.
Exploiting Atkins Feb. 9, 2004
QSRs, packaged goods and beer cos were all getting in on the Atkins and low-carb diet fad, with Subway directly parterning with Atkins to offer "Atkins-friendly" wraps and Burger King serving up a "bunless burger" menu among its low or no-carb options.
In March, we conducted a poll with Decima, which found nearly half of Canadians were cutting carbs. "The number of Canucks who say they are actively limiting their carbohydrate intake has shot up from 8% to an astounding 43% in a matter of months…"
Unilever caught onto the action and launched its Carb Options line with existing brands such as Hellmann's and Knorr.
Hot tech 
Video goes mobile September 2004
It might be the norm today, but back in 2004, we thought Smartvideo Canada had the key to the next killer app, with its ability to stream video to mobile. While there was already similar tech in market, this latest feature touted the ability to accommodate full streaming, and not just stop-motion images.
Canada Post's new Fetch: for the privacy-conscious December 2004
Privacy is one of those timeless issues that technology can both help or hinder, and in December, we wrote about an app poised to help consumers keep their personal info under wraps.
"Launching in January in Calgary, Fetch is based on the idea of a trusted third party – Canada Post – acting as an intermediary between consumer and brand. What does that mean exactly? Essentially when you look at a billboard, TV or Web ad and it's tagged with Fetch plus a keyword (e.g. a BMW ad and the keyword car), consumers who opt into the initiative can text, phone or go on the Web to request more info on that specific product.
"The twist is although you'll receive your BMW brochure or L'Oréal shampoo sample in the mail immediately, your personal information never reaches the brand; it's held by Canada Post."
And we know how much you love reading up on old Creative Report Cards, but in 2004 we switched up our format, with the next batch of winners published in February 2005. Check in next week for list.
Want more strategy Throwback? Catch up on the headlines from 1989, 1990, 1991, 1992, 1993, 1994, 1995, 1996, 1997, 1998, 1999, 2000, 2001, 2002 and 2003.