Brands swipe right
Does tapping into Tinder get you admirers or will consumers spurn your advances?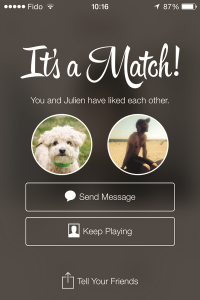 This story appears in the October 2014 issue of strategy.
Tinder, the location-based app that lets users make new connections (or turn them down) with the swipe of a thumb, is proving a hot property. You'd understand if it has the hearts of some brand managers palpitating, since the majority of its users are millennials.
But it's still a tricky space for brands to flirt with, and not just because of the risk of rejection. Earlier this year, U.S. broadcast co Fox and Tinder formed a partnership for The Mindy Project, creating profiles for show characters, and Tinder is on record saying it wants to monetize the app. But currently, its official terms of use forbid using it for commercial purposes. Tinder didn't respond to requests for comment, but it's obvious that a few brands, including some bold Canadian ones, are getting in the game with guerrilla campaigns. Since the platform is free to join, it's a potential hotbed for testing programs like these.
Do these executions disrupt the experience or help ingrain a brand with the hip kids? You be the judge.
Rosie Animal Adoption's cute profile pics
Drawing on the insight that people are looking for companionship on Tinder, Quebec-based Rosie Animal Adoption and Montreal agency DentsuBos sought matches for "man's best friend" on the app.
Their campaign included putting profiles of pooches on the platform with bio info that listed interests such as "enjoys long walks in the park" and "good food with good friends," says Xavier Blais, copywriter at DentsuBos.
Blais says the agency had some concerns about how consumers would react to the ads but most people responded playfully. For instance, one person wrote, "Let's get married. You're my type, white and fluffy."
"We thought since we are doing it just one dog at a time, we are disrupting the process but not flooding it only with dogs," Blais says. "We told [the adoption service], you probably won't get a lot of dogs adopted through this process at first, but it will get you one-on-one conversations with potential guardians," he adds.
Results have been encouraging. The first two dogs to go on Tinder – Sookie and Gracie – found homes shortly after the app launched in the spring and the agency continues to load new profiles of adoptees.
More recently, New York shelter Social Tees Animal Rescue and the intern program at agency BBH launched a similar initiative called "Puppy Love."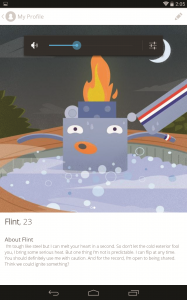 Nescafé gets hot and steamy
Nestlé Canada wanted to arouse millennials' interest in its Nescafé 3 in 1 coffee (packets containing a mix of instant coffee, whitener and sugar). So, working with agency OneMethod Digital + Design, it created three online vids for its "Threelly Awesome" campaign, with each clip featuring three animated characters that morph to become one (three in one, get it?).
Rather than promote the vids through the usual digital channels, the brand launched a campaign on Tinder in September during post-secondary school orientation week, at more than 40 Greater Toronto Area campuses (the app has a 160 km radius for finding matches). They created animated profiles for the characters – including a horse, a lighter and a mermaid – and wrote witty bios, such as this line from the profile for Flint, the lighter: "I'm tough like steel but I can melt your heart in a second…Think we can ignite something?"
When someone swiped right on the profile, likely hoping to connect with a potential date, they found out the person on the other end was in fact a brand. Social media managers at OneMethod sent a suggestive message that included a link to the YouTube videos. For instance, the horse character wrote to one suitor: "Before you decide to go for a ride with me, why not get to know me a bit better by watching my recent debut on YouTube." The community managers would also engage in a response when someone left a message.
Ryan Saunders, marketing leader, coffee, at Nestlé, acknowledges there was risk involved venturing onto a new platform, but says the goal of the campaign was to have some fun and surprise consumers.
"To get noticed you have to get creative, take chances, be different and be brave," he says.
Steve Miller, VP and CD at OneMethod, says Tinder had not pulled the profiles or contacted them since the campaign launched, and the response from what is usually a cynical demo has been largely positive.
"For the most part people have had a lot of fun with it. They have even taken on personalities as they talk back with us, almost like they are also a character," he says.
"The profile pics are fun and the write-ups are funny, so there is a story there. I think it's a rewarding experience as opposed to a brand going onto Tinder and putting [up] their product."
Since the videos were only promoted via Tinder, Miller attributes the views (almost 500 as of press time) to people clicking links in the app.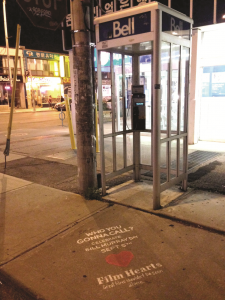 Agencies get in on the action

A few enterprising creatives have been taking a swipe out of Tinder's playbook. Vancouver's Pound & Grain unveiled an app last month at TIFF to help users with similar movie tastes hook up for a viewing. Called Film Hearts, moviegoers selected a flick they wanted to see and discovered others looking for a watching buddy (it sounds a bit like a first date to us). About 600 people interacted with the app.

Meanwhile in Europe, there's no love lost at Dutch agency Woedend! It's seen the way the industry is going and decided it wants to help grease the revolving door for brands and agencies. It launched Pitcher, a mobile app that marketers can use to swipe through more than 60 Amsterdam-based creative shops. Users can swipe right to put an agency on their shortlist, then send out an invite for pitches with the touch of a button.