AOY Silver: Rethink digs up winning ideas
From "piss off Putin" briefs to uber-successful Molson Canadian fridges, this Toronto agency is basking in a glowing year.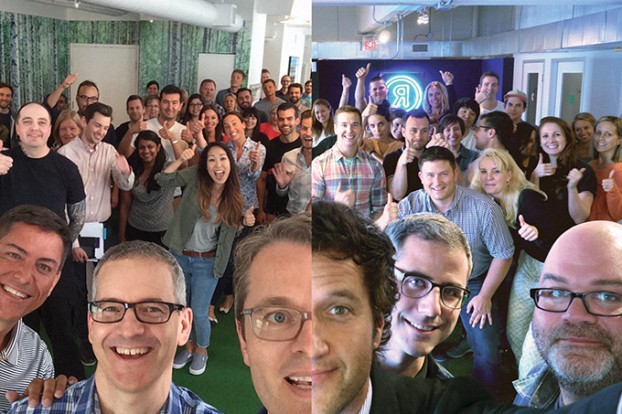 This story appears in the November 2014 issue of strategy.
Not many creative briefs start with "piss off Putin." But that's the mission Aaron Starkman and a couple of other creatives at Rethink's Toronto office gave themselves in February for a self-assigned PSA ahead of the Sochi Winter Olympics.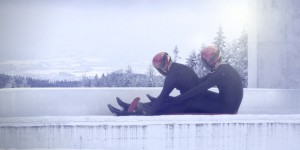 Starkman, CD and partner at Rethink, says the team was opposed to the Russian leader's anti-gay stance. So, during "a bit of a breather" they popped over to a coffee shop near their Spadina Avenue location and came up with the platform for "The Games Have Always Been A Little Bit Gay" – two spandex-clad guys sitting on a luge sled and thrusting suggestively as they prepare to compete. The agency approached the Canadian Institute of Diversity and Inclusion (CIDI) with the idea, and from there, as Starkman puts it, "shit got crazy." With no media investment and under $5,000 in production costs, the work received 10 million views worldwide and major media coverage – including airing on Jimmy Kimmel Live! and CNN.
It's part of the agency's Silver-winning submission for AOY and it's also a call back to the type of edgy, disruptive work that last landed it in the winner's circle in 2009.
Then, we wrote that the agency, founded in Vancouver by Chris Staples, Ian Grais and Tom Shepansky, was "thriving with the little guy" – winning work for challenger brands like Coast Capital Savings ("I Love Fees"), Mr. Lube and 2K Sports. Today, the shop clearly still enjoys a bit of risk-taking – such as the Olympic ad or its "Positively Painful" spot for the Vancouver-based Science World, which was deemed too violent for TV by the Television Bureau of Canada – but it now has offices in both Vancouver and Toronto, 15 partners (including industry vet and managing partner Andy Macaulay), and is creating award-winning work for national brands like Molson Coors. And Starkman says it's the work for its biggest clients – also including A&W, Sobeys and Shaw – that the agency is most proud of.
"Normally how an agency works is they take on the big clients to pay the bills and take on the small clients to have the fun," he says. "That's not how we look at it. We will continue to look for small clients we think we can help, and big clients we think we can help, because we have a track record with both."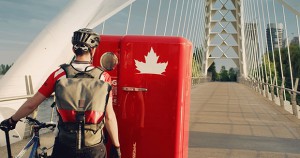 Indeed, the agency's most awarded work this year was for Molson Canadian and its now iconic "Beer Fridge." Like the work for most of its clients, it was one idea out of a hundred presented to Molson, Starkman says. The agency takes what it calls a "shallow-holes" approach that allows its client and partners to critique work while it's in progress.
"One of the core beliefs of this place is we get to quality through quantity," says Macaulay, who has only been at Rethink since June but is clearly well-versed in its culture.
Many agencies will take one idea and "flush it out 100 different ways," Macaulay says, whereas Rethink has 100 ideas, and it will share them with the client "when it's shallow and say, 'How does that feel?'"
Another Rethink philosophy, called "Office Hours," sets aside a three-hour period (1 to 4 p.m. in Toronto and 10 a.m. to 1 p.m. in Vancouver) for meetings, leaving the rest of the day for creatives to sink their teeth into the work.
"That's a great stretch as a creative person, and you can get in a real groove in that time," Starkman says.
There will likely be more work for the creatives this year. Macaulay acknowledges the shop has its eyes on growing – noting there is enough space to double its 35-member staff in the Toronto office – and he is there to help with "identifying new business opportunities" and shaping that growth.
But as it grows, he says its core philosophies will remain sacred.
"I've started and ultimately sold two agencies prior to coming here, and one of the things I've learned is the measure of a great agency is a strong beliefs system," he says. "It has to really believe what it believes, and I am here to help amplify that, not to change it."
Not that the partners have any illusions that changes in the industry won't affect the agency. They acknowledge the shop won't look the same in three years, but CD and partner Dré Labre says it has something – great ideas – that will stand the test of time.
"The industry is expanding and fragmenting," Labre says. "What's not changing is there are going to be fewer people that are coming up with really good ideas and there will be a lot of people trying to come up
with tactics.
"The one thing we have is this idea thing that we cling onto, and we can apply that to pretty much anything."
New business
Vancouver: Trace, Earth's Own Food Company, Imagine 1 Day, Men's Health Initiative of BC Toronto: Creemore Springs, Nature Conservancy of Canada, Student Price Card, Piloti, Urban Wildlife Rescue
Key hire
Andy Macaulay, managing partner, Toronto
Staff
95
Offices
Toronto, Vancouver
Cases
1. "The Games Have Always Been A Little Bit Gay," for the Canadian Institute of Diversity and Inclusion.
2. "Beer Fridge" for Molson Canadian.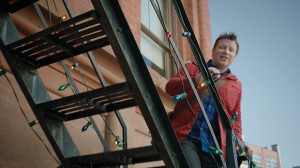 3.  Sobeys enlisted celeb chef Jamie Oliver to promote "Better Food For All."

4. Rickard's "Rules of the Round" helped drinkers navigate different social situations.

5. Playland's "Hot Seat" let fans decide which thrilling rides would be live-streamed.