Big winners and big data
Strategy editor Emily Wexler on how a few AOY winners are upping their analytics game.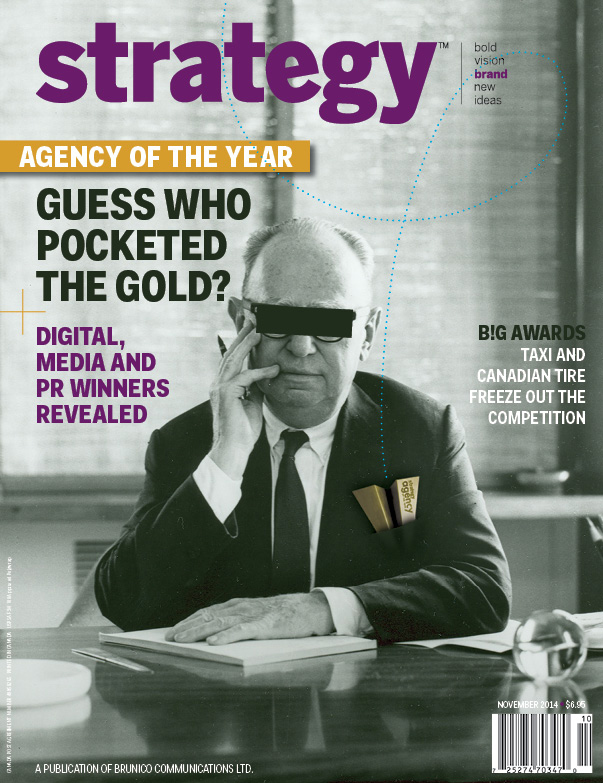 This story appears in the November 2014 issue of strategy.

Ah, Agency of the Year. It's that time when agencies call us up and ask if they can get an extension on their submissions. Or if they should buy extra tickets or fly their president into town for the show (you know, just in case they won something). We get several of these calls every year – without fail. Some editors might be annoyed, but I'm a glass-half-full kind of gal. The way I see it, those incessant calls mean you care.

It's a testament to the fact that we've built an awards show that matters to this industry. It's notoriously hard to win, as it's judged by external panels that change every year, and is based on a body of work. One super strong case will not win you AOY – you need everything you submit to be strong.

While this year's winner, Leo Burnett, has been on the podium before (having last won Gold in 1996), this victory feels particularly sweet considering the agency came so close to cracking the top three in the last several years. You could feel Leo's momentum building lately, so the win isn't that big of a surprise (read about that momentum here).

In this issue, you'll find stories about the Gold, Silver and Bronze agencies in our four categories – creative, digital, media and the new kid on the AOY block, PR. We thought the time was right to introduce the new category because we've seen PR agencies get increasingly more creative and take on a bigger seat at the client table. Look at our Gold winner, North Strategic, with its video arm, Notch, which makes the kinds of viral-worthy branded content that's typically considered within the realm of the creative AOR (see here).

PR getting into the creative game is just one trend of several we noticed as we profiled this year's winners. Another is data. We started writing about "big data" two years ago (although the concept had been around long before that). Back then, agencies were starting to explore how they could bolster their data and analytics expertise. Now, several agencies – across media, digital and creative – are putting a serious focus on it, hoping to use it as a differentiator to win new business. Digital Gold winner John St. (which tied with Lg2) is staffing up to meet the demand for deeper analysis and Digital Bronze winner Proximity is building its entire positioning around the melding of data and creativity.

Fred Forster, CEO of MAOY Silver winner PHD, notes the pervasiveness of data requiring deeper analysis, means the need for "math men as opposed to Mad Men." (I can't help but picture Don Draper rolling his eyes and saying, "Great ideas don't come from a bunch of nerds with calculators," as he takes a swig of Canadian Club.)

Does this mean the end of risk-taking and creativity? Proximity's SVP/CD Scott Pinkney doesn't think so. Rather, he feels that in today's landscape, with an overwhelming amount of ways to target consumers (and that targeting getting more and more niche), data is a way to make sense of it all and help come up with the best creative for the right audience.

I guess we'll see if the new data focus pays off next year, when agencies are once again calling us up and asking for extensions. Congrats to all of this year's winners.