Throwback Thursday: strategy in 2013
Last year, branded content was the big buzz, Target ventured North and Dove went viral...again.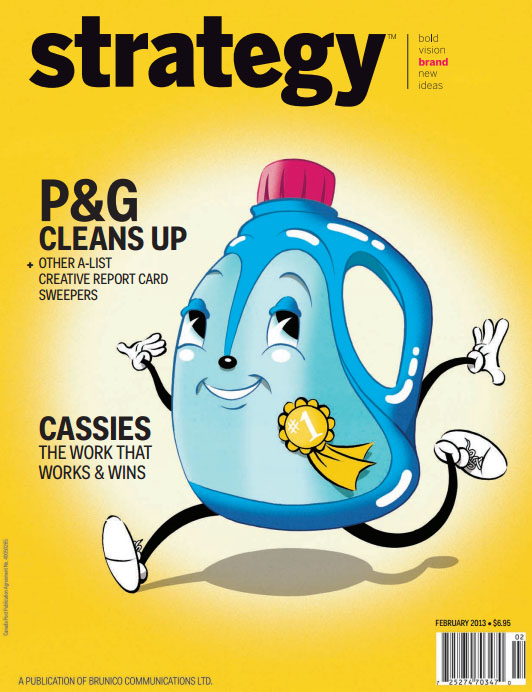 For strategy's 25th anniversary, we're travelling back in time, flipping through the pages of old issues to highlight some big news you may have forgotten, trends you wish you'd had a crystal ball to predict and marketing issues that never seem to change. Check back next Thursday for our final roundup. This week, we tackle 2013.
Hot industry topics
Exploring ethical sourcing, June 2013
After the April tragedy in Bangladesh, where a factory that produced clothes for Joe Fresh collapsed, we asked a few industry insiders to weigh in on whether it's time companies make ethical sourcing a bigger brand priority.
Branded content is king, July/August 2013
The Fall TV issue was all about branded content. We explored how to make it, who is doing it, and the new players in the space. A few branded content companies popped up, including BTC, headed by Carmen Lago, former director of brand partnerships at Bell Media, with Tony Chapman (formely of Capital C) on board as a BCT advisor and investor. Also entering the branded content ring was Cue Digital Media's David U.K., who launched a branded entertainment venture, Bent, to deliver next-generation content on all platforms, not just digital.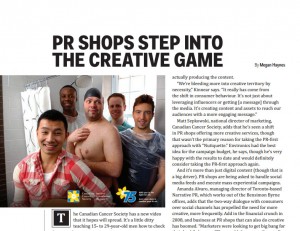 PR shops step into the creative game, October 2013
Creative was suddenly coming from a previously unlikely source – PR shops. One example was Environics, which created a humorous video for the Canadian Cancer Society about checking for testicular cancer. And shops started creating creative groups and hiring creative directors – a trend we've seen continue.
Now trending
NFC tagged as trending, February 2013
While NFC technology hadn't quite taken off, we predicted its imminent explosion. At the time, only about 16% of devices in Canada could use NFC tags, but a study from Gauge Mobile Solutions said that 80% of smartphones in Canada will be NFC enabled by 2016. It's almost two years later and we're still waiting for it to take off…
Marketing's mobile-first future, February 2013
We took a look at companies built strictly around mobile, agencies that exclusively create mobile campaigns and brands that were taking a mobile-first approach, such as the Toyota Scion.
Agencies were still figuring out how to effectively target people on their phones: "Our goal is to become more effective at engaging people in those pockets of time when the mobile is out and they are waiting for a bus," said Patricia Gray, director of digital solutions, Media Experts. "We know how to put mobile ads in front of the right audience for the right price. Now we need to make sure we are picking the right time and providing the right hook."
3D printing goes mainstream, April 2013
"While 3D printing is a still a relatively young technology, it's rapidly becoming affordable (printers run as low as $500, but the plastic filament is pricey). Since 3D printers used to be prohibitively expensive, most brand executions tend to still be gimmicks, says Tribal DDB's technology director, Joe Dee." We might have jumped the gun when we used the term "mainstream," as 3D printing is still pretty niche.
Welcome to the neighbourhood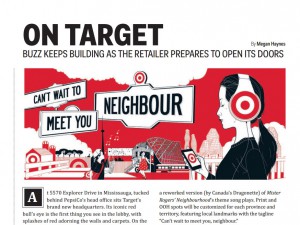 On Target, March 2013
After a ridiculous amount of buzz and speculation, Target finally opened its doors in Canada. It certainly made its presence known, even before launch, with a splash of marketing activity, from pop-up shops to streetcar wraps to a cute and catchy launch commercial. But its launch was plagued with problems, including stocking issues and less-than-stellar sales. Of course, Walmart went through the same growing pains when it entered the market, and the jury's still out on whether Target will weather the storm and emerge victorious.
Show-stopping campaigns
Dove sketches real beauty, May 2013
Not since "Evolution" in the '90s had a Dove campaign made such waves. "Real Beauty Sketches" asked women to describe themselves to a police sketch artist and then a stranger described those same women. It was a lesson in how we tend to focus on the negative instead of our own beauty. Created out of Unilever's global HQ in the U.K. with Ogilvy in Brazil, just a week after launching, the video had amassed over 23 million views (that number is now almost 70 million), was the number two most-viewed online video and had generated a number of responses and parodies (including a male version).
VW makes a movie, December/January 2014
"Red Urban is the latest agency to get into the movie business. Volkswagen and the Toronto shop are taking a trip in time with Once More: The Story of VIN 903847, a documentary directed by Oscar-nominee Hubert Davis." The film project went on to win a multitude of awards, including a Silver Cannes Lion.
Creative Report Card
And lastly, don't forget to check out who made the cut that year.

Want more strategy Throwback? Catch up on the headlines from 1989, 1990, 1991, 1992, 1993, 1994, 1995, 1996, 1997, 1998, 1999, 2000, 2001, 2002, 2003,
2004, 2005, 2006, 2007, 2008, 2009, 2010, 2011 and 2012.