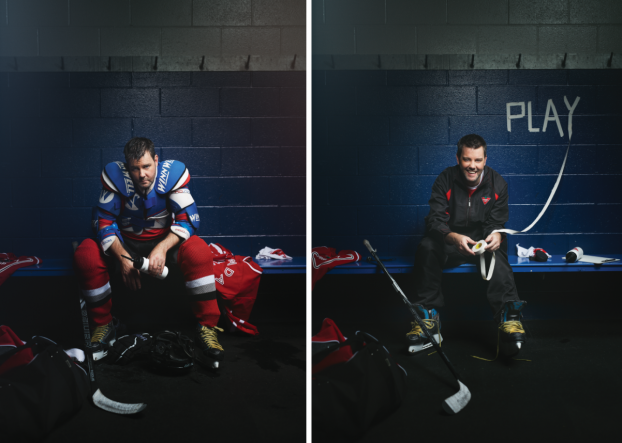 This story appears in the December/January 2015 issue of strategy.
TJ Flood played a lot of hockey as a child growing up in Ottawa. But Flood, Canadian Tire's SVP marketing, knows that might not have been possible if not for his dad and another member of his community who would brave frigid temperatures to tend to the neighbourhood's outdoor rink.
Flood hasn't forgotten about those volunteers who made it possible for him and other children to play. They were very much on his mind when the concept for Canadian Tire's "Team Photo" Olympic ad was first presented to him. The second phase of the retailer's "We All Play for Canada" brand platform turned the idea of the athlete endorsement on its head, making heroes out of the 300 members of NHL star and Olympian Jonathan Toews' community – from his parents to his teachers to, yes, a rink flooder – who had helped him achieve his goals.
"With 'Team Photo,' TJ was right on the money," says Neil McOstrich, partner and chief storytelling officer at Cleansheet Communications, the creative agency that worked on the campaign. "Here were all these Olympic advertisers showing people pushing bobsleds down the hill but he decided to show the real people that helped Jonathan Toews become an athlete, which was a much more inclusive approach."
The work was a hit for the retailer, ranked by Charlton Strategic Research's Olympic tracking study as the most enjoyed Olympic-themed ad of the Sochi Games.
But before the public ever saw Toews and his 300-person team, Flood knew it would be a winner because it matched his experience and therefore the experience of the consumer Canadian Tire had decided to target in 2014.
Prior to this year, the brand's consumer segmentation had grown out of date, Flood says. Canadian Tire remained relevant with an older generation of Canadians but a look at its customer data would show that in the categories the retailer competes in, families with young children were the shoppers it needed to reach.
"Quite frankly we needed to rejuvenate our brand and get a lot more contemporary," Flood says.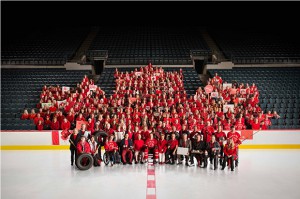 Flood, 42 and the youngest SVP marketing the company has ever had, was perfectly suited to lead that rejuvenation. He's worked 11 years at Canadian Tire (holding various positions including VP merchandising for its Living division between 2008 and 2013 before taking the reins of SVP marketing in July 2013), broken up by a six-year stint at Cadbury Adams in New Jersey, where his most senior role was brand manager for Halls Cough Drops. His three children are actively involved in sports and he coaches his 11-year-old daughter's hockey team, which puts him squarely in the retailer's target demo.
Flood is tasked with being the steward of the Canadian Tire brand, which he says touches everything from ads and its flyer, down to a manual for a cordless drill. He says he's made it his mission to ensure everyone at Canadian Tire – whether his 100-person strong department, agency partners Taxi, Cleansheet, Tribal DDB and PHD/Touché or other departments – understands the brand's positioning. He also made it clear that the brand promise – "Canadian Tire makes the jobs and joys of life in Canada easier" – would guide everything his team does, a departure from the past, when he says there would be separate plans for the more than 140 business categories it competes in.
So heading into 2014 planning, Flood drew up a three-pronged blueprint for success. First he overhauled the planning processes so all of the brand's stakeholders – including agencies and digital partners like Facebook – were on the same page, which led to better integrated plans, he says. For example, he says because Facebook was made aware of Canadian Tire's plans for its "We All Play for Canada" Olympic campaign, the social site and PHD/Touché were able to brainstorm the idea to sync one of the brand's TV spots to appear in users' News Feeds within minutes of it airing on CBC's broadcast.
That execution was part of an integrated campaign that included a media strategy called "Digital Domination Days" that involved rotating "Team Photo" with two other "We All Play for Canada"-themed spots – "Anthem" and "Celebrate" – in its YouTube masthead takeovers, premium Facebook placement, display ads and on Canadiantire.ca. Creative drove to Weallplayforcanada.ca, which housed content like 12 digital documentaries showcasing Toews thanking members of his community. Additional content made for the site was turned into a 30-minute documentary called Every Picture tells a Story, airing on CBC during the second Saturday of the Olympics and was integrated into the broadcaster's Olympics coverage. That documentary achieved an audience of more than 1.7 million. And it was all made possible with advanced planning across all partners, Flood says.
Karine Courtemanche, president, PHD/Touché, says Flood brings a "hockey coach mentality to work," rallying his team to work together, and also has a unique ability to see beyond the next play.
"He has a rare combination of knowing all the details of this business yet being able to stand back and look at it as a brand, as opposed to a series of individual campaigns," Courtemanche says. "People who know the business inside out usually have a hard time taking a step back and seeing it as consumers do."
Next, Flood inquired about how the company could use data better. Within months, he says, an internal team from the company's financial services division, working with data analysis co Dunnhumby, had leveraged the data at its disposal to determine which categories mattered to consumers most at different times of the year. Then, armed with the knowledge that its most valued customers were those active families like his own, Flood says he "instilled a relentless focus on that target customer."
He points to one of the brand's "Canada's Store" ads that ran in the spring for Canadian Tire stain products as an example of this focus on young families coming through in creative. In the spot, by Taxi, a young boy tries to sell his tree house but is not having any luck until Gary, "The Canadian Tire Guy," comes on the scene and helps him stain the wood to give it a fresh look.
"The [ad] could easily have been about staining your deck," Flood says. "Through this deliberate concentration on active families, the 'Tree House' ad came out as a better solution."
Canadian Tire also added a little "wow" factor when showing it understood life in Canada through campaigns like the"Ice Truck" – which garnered more than 10.5 million social media impressions, 80 million earned media impressions and won multiple awards, including a Best of Show at the PROMO! Awards. It showed its MotoMaster Eliminator Ultra AGM battery can operate after being frozen to –40°C by installing it in a truck built out of ice and proving it could power the frosted machine. More recently, a campaign for drill bits included a TV spot where an iron cannonball at a Halifax fort was turned into a bowling ball by drilling holes into it.
"By doing that, you reinforce your brand promise," Flood says.
Flood is so focused on the brand that he went so far as to make sure the recently renovated cafeteria at its downtown Toronto office reflected its brand personality – including a "Jumpstart your morning" coffee station, named after its charity, which is dedicated to removing financial barriers to kids playing organized sports. And senior executives at the company, along with agency partners, say Flood is effective in building the necessary internal partnerships to realize his goals.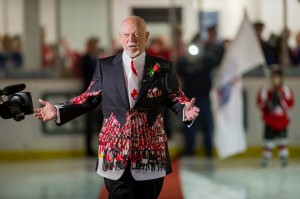 "TJ is a customer-focused leader with strong relationships across the organization," says Allan MacDonald, chief operating officer at Canadian Tire. "He's a natural collaborator and is very successful at prioritizing our organization's strategic objectives and using them to guide overall marketing investments."
Flood's strategies led to a series of victories in 2014. Canadian Tire's Olympic campaign garnered nearly 55 million impressions across media outlets including Canada AM, CTV News and Breakfast Television Montreal. The first quarter of 2014 (covering the Olympics) delivered large brand equity gains that Ipsos ASI, which has been tracking Canadian Tire ad metrics for nearly 15 years, said would typically take years to achieve.
Advertising performance has also been extremely strong in 2014. The company says there have been increases over 2013 in the three core diagnostics of prompted recall, brand link ratio and message communication.
Financial results have followed. Same-store sales increased 2% in the third quarter this year, led by growth in its automotive, seasonal and kitchen categories.
Flood isn't done yet for 2014, with plans for two new "We All Play for Canada" spots scheduled to launch on TSN during the World Junior Championship at the end of December, hosted in Toronto and Montreal. One of those spots will feature Toews and highlight a joint initiative between Canadian Tire, its charity, Jumpstart, and Hockey Canada to get 1,000 more kids enrolled into organized hockey per year, in addition to the 9,000 it already assists financially. Building further on the "We All Play" theme, there will be in-broadcast Team Canada player profiles with content related to the platform.
Perhaps the announcement that best exemplifies the retailer's plans for the future was the September introduction of digital Canadian Tire money, which brings the iconic loyalty program into the future while also gathering much richer data. That followed its e-comm platform launch, which lets consumers buy items online and collect them in store. And Flood is helping to drive Canadian Tire toward the aim of being a digital leader in retail, MacDonald says, championing digital integration across campaigns.
"That's where we take the most pride from a marketing standpoint," Flood says. "We have been leading change at Canadian Tire and the organization has been coming along for the journey."
Catch up on the stories behind our other Marketers of the Year: Aritzia's Oliver Walsh, Kraft's Tony Matta, Canada Bread's Connie Morrison and MLSE's Shannon Hosford.

Feature photo by Thomas Dagg