CASSIES Gold: Amex turns envy into instant sales
From free valet parking to premium lounges, the brand highlighted Platinum Card perks at Pearson Airport to boost acquisition.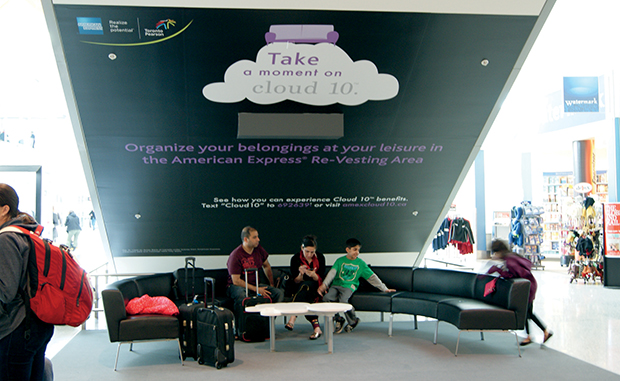 This story appears in the February/March 2015 issue of strategy. 
Off to a Good Start
Best Matching of Message to Medium(s)
Situation Analysis: American Express' premium card franchise had been weakening in Canada for some time due to steady fee increases, intensifying competition and a perceptual weakening of the link between American Express and premium travel. Amex needed to protect its base of high-margin customers while reversing the decline in applications by attracting valuable new prospects, a task complicated by the annual fee on the Platinum Card increasing by 75% in June 2012 (rising from $399 to $699). What's more, the key acquisition channel, Toronto Pearson International Airport, was inundated with marketing clutter from competitors.
Insight & Strategy: An immersive airport audit covering areas such as parking garages, security lines and a variety of lounges led to the key insight that air travel is a colossal drag, enlivened only by the sparks of preferential treatment through loyalty club status. The average 2.5 hours spent in Pearson could be the most stressful part of the journey, but also an ideal time to create card member envy among prospects by flagging the benefits of American Express membership and its ability to confer preferential service in the airport.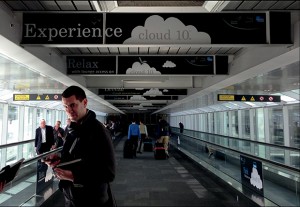 Execution: Implemented at Pearson Airport, the "Cloud 10″ platform offered a range of benefits to card members at key points in the airport experience. All travellers had access to free Amex Wi-Fi and branded rest areas beyond security checkpoints, while card members received complimentary valet parking services, exclusive taxi and limo privileges and access to premium lounges, all topped off with exclusive Priority Security Lane access. Throughout the airport, "Cloud 10″ signage flagged the Amex-specific services, so prospects couldn't miss them. To convert the envy into sales, kiosks highlighted membership benefits specific to the airport, while Wi-Fi log-in screens enabled immediate applications (and further re-targeting opportunities). Away from the airport, Amexcloud10.ca shared information about benefits at the airport and contained a link to learn more about the Platinum Card and apply.
Results: Monthly card applications increased by 51% against target. Tracking data showed greatly increased linkage of Amex with premium travel experience. "Cloud 10″ returned $2.74 for every $1 invested.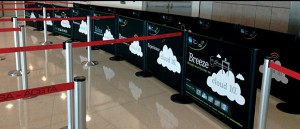 Cause & Effect: The results were reached despite a 75% fee increase in June 2012. These results were achieved with essentially all marketing investment being equal to prior comparable periods within the airport channel. The airport has been a key acquisition channel for several years, limited to two kiosks, an unchanged presence besides the acquisition microsite. The only incremental investment was the partnership costs, essentially used to fund the added value services.

Credits:
Client: American Express
VP advertising & communications: David Barnes
Sr. manager, advertising & sponsorships: Tina Santoro
Marketing manager: Stephanie Cisneros
Sr. marketing analyst: Christopher Vadori
Director, consumer card acquisition: Aileen Kheraj
Director, consumer charge cards: Tim Elgar
Director, retail & guest services, GTAA: Michael Ross
Agency: Ogilvy
CCO: Matt Hassell, Alex Furrer
Sr. partner: Jo Palmiero
ACD: Jamie George
ADs: Stefan D'Aversa, Fady Sbeih
CW: Phil Coulte
Account director: Katherine Palumbo
Managing partner, Mindshare: Lynette Whiley
SVP, High Road Communications: Neil Johnson
VP, consumer engagement, BT/A Advertising: Keith Baguley