A drink between rivals
Coca-Cola and MLSE extend the "Share a Coke" campaign to prove sharing happiness can break through even the oldest of rivalries.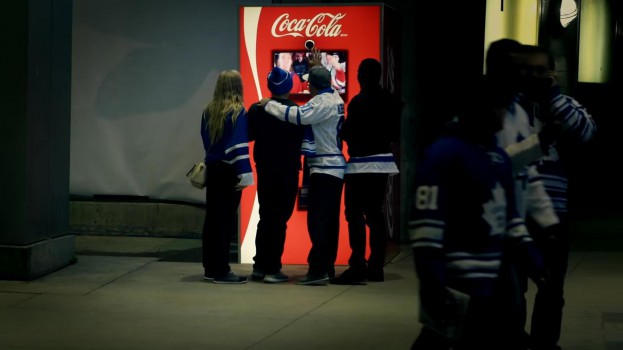 Even the most heated, long-standing rivalry in hockey can't keep fans from sharing a little kindness in a new campaign from Coca-Cola Canada and Maple Leaf Sports and Entertainment.
On the night of the season opening game between the Toronto Maple Leafs and Montreal Canadiens in October, the company installed a vending machine in each city that dispensed a free Coke when the button was pressed. The catch was it was dispensed in the other city, with a video screen on the front connecting the two machines that fans used to convince their rivals to do so. Despite plenty of trash talk, both machines sold out of their supply.
By going to the dedicated page on the Maple Leafs' site before March 12, fans can share the video, entering them in a contest to win one of six grand prizes that include a pair of tickets to see the Leafs play the Canadiens on April 11 at the Air Canada Centre with complimentary food and beverage, two custom Leafs jerseys and a pair of passes to the Hockey Hall of Fame. Secondary and weekly prizes include access to a VIP viewing party of the game and merchandise from Coca-Cola and the team.
Creative on the campaign was handled by Sid Lee with support from Mosaic on the experiential activation and Gravity on social media. UM handled the media buy.
The campaign is adapted from one Coca-Cola did in Italy last year, where similar machines were set up outside of the respective stadiums of rival football clubs Inter and Milan. Here in Canada, the "Share a Coke" campaign, marked by personalized cans and bottles, was coming to an end around the same time the NHL season was beginning. Sonia Bongiorno, senior marketing manager at Coca-Cola Canada, says the company saw an opportunity to use its longstanding partnership with MLSE to adapt that campaign to the equally intense Leafs-Habs rivalry as a way to extend the "Share a Coke" message of bringing as many people together as possible by sharing happy moments, no matter what barriers were between them.
"We, as partners, saw an opportunity to create synergies between our two brands during a time you know Canadians love their hockey," Bongiorno says. "You have two teams that are historic rivals, then you add a brand that's been about sharing happiness for the last year. When you bring those together, you can create moments of happiness simply by showing within that rivalry, no matter how strong, people can still relate to each other and come together."
While seperate from the year-long global campaign celebrating the 100th anniversary of Coke's signature glass bottle launched two weeks ago, Bongiorno says this "Share a Coke" extension is on track with the company's plans in Canada for 2015, which have the primary goal of delivering moments that also provide value to customers.
"Anything we do, we want to ensure we are creating a moment that is also unique and only we can provide, like 'Share a Coke,'" she says. "By doing that, we engage our consumers, we build brand love and then we drive incidents, and that's where we grow our business."