Canada brings in 17 Film nominations
Ten different agencies are in the running for a Cannes Lion recognizing the best work in video.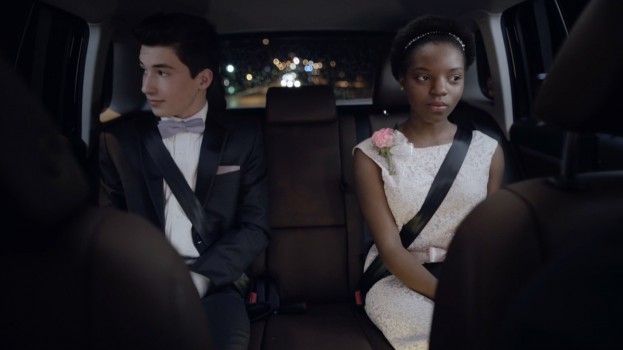 One of the most popular categories at Cannes is also where Canada has its most shortlist nominations of the festival so far, with 17 chances to bring home a Lion in the category.
DDB, Pixel Palette, Zulu Alpha Kilo, Lg2, Leo Burnett, Grey, Tribal Worldwide, FCB, BBDO and Union all picked up nods, which also makes it the most varied group of Canadian nominees in a festival that has been mostly dominated by work from Leo and Grey.
The Lions will be handed out at the final ceremony of the festival Saturday night, along with Film Craft, Branded Content and the coveted Titanium & Integrated categories, the shortlists for which will be announced tomorrow.
Film: 17
Volkswagen Canada, "Prom Night" DDB Canada (Vancouver)
Cars, Other Vehicles, Auto Products and Services

Highlighting the control in one of Volkswagen's larger vehicles, a father picks up his daughter's date and, while driving the pair to their prom, uses the car's steering to help break the ice on some of those awkward, teenage moments of love.

Toronto 2015 Pan Am/Parapan Am Games, "Are You Ready?" Pixel Palette
Entertainment & Leisure

This video, by Toronto production house Pixel Palette, spotlights the all-too-often overlooked efforts of Canadian para-athletes, showing their training regimen as they prepare to vie for a spot to compete in the 2015 Parapan Am Games in Toronto.

Netflix, "Airport" DDB Canada (Vancouver)
Commercial Public Services

Tackling one of the most common rom-com cliches, a man races through an airport to stop his one true love from getting on a plane that will take her out of his life…because he needs her to tell him their Netflix password.

ParticipAction, "Basketball," "Hockey" and "Playground" Zulu Alpha Kilo
Public Health and Safety

Showing how time in front of a screen cuts into much-needed physical activities for kids, the letterbox on the screen slowly encroaches on the space kids have to play outside.

Societe de l'assurance automobile du Quebec, "Messenger" and "Tied" Lg2
Public Health and Safety

On the video side of a campaign that has already won a Silver Lion in Radio, a soldier runs through the woods, leaping over downed trees and dodging bullets to deliver a message to a general: "What's for dinner?" The spot ends with the message that, if you don't want to risk your life for a trivial message, you shouldn't text and drive.

Moms Demand Action for Gun Sense in America, "Not Allowed" Grey Canada
Public Awareness Messages

Already a blockbuster campaign at Cannes so far, the video portion shows scenes of a kid with a water gun or a teen skateboarding getting disciplined by store staff about how they are not allowed to do that for their own safety, all while no one says a word to a man walking the aisles with an assault rifle strapped to his back.

Raising the Roof, "Humans for Humans" Leo Burnett Toronto
Public Awareness Messages

Combining both the "reading mean tweets" format and the ease with which people sometimes makes negative comments about the homeless, actual people living on Canada's streets read some of the comments made about them and people like them. Not only does it show the real faces that exist behind the jokes, but the campaign also involved having the same people responding to some of the comments, educating the population about the realities of being homeless.

Peanut Butter Cheerios (General Mills), "Dadhood" Tribal Worldwide Canada
Fast Moving Consumer Goods

In an attempt to destroy the "dumb dad" trope found in many spots, a father walks through his home, explaining in a tongue-in-cheek way just how much work a good dad does, giving piggyback rides, answering repeated screams and serving breakfast along the way.

Reviveaphone, "Reviveaphone" Lg2
Other Consumer Goods (including Durable Goods)

This video follows a man as he travels to Australia where, due to the time zone, the world's first iPhone 6 was sold. He goes to great lengths for his goal, including buying a spot from the first person in line at Brisbane's Apple Store, but it ends up being worth it, as he is the first to walk out with the new phone in hand…which he promptly takes back to his room and drops in a pitcher of beer. Once the phone appears to have died, he uses Reviveaphone, a then-new product that fixes liquid damage, to bring it back to life.

Simmply Macs, "Here's To The Cheap Ones" FCB Toronto
Travel, Leisure & Retail (including e-commerce and Restaurants)

To promote Simmply Macs, a retailer that sells pre-owned Apple products, this spot celebrates the people who are at their best when looking for a deal, be it through giving the kids bowl cuts, taping a bumper back on a car or getting double the mileage out of two-ply toilet paper.

PFLAG, "Nobody's Memories" FCB Toronto
Charities, Fundraising, Appeals, Non-Profit Organizations, Public Health & Safety, Public Awareness Messages

Even though same-sex marriage is now legal in Canada, there were many decades when it was not. This video shows what the 8mm home videos of the weddings of the past might have looked like if that weren't the case in an effort to get other countries to think about whether they want to lose their shot at making the same memories.

Always (P&G), "#LikeAGirl" Leo Burnett Toronto
Viral Film

Canada's leader of the pack, "#LikeAGirl," gets another nod for its now-ubiquitous video showing women reacting to the titular phrase, changing their perception of it from something disparaging to something empowering.

Skittles (Wrigley Canada), "Struck By A Rainbow" BBDO Toronto
Short Fiction Film (Under 10 Minutes)

Spoofing both the overly-emotional docs and long-form advertising that tend to dominate awards shows, Skittles' own mini-documentary follows a man who perseveres through one of life's toughest challenges: being turned into candy after being struck by a rainbow.

Union Advertising Canada, "Union: A Family Agency" Union
Private Screens & Events

This self-promotion video, created for strategy's Agency of the Year ceremony last year, shows agency heads Lance Martin and Subtej Nijjar rewarding their staff for the hard work they put in to earn a nomination by giving them something they see all-too rarely: a moment with their families (however brief it might be).