Check it out: Schick's inviting hotel
The brand has created a mini hotel to entice millennial women during festivals this summer.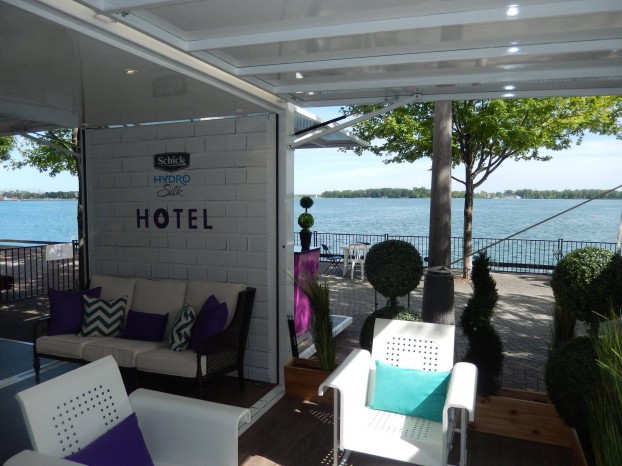 Schick is capitalizing on the summer festival (and bikini) season to get women talking about and using the new Schick Hydro Silk TrimStyle product.

The razor and waterproof bikini trimmer combo began shipping in Canada in late February this year, and launched with a global topiary-themed TV ad created by JWT this past spring (Schick has been using the miniature trees in its advertising for several years).

Now, working with Boom! Marketing, the brand is activating at several summer festivals in major cities across Canada, asking women to take their photos in front of miniature trees (like those featured in the advertising) and share them on social media for a chance to get into the "Schick Hydro Hotel" – a relaxation lounge with couches, phone charging stations, refreshments, free professional massages and product sample giveaways.

"The experience we're offering inside is very basic, but at the same time, it's fun and engaging," says Anton Novikov, brand manager at Edgewell Personal Care. "They can just sit down and chill."

Targeted at women between 18 and 34, Schick has also launched a Schick Hydro Hotel branded Facebook contest where women can enter to win prizes including a $5,000 gift certificate for a trip for two. Real Interactive is leading all digital and social for the Schick Hydro Hotel campaign.

Other creative artwork used for the Schick Hydro Hotel (including for in-store POS) was handled by 6 Degrees Integrated Communications. MEC is handling media buying for the brand, with Paradigm handling PR.