Some things are better left unchanged
Can milk be one of the few constants in a person's life? The Strategic Milk Alliance's new creative (targeting parents) says it should be.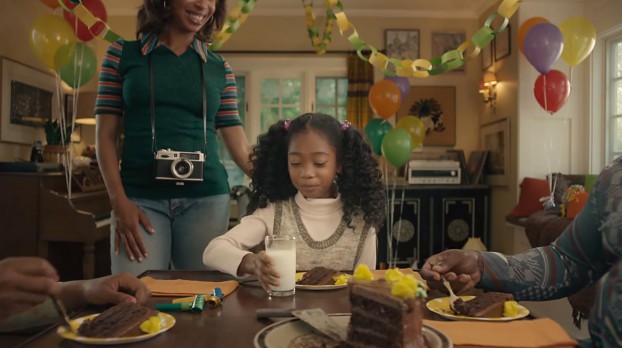 The Strategic Milk Alliance is looking to remind Canadian parents that a glass of milk is still a good choice for any age, not matter how much has changed.
The new campaign builds on the organization's "Milk Every Moment" platform by focusing on moments when Canadians would have enjoyed a glass of milk in the past and shows that those moments are still relevant in adulthood. In 15-second spots, kids are shown enjoying milk during different occasions – like during a birthday party over cake or during their daily lunch – before growing into different stages of their life, and stating that some things don't have to change.
A 30-second spot uses the same idea, showing a girl getting up to grab some milk to go with her snack, with the kitchen decor constantly updating as she grows older.
The videos will appear on TV and as pre-roll online, with the broader campaign including OOH, digital banners, a social media push and a redesigned website. DDB Canada handled creative on the campaign, with OMD on media planning and M2 on media buying.
The Strategic Milk Alliance represents dairy producer organizations across Canada, including the Dairy Farmers of Canada, BC Dairy Association, Alberta Milk, SaskMilk and the Dairy Farmers of Manitoba. The idea for the campaign is a combination of two concepts that have been used in past marketing: focusing on the foods that can be paired with a glass of milk (a concept used in OOH ads by some of the regional dairy organizations), and spots showing the silly things we do as kids, with a voiceover explaining that drinking milk isn't one of them.
Jason Brandes, market development director at the Dairy Farmers of Manitoba, says the idea for the new campaign was to take the nostalgia and emotional connection both campaigns were looking to create, and enhance it by pairing milk with occasions, instead of just food.
"It's more of a reminder than anything else, since pairing milk with your favourite food is already kind of suggesting an occasion," Brandes says. "With the competitive marketplace for beverages, it's an opportunity to remind consumers that when they are about to sit down for any kind of meal occasion, milk is as good a choice now as it was then."
Much of the organization's recent advertising have targeted teens, but Brandes says the new campaign shifts that focus to parents with young children. This is based on a study showing that, in the past, higher rates of milk consumption could be tied to people having a high recollection of seeing their parents drink milk.
"We had an opportunity to fill the need for a role model and say, milk is still good for me, so I can have it at home and choose it for lunches so my kids can grow up thinking it's a good option for them as well," Brandes says.