Doritos' collision course
The PepsiCo brand uses a 12-hour event on Periscope to promote its latest limited-time chips.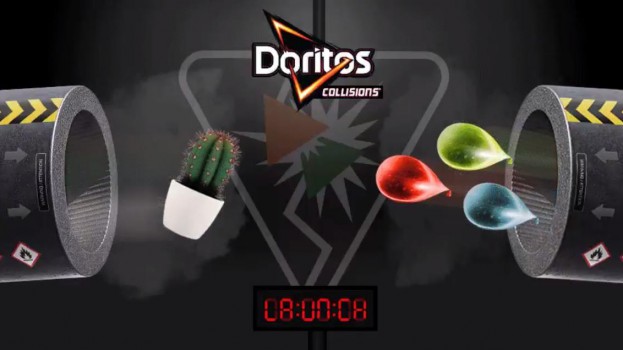 Doritos is jumping onto Periscope to show how fun it can be when two different things collide.

For the past week, Doritos has been asking fans on Twitter to choose between two pairs of items they would most like to see "collide" by being launched out of cannons at each other, from a lava lamp and a bowling ball to a strawberry milkshake and roller skates. On Thursday starting at noon, Doritos will put the top-voted match-ups to the test live on Periscope in a 12-hour event. Videos from the event, shot by the acclaimed Shin Sugino, will be shared on Twitter, Facebook and YouTube, for those that miss the live event.

PepsiCo Foods worked with BBDO Toronto and OMD to develop the campaign.

The campaign, taking place on what has been dubbed "Collisions Day," is to promote the new limited-time Doritos Collisions Habanero and Guacamole chip. This is the second time the company has offered the flavour in Canada, having previously done so in 2010.

Susan Irving, senior director of core brands at PepsiCo Foods Canada, says the flavour was brought back due to the success it saw the first time around and, like many of its other limited-time offers, was in high demand from fans on the brand's social channels.

"We know our consumers want new things and we've had a lot of success introducing and driving trial around new and limited-time products, which also reminds them to try other flavours," she says.

The Doritos brand has established a habit of leveraging social and digital to promote those limited-time product offerings, such as gamified experiences both on mobile devices as well as in the product themselves, which have resulted in fan-made brand content that is shared on social.

"Doritos consumers…want different experiences, so we always want to be at the forefront when it comes to innovation and marketing campaigns," Irving says. "We want to make sure that, with our consumer being most engaged on digital, that it was a digital program. But because of that, any campaign we put out there also involves the consumer having their say."

Doritos is also currently accepting submissions for the tenth and final edition of its "Crash the Super Bowl" contest. Three finalists will be flown to watch Super Bowl L, with the winner receiving US$1 million and the opportunity to work with Warner Bros., DC Comics and director Zack Snyder (300, Batman v. Superman: Dawn of Justice) on a future project. The contest first allowed entries from outside the U.S. in 2014, with a Canadian winning the contest earlier this year.