Rethink Breast Cancer goes kid-friendly
An animated series, which uses the voices of children, tackles challenging conversations around cancer.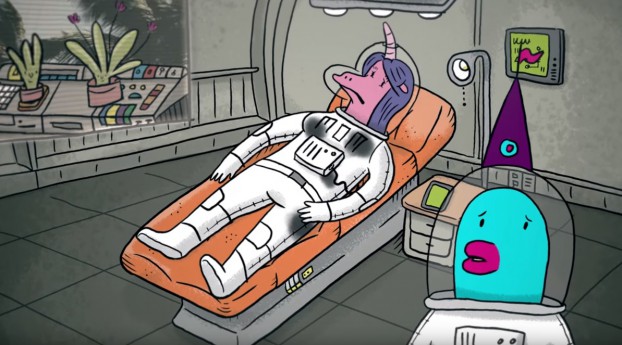 Rethink Breast Cancer has set aside sexy men and women in favour of a sweet, family-friendly approach with a new animated video series focused on explaining cancer to children.

"Mission: Recovery" uses the thoughts and voices of real kids who have mothers with breast cancer as they narrate what it's like to go through diagnosis, treatment, phases of cancer and changes to the family routine and dynamic, all with an outer space theme.

The story is told in five parts, from "The Discovery" to "Transmission Feelings." While some of the content was scripted, the organization interviewed children of women in its network to get their real opinions on what they went through and how they could help others.

"We wanted something that was a little bit fantasy and not too real," Alison Lawler-Dean, vice president of marketing and communications at Rethink Breast Cancer, says of the theme. But the organization also wanted to balance the visually-stimulating, colourful animation with the reality of families who have experienced cancer. Using kids to narrate was also a way to avoid talking down or having an expert tell them how they should be feeling.

"By putting it in a video format, our hope is that they watch it together and are able to stimulate that conversation," Lawler-Dean says.

Rethink Breast Cancer, known for its cheeky campaigns has previously done family-focused programming, such as running workshops to help families talk about cancer. This is the first time it's brought that kind of campaign online.

"It was incredibly popular but it was hard to have that huge impact that you can [have] when you put something online," Lawler-Dean says.

For the series, Rethink worked with Scarlett Street and illustrator Clayton Hanmer, along with child life specialist Morgan Livingstone, who had also consulted on its in-person workshops.

Along with the five videos, Rethink is also releasing digital versions of its family books, The Kids Guide to Mommy's Breast Cancer, by Karen Stowe and Talking to Children About Breast Cancer: A Guide for Parents. Over the next several weeks, it will also be sharing more information about how families can discuss breast cancer through blog posts and sharing interactive activities, such as downloadable colouring pages and word searches, on its website.

The new videos are part of Rethink's ongoing "Live Laugh Learn" online content series, with funding provided by Avon Canada. Other content in that series includes beauty tips and tricks for women who have had chemotherapy, as well as information about getting back into the workforce after going through treatment.

Rethink will be sharing the new "Mission: Recovery" series organically, primarily through its YouTube channel, social media and organizations in its network that work directly with patients (such as clinics).