Low-cost retailers see brand boost in weak economy
RBC topped Brand Finance's list, with five banks in the top 10.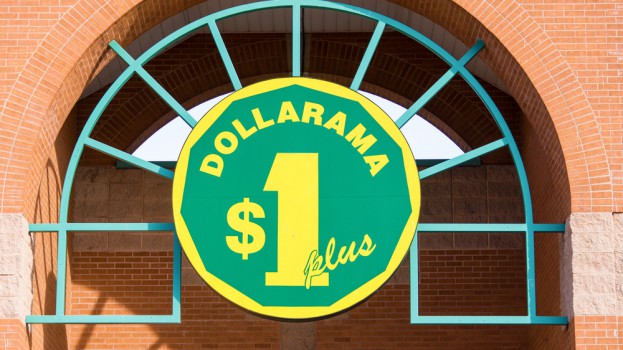 Discount stores benefited from a slow economy to climb the ranks of Canada's top brands in consulting firm Brand Finance's annual list.
The firm calculates brand value by estimating a royalty rate that a company would pay to license a brand if it did not own it. The 2016 list was released July 25.
Some of the biggest gains came from low-cost retailers. Dollarama's brand value grew by 20%, moving up the list from 39 to 33, while discount grocery chain Food Basics made its debut at number 92 (its parent company, Metro, also shot up the rankings, from 58 to 36).
Mac's (62 to 46) and Couche-Tard (63 to 47) also made big leaps, as did Couche-Tard-owned Circle K (26 to 15).
"The increase in price-conscious consumers in light of the economic slowdown has meant that low-cost retailers are able to compete with companies positioned in a higher price bracket," said a release from Brand Finance.
Though its brand value fell 9% to $9.9 billion USD, RBC retained its place as Canada's most valuable brand in 2016. In fact, the top five remained unchanged, with TD, Bell, Scotiabank and Bank of Montreal also staying put in their two-through-five positions.
Tim Hortons was the only new entrant in the top 10, rising to number 9 from number 18 last year and replacing Enbridge, which dropped from the ninth spot to number 17.
Air Canada was the fastest-growing brand, rising from 56 to 34, its brand value increasing by 88%. Cheaper fuel led to increased profits, and the airline also saw an increase in passenger revenue, the Brand Finance release said.
Below are the top 10 brands for 2016.
| | | | | |
| --- | --- | --- | --- | --- |
| 2016 Ranking | 2015 Ranking | Brand | 2016 Brand Value (USD) | 2015 Brand Value (USD) |
| 1 | 1 | RBC | $9.9 billion | $12.5 billion |
| 2 | 2 | TD | $9.6 billion | $11.1 billion |
| 3 | 3 | Bell | $9.2 billion | $7.6 billion |
| 4 | 4 | Scotiabank | $7.3 billion | $7 billion |
| 5 | 5 | Bank of Montreal | $5.9 billion | $6.9 billion |
| 6 | 8 | Telus | $4.7 billion | $4.8 billion |
| 7 | 7 | CIBC | $4.7 billion | $4.9 billion |
| 8 | 6 | Rogers | $4.4 billion | $4.8 billion |
| 9 | 18 | Tim Hortons | $4 billion | $6.4 billion |
| 10 | 10 | McCain Foods | $3.7 billion | $3.9 billion |
Featured image via Shutterstock