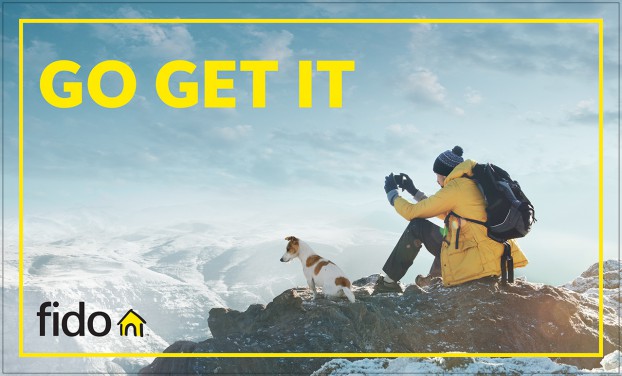 Differentiating a brand can be near impossible in the highly-regulated telecommunications space, but Fido is hoping to change that with a new brand platform centred on forging a deeper connection with the things its millennial target cares about most – whatever "it" may be.
In the anthem spot for its new "Go Get It" platform, young people like DJ Bambii and chef Marc Alexander Mercier are shown pursuing whatever they are passionate about getting from life, be it fun, new friendships, music or travel. The familiar Fido dog still has a presence, but is used as more as a recurring visual signature for the brand's creative, as opposed to its focus.
The video will run on TV and digital channels, supported by social posts on Facebook and Snapchat, as well as OOH. Digital content will be targeted based on interests, such as food or music. Short, documentary-style videos telling the stories of people featured in the spots like Mercier and DJ Bambii will also be created and shared online.
"It's an amazing rally cry to get people to think about what it is they love to do and how Fido can enable them to do that," says Jordan Doucette, CCO at Fido's creative AOR Taxi. "We love the open-endedness of the notion of 'it,' because it allows any consumer to define for themselves what 'it' is. It could be food-related, it could be music, it could be travel. Whatever it is, they can see how we become the catalyst to help them achieve it."
Taxi, which was named AOR for Fido last year, led creative on the spot, working closely with Vice on content, particularly the documentary-style videos (Rogers, Fido's parent company, has invested heavily in Vice's Canadian operation). Fido's internal media team is working with OMD on media planning and buying, while North Strategic is providing support on PR and with influencer engagement.
Besides having more of a documentary-style feel, the spot also aims to keep things authentic by ensuring people who embody the "Go Get It" attitude are behind the camera as well, enlisting a trio of Montreal-based filmmakers to shoot the spot: director Mathieu Grimard, director of photography Kristof Brandl and editor Jesse Riviere. The music was provided by Haitian-born, Montreal-based DJ Kaytranada.
"All of those pieces come together to tell our own interesting story around how we shot the spot," Doucette says. "If you look into who shot it or who produced the track, you'll find more interesting stories. It was about how we infuse 'Go Get It' through everything we do, and working with a group of people who were living that makes that feeling comes out in the spot loud and clear."
Fido began moving towards becoming more of a lifestyle-focused brand in 2015, gravitating towards arts- and culture-related millennial passion points. That has included things offering six free months of Spotify Premium, sponsoring content from Vice News and sponsoring festivals like the World Ski & Snowboard Festival, YouTube-focused Buffer Festival and a range of music festivals and concert series. While it has still focused on things like value in its recent 20th anniversary campaign, Florent Bayle-Laboure, VP of brand for Fido, says this new platform will see the telco fully embrace the lifestyle side of the brand.
"One of the main things we are trying to do is own something," he says. "Frankly, there's very little we can use to differentiate ourselves in the telco industry. We're in a very functional industry where everyone has similar claims about their network and products and services and price. We had the foundation of this before, but now we're pushing more on authenticity by really owning the millennial creative focus and zeroing in on their talent."
Bayle-Laboure says this kind of millennial-focused approach is something that's a good fit for a brand like Fido, compared to the Rogers mobile brand, which aims for more of a general audience. While still owned by Rogers, Fido separated from the head office in Toronto and has been based out of Montreal since 2015, to help further differentiate their marketing approaches.
Besides simply being associated with culture-related millennial passion points, the platform looks to engage millennials on a different emotional level by focusing on their own talent and priorities. That approach is not only going to be reflected in its creative, but in all the ways it engages with customers, like when it activates its sponsorships.
"I don't think [millennials] care much about their telco brand as long as it works and the value is there, but that's the baseline of what any brand would deliver," Bayle-Laboure says. "The goal is to change that. There's a lot of skepticism about telco brands, so we're just here to connect them with the things they love, whenever they need them, and then we'll get out of their way. It's about them, not us."