The Contenders: The best of Film and Integrated
Our final look at this year's awards favourites examines likely standouts in two marquee categories.

It's March, which means ad agencies across the country are well aware of the impending entry deadlines for both Cannes Lions and the Marketing Awards. With these dates looming, we spoke with industry experts who have experience in judging rooms – both in Canada and internationally – to find some of the campaigns that stand to do well on awards stages both here and abroad. We also polled strategy and Media in Canada staff to see what the year of reporting had brought to their attention.
You can check out the other installments in the series here, here and here. Today, we take a look at the campaigns that stand a fighting chance in the most competitive and prestigious categories: film and integrated.
Judges' picks
Agency: Cossette
Brand: McDonald's
Campaign: Is It Still A Big Mac?
At first glance, it seems like the "Create Your Taste" campaign – which promoted McDonald's custom order kiosk by creating customized commercials for each order in the time it took to make it – is the kind of ambitious work that would be more up the alley of awards show judges. But Brian Sheppard, ECD at Saatchi & Saatchi Canada, is more keen on the recent "Is It Still A Big Mac?" campaign, which featured a spot with two friends debating what actually made a big make and OOH asking dozens of philosophical questions.
"The brilliant thing about this campaign was that it went so much further, and actually got people thinking about the Big Mac, perhaps for the first time in years," he says. "There's a great strategy here and a fantastic creative insight, well-executed in a range of media that got noticed wherever it ran. Smart campaigns that actually drive business results for big brands tend to do well in Cannes, and if this one moved the numbers – and I suspect it did – look for it to show in the Integrated and Promo/Activation categories."
Considering the restaurant's most iconic product is currently the subject of campaigns in other markets right now, there is a chance this one could win out in the comparison.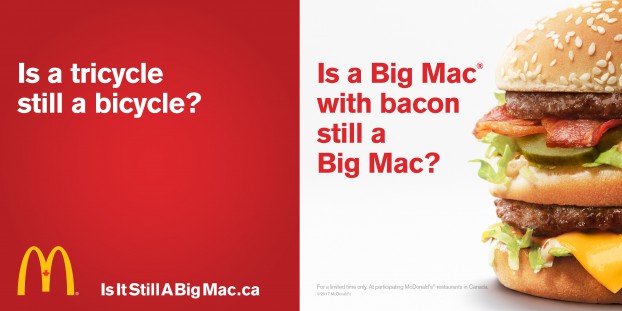 Agency: John St.
Brand: President's Choice
Campaign: #EatTogether
For its contribution to Canada 150-related campaigns, President's Choice moved away from spotlighting its products and instead celebrated the ways people come together around food. A woman comes home to her apartment building, silently lamenting how everyone else seems to be buried in their devices. She convinces her roommate to set a table in their hallway, which gradually grows with people and food into a full celebration – and without specifically showing a single PC-branded product.
While the campaign is tied to Canada 150 celebrations, Ryan Spelliscy, CCO at J. Walter Thompson Toronto, says the universal insight behind the spot is what will help it resonate with international juries.
"The insight of putting down your devices isn't necessarily a fresh one, but this spot's execution is very fresh," he says. "It feels more like a very short film than an ad. And I do believe the best ads are the ones that don't look like ads. So, yes, this should win in Film."
Agency: Cossette
Brand: SickKids Foundation
Campaign: VS.
The experts we enlisted were nearly unanimous in the opinion that the powerful campaign by Cossette for SickKids, which broke from a (successful) track record of somber, heart-wrenching campaigns to instead use pounding music and intense visuals to portray patients as the hospital not as weak, but as fighters. It did this in film, out-of-home and digital executions, as well as new executions that were more specifically tied to fundraising, the holiday season and what happens when a child succumbs to their illness. We'll leave it to the judges to explain why this is a contender.
"Despair can only take you so far in the fight against donor fatigue," says Karen Howe. "When I first saw this work I was sucker-punched. Tears sprung to my eyes. This campaign is powerful. And raw. It honours the fierce courage and ragged determination of children in their fight against the gravest of illness. The track is guttural, in your face. The footage stuns, and the editing is extraordinary. You cannot look away. These kids leave us with no choice, we must join their battle."
"I loved the breakthrough neon 'VS.' Such a break from the kind of symbol you would expect a client to sign off on," says Barry Quinn, CCO at Juniper Park\TBWA, of the image that appeared across all campaign creative. "The amazing photography and film just make it better, not to mention the incredible utility of a phrase that lets you tailor the message in new and interesting ways (like VS The Greatest Challenges or VS The Unknown). This client already had a great campaign, yet they were open to moving forward and reward their audience. This type of work can be done in every category, not just 'For Good.' It just needs clients and agencies willing to dig in and disrupt."
"After watching thousands of ads in a jury room for days you need something to be different, to be powerful, to wake you up," says Denise Rossetto, ECD at BBDO Toronto. "This ads makes you not only love the ad, but what we do for a living. Judges love that and will wish they did it. I've had that feeling in jury rooms before and those ads went on to become award winners across many categories. Even the controversy, some questioning the appropriateness of the war metaphors, showed the power of the campaign as it had people discussing it for weeks, thereby generating countless unpaid impressions. The industry buzz was palpable – every agency talking about it, every client asking for it. It's the type of ad that doesn't come out every year or even every two or three years."
strategy's picks for other film and integrated contenders
Agency: Sid Lee
Brand: Air Transat
Campaign: Vacation Is Calling

Sid Lee made some of the country's most visually striking spots over the past 12 months, whether it was covering tax season or Italian food. And while its video getting people excited for the possibilities of the Toronto Maple Leafs' season is deserving of praise, it might not have the same impact to those from outside the country. Keep an eye out for it at the Marketing Awards, but at Cannes, the agency's first work for Air Transat is sure to turn some heads. It found a way to communicate the feeling of happiness someone has the moment they book their trip, and found a way to use stunning visuals outside of the standard "people on the beach" shots you might expect from the tropically-focused airline.

Agency: Doug&Partners
Brand: Honda Canada and the Ontario Honda Dealers Association
Campaign: Kog

This might a bit too insider-y to fair well here in Canada, but a simple spot that hilariously spoofs a Cannes darling of the past (and delivers the message of using only authentic Honda parts) might be the kind of thing that gets eaten up by a Film Lions jury.

Agency: Leo Burnett
Brand: Ikea
Campaign: Market Hall

Leo has been suspiciously absent from this series so far. While we're preparing ourselves for some kind of surprise entry to snatch up of bunch of shortlist spots (or seeing sexy Mr. Clean woo the jurors), the ongoing Market Hall campaign for Ikea seems to be a good contender for Integrated categories. The eye-catching videos and high-impact out-of-home concepts not only have the flashiness that stands out in Cannes, but speaks to a wide range of local business goals that will likely do well at the Marketing Awards.