Volkswagen makes eyes wander
A campaign for the redesigned Tiguan focuses on design appeal to stand out in the highly competitive SUV segment.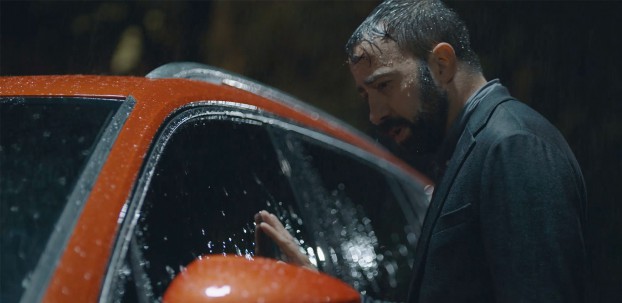 Volkswagen has completely redesigned the 2018 model of its Tiguan, and a new campaign puts the focus squarely on how the SUV delivers the features drivers are looking for in a package that stands out in a highly competitive category.
In the TV spot leading the campaign, a driver smitten by the new Tiguan can't help but take notice of the redesigned SUV every time it surreptitiously crosses his path. This leads his current, jilted SUV to try to distract him by closing doors on his head, hitting him with the windshield washer fluid or sounding its alarm.
Launching this week, the broader campaign features online video, out-of-home, digital display, point-of-sale and social ads running until the end of the year. DDB Canada led creative with Touché on media.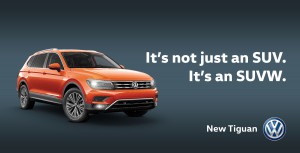 The campaign also introduces a new tagline, "It's not just an SUV. It's an SUVW." Lynne Piette, director of marketing at Volkswagen Canada, says that is the automaker communicating just how much the Tiguan stands apart from the crowd by creating its own segment within SUVs.
Even after several years of record sales already being the major driver in the Canadian automotive category, SUV and crossover purchases continue to boom in Canada, with sales volume growing a further 7% in 2017 as of May. With more than 80 models to choose from, it is also an incredibly crowded segment.
Before the campaign was developed, Volkswagen did a consumer test where people were invited into a room to see the Tiguan next to its closest competitors in a blind test. Piette says that attention in the room immediately went for the Tiguan.
"Every time we had this vehicle in a room with its competitors, it literally turned heads," she says. "It was designed to stand apart, so the objective with this campaign was to hit that message head on."
The main purchase drivers for SUVs are features that have been mainstays of ads for years: versatility, all-wheel drive, safety and the space to transport a family. But Piette points out that because of that, consumers will already assume Tiguan has those features, freeing Volkswagen to turn its focus to the design and style that differentiates Tiguan within the category.
"Of course you know [the Tiguan] does that," she says. "It's an SUV, it's what all SUVs do. We didn't need to talk about all that again. We need to capture attention, first and foremost. And what this campaign does is makes you have that second look because it's not what you typically see in an SUV ad, plus it has style, which you don't have to compromise on with this vehicle."
Once that interest is peaked, then Volkswagen will begin communicating in more detail about specific features through other platforms, be it in a dealership, on its website or in a series of more informational videos delivered through Facebook canvas ads.
Besides simply finding a new element to differentiate on, Piette says the focus on style and design also speaks to a broader consumer insight it has gleamed through its ongoing research, particularly when it comes to families that are the main target for SUVs.
"When people are going to buy an SUV, they are thinking about their family's needs, and they feel they have to compromise on looks to get that," Piette says. "With this vehicle, you don't. It has the features you expect from an SUV, it can fit everyone in your family and has the safety features you're looking for. But it also has design appeal."