The evolution of award-winning marketing strategies
Brands like Penningtons and SickKids reveal their secrets for transformations that win in market (and at the Strategy Awards).
Earlier this month, the thinking and strategic planning that went into 25 Canadian campaigns was highlighted (and awarded fox-shaped trophies) at the Strategy Awards. Those agencies and brands were given the spotlight in print, with their winning cases published in the October issue of strategy magazine. This week, we're showcasing that work, a couple categories at a time. Watch your inbox for stories in StrategyDaily or check out the Strategy Awards link here to see all the cases as they're being rolled out.
Evolution Strategy:
When the paint on the walls starts to peel and the carpet starts to fray, you don't burn your house down and start from scratch. No. You build on that solid structure you already own. And so it is for brands looking to position themselves a little differently in front of audiences. Here we look at how SickKids, The Salvation Army, Molson Coors and Penningtons evolved to further build on foundations at home.

Going all in
The Wins: Evolution Strategy, Gold + Cause/Public Service, Silver 
SickKids is in need of a refresh. Not the brand, but the hospital. While the SickKids Foundation leads the way in its sector in terms of brand health, the actual building for the Hospital for Sick Children in downtown Toronto needs work.
Built in 1949, what was then the world's largest children's hospital is showing its age. The challenge lay in creating a sense of urgency as $1.3 billion was needed to rebuild the hospital. The "VS" campaign needed to evolve to ask more people to join this new fight.
The foundation teamed up with Cossette to raise funds for the redevelopment of the current building – plus the construction of two new buildings. Instead of starting from scratch, the agency decided to take its award-winning "VS" platform, and apply a hyper-local lens to it.
Toronto has long been known as a city of neighbourhoods. Cossette used that legacy to inform its "SickKids VS – All In" campaign, which launched last October with a stirring film. In it, children are running through neigbourhoods grabbing everything from lightbulbs to bricks. The kids descend on a vacant lot and then implore viewers to help with the efforts.
After the video launched, Cossette targeted Toronto neighbourhoods, from the Danforth in the East to the Junction in the West, calling out patients who lived in the area.
Social and e-mail marketing told the story of each child's journey and were geotargeted to their local neighbourhood. Wild postings and OOH murals featured call-outs as well. The CN Tower became "SickKids blue," the Toronto sign at Nathan Phillips Square was also lit up in the foundation's hue, and Toronto Mayor John Tory designated Oct. 27 as "SickKids VS Limits Day" – all helping rally Torontonians to be "All In" for SickKids.
There was a 22% increase in website engagement, the film was tweeted every three minutes and 13 million media impressions were generated. The foundation broke its record, reaching $100 million in donations. There was also a 54% increase in donations year-over-year.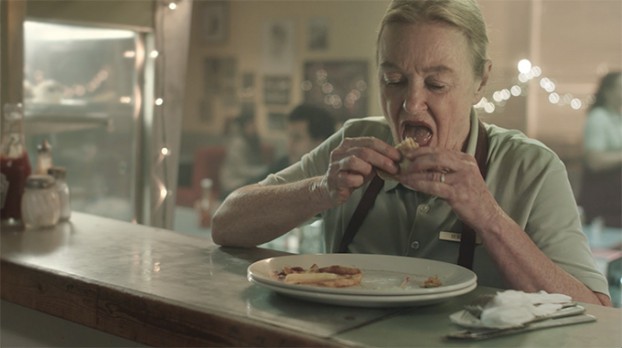 'Tis the season of giving
The Wins: Evolution Strategy, Silver
Until you hear the ring of a bell and are asked to add some spare change to one of The Salvation Army's (TSA) iconic red-and-white kettles.
Since the non-profit first started its work in Canada back in 1882, it's been associated with people who need shelter and help with addiction issues. And while it does help those people, The Salvation Army also helps the working poor.
Through interviews with TSA caseworkers, Grey found that one in 10 Canadian families live in poverty. Many of these families have a place to live and approximately half are employed, yet they rely on the TSA to live. And it's not only families: one in three single, working-age adults live in poverty.
Many Canadians believe the solution to poverty is for people to "get a job," even though some people work yet still struggle financially.
The "Working Struggle" campaign challenged the stereotype that people living in poverty are lazy and unemployed, instead highlighting the realities of hard workers who still need help to get by.
A short film for TV and online shows an older waitress cleaning up a plate with a half-eaten sandwich. The twist comes when she looks over her shoulder and takes a bite. The ad ends with the words: "Poverty isn't always easy to see," and then encourages people to donate to TSA. The same message was communicated in radio ads.
While online donations remained flat year-over-year, the campaign achieved a 1.2% growth, while kettle donations surpassed goals by 15.5%, reaching $23.1 million for the year.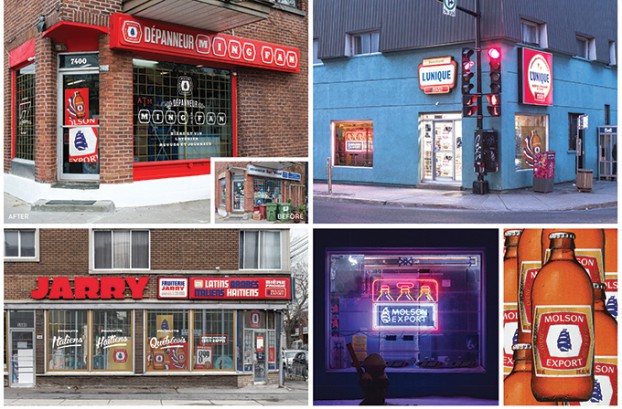 Cheers to Molson Export
The Wins: Evolution Strategy, Bronze
Nothing says Quebec quite like rows of Molson sitting on the shelves of dépanneurs.
While the beer brand and the French local convenience stores were seen as beloved symbols of La Belle Province, they were also in need of a little TLC. So Molson Coors Canada teamed up with Sid Lee to give them a refresh in exchange for some much-needed brand awareness. With the city celebrating its 375th birthday in 2017, it was the perfect time to spruce up these two iconic symbols.
For years, Molson Export was an official sponsor of yet another Quebec icon: the Montreal Canadiens. But since Export was benched as the beer of the NHL team, the popularity of the classic beverage had waned.
The agency also found that Export drinkers were those that came of age during Montreal's Golden Age in the '70s and '80s. A whopping 71% were over the age of 45, and were mainly working class, drinking more than seven beers per week. In a bid to attract new Export drinkers without alienating its loyal fan base Sid Lee decided to restore both Molson Export and the city's dépanneurs.
Twenty-five dilapidated convenience stores were chosen for the "Molson Salutes the Dépanneurs" campaign. The striking new stores, featuring bright, retro designs and images of the Export's stubby beer bottle, got locals talking.
With no traditional media placement, the new storefronts are set to garner 259 million impressions over the course of 2018 for an equivalent media value of $840,000. And since the storefronts are set to stay in place for at least five years, 1.3 billion impressions are expected by 2022.
The limited-edition Molson Export stubbies sold out fast and the 25 dépanneurs saw sales increase 84.8% in the month immediately following the launch and then 18.8% over the next three months. Media at the time of launch exceeded 1.3 million owned social impressions, and over 10 million earned traditional impressions.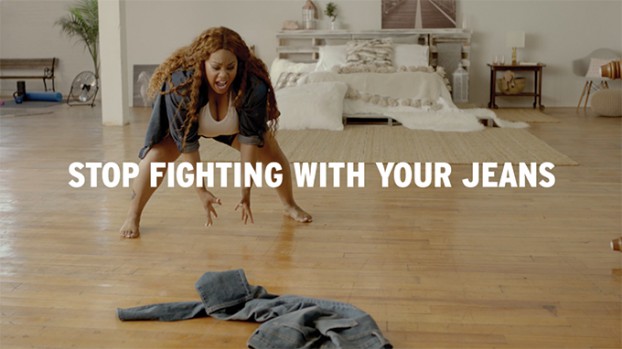 The long game
The Wins: Evolution Strategy, Bronze + Niche Strategy, Bronze
Penningtons is focused on the long game, and over the years, the retail brand has been slowly and steadily refreshing its messaging.
In 2016, the retailer and Lg2 set out to support women in a sustainable and meaningful way. It needed to empower its customers beyond its product and store experience by breaking the social stigma surrounding women who wear clothing size 14 and up.
Penningtons, aimed at women age 30 to 55, first jumped on the body positivity bandwagon back in 2016 when it launched a conversation-sparking video featuring a woman practicing yoga that broke the rail-thin yogini mould. The spot was the first to introduce Canadians to its #iwontcompromise ethos.
Then, in 2017, a second social video with the same hashtag, and featuring a seasoned triathlete and half-marathoner, was released.
Finally, in 2018, a product-focused campaign was launched directly promoting its new d/C Jeans collection and using the by-now familiar #iwontcompromise hashtag.
A series of empowering spots featuring Akira Armstrong, the founder and CEO of a New York-based "full figured dance company," were finally launched. And a 30-second spot shows Armstrong literally fighting with a pair of jeans, revealing that the denim line features: "Denim without compromise."
Despite the focus being on building awareness in 2016, the campaign drove a rise in sales (39% in Jan and 25% in Feb). In 2018, in-store sales were up 31% and online denim sales were up 86%. Also, store-wide sales rose 5% and the number of new customers rose 23%.
Challenger Strategy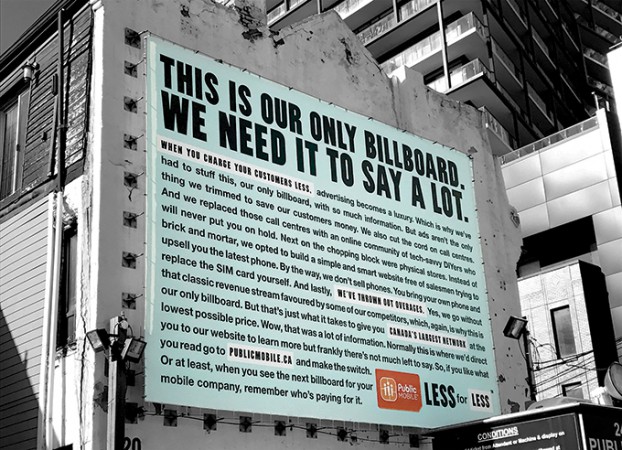 The power of a single billboard
The Wins: Challenger Strategy, Bronze

Pay Less. Get less. That was the bold message in Public Mobile's "Less for Less" campaign.
Consumers looking for a cheaper phone plan are generally not loyal to one brand – they're willing to spend their time looking around in order to pay less and will jump ship when they find a cheaper option.
In a bid to not only lure new customers but retain them, the Telus-owned brand and Cossette opted to be upfront with value-conscious customers after the team's research found Canadians feel telcos don't respect customers, many of whom are fed up with stale plans and familiar voices.
The strategy with the "Less for Less" campaign, which ran from June to November 2017, was to speak to customers who think of frills that come with wireless services as a badge of incompetence, not savviness.
The brand launched a simple, low-budget campaign celebrating how far it can stretch its dollars. There were online ads showing actor audition tapes, rather than wasting money on fancy production; hand-drawn social posts instead of expensive photography; as well as one billboard (instead of several). The single OOH ad had a year's worth of messaging, so instead of the visually stunning ads of competitors like Bell, Rogers and Freedom, Public Mobile stood out for its cluttered, text-heavy billboard. The ad reminded customers: "[W]hen you see the next billboard from for your mobile company… remember who's paying for it."
"Less for Less" provided Public Mobile more for less, increasing activations by 70% and delivering 253 million impressions.