Hershey introduces Gold bar through influencer approach
The candy company is targeting young millennials with a campaign that positions its latest new product in the fashion and lifestyle space.
Hershey Canada is introducing Canadians to Hershey's Gold – a candy bar that contains no chocolate – with a fashion and lifestyle influencer-fueled push.
When it launched in the U.S. in November 2017, Hershey's Gold was Hershey's first true product innovation in 22 years, according to Jackson Hitchon, who heads up marketing at Hershey Canada. The bar is made of a mix of caramelized creme, peanut and pretzels, making it creamy, crunchy, sweet and salty.
Working with Anomaly on the "#GOLDIsIn" campaign, the company partnered with a variety of Canadian influencers in the fashion and lifestyle space in a bid to reach young millennials.
The campaign features influencers like motivational dancer Donté Colley and musician Lennon Stella, posing (and dancing) with Hershey's Gold on social channels. "#GOLDIsIn" also includes national TV and OOH executions. Toronto's Mint is leading on PR and UM on media.
Hitchon says the use of influencers has become a bigger medium for the brand as it looks to connect in a "genuine way" with younger customers. Typically, new product launches have focused more on TV and OOH channels to drive mass awareness. "This one's connecting to consumers who are, frankly, harder to reach."
The fashion and lifestyle alignment is meant to help position Hershey's Gold as a product that responds to consumers' need to remain on top of the latest trends.
"Gold is something completely new that we think is really going to excite our consumer base and introduce a whole new set of consumers to the Hershey's brand," Hitchon says.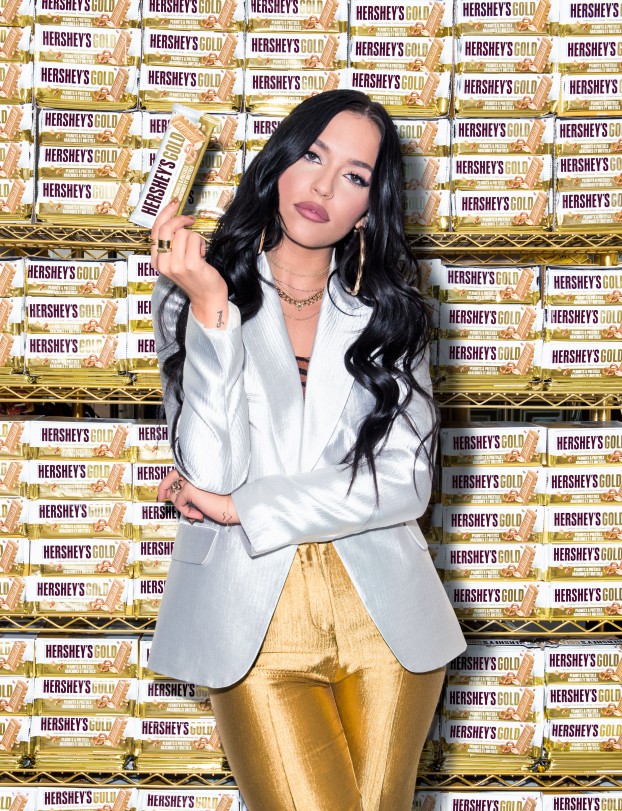 As the idea for Hershey's Gold was being examined at the global level, consumers in Canada echoed the brand's belief that the product offers a unique taste profile, he says. Hitchon believes the novelty of the bar will drive "a ton of awareness and trial," as well as repeat purchases and loyalty for Hershey more generally.
The candy maker seems to be placing greater emphasis on innovation of late. Last month, it introduced Reese Pieces Peanut Candy – the first innovation for Reeses in 40 years – by launching it into space. It also recently unveiled a Oh Henry! 4:25 bar, fit for recreational cannabis consumers. While Canadians continue to look for their "tried and true" candy favourites, Hitchon says they're also going to Hershey looking "for fun and to try new flavours and experiences."
The company's goal is to launch new products that have longevity and that are on strategy for the brand, driving incrementality rather than cannibalizing sales of its existing selection.
The 25-plus demographic tends to play in the more traditional milk, dark and white chocolate categories, while a subset of consumers in the 17 to 18 age bracket prefer cookies and cream, Hitchon says. "In between those two – we'll call them young millennials – there's an opportunity to speak to them in a way that's relevant and refreshes the Hershey brand in their eyes."
Hershey's Gold first became available in Canada in September 2018, and product packaging and design were led by the Hershey Canada team with the help of Toronto and Montreal-based design firm Pigeon.