Scotties is trying to unleash more puppy love
Kruger's tissue brand goes beyond function to foster more of an emotional link with its new mascot.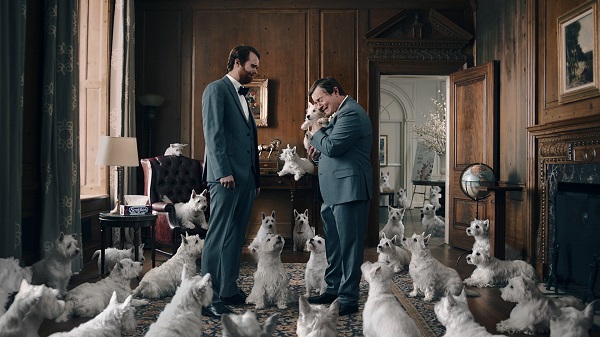 It's hard not to like a cute little dog, but Kruger is hoping its latest campaign will create an even more meaningful place for Scotties' mascot in the minds of Canadians.

"Unleash the Scotties" is the latest campaign for the category-leading facial tissue, developed by Broken Heart Love Affair, its first work on the brand since being selected as AOR for Kruger's full brand portfolio.

The TV-led creative is filled with dogs. And whether it's a young girl whose party balloons have popped or an emotional father and son embracing on a wedding day, they reach for a Scottie (the dog) as they would reach for a Scottie (the issue) to provide them comfort, with a camera pulling back to reveal a roomful of puppies.

The new campaign builds on the introduction of "Scottie" as the brand's mascot in a 2019 campaign by previous AOR John St. that connected soft, but strong, elements, embodied by a plucky dog that is there for both tears of joy and pain.

Susan Irving, CMO at Kruger Products, says the mascot has done extremely well in terms of likeability, especially in a pandemic environment when people turn to pets for comfort.

However, consumers are still failing to see the connection between the dog and the product, so the brand had to create a more meaningful role for mascot. Irving says it now has more of a story for Scottie, all about showing that he can play two roles: showing his strong and soft side.

"It's definitely more of an emotional story, which is what we need more of, because everyone knows what facial tissue is used for," Irving explains, as previous brand messaging was built around usage in this mature category.

For this campaign, it's all about driving a stronger brand link: even though it's the market share leader, Irving says, people still call the category by the competitor name, Kleenex (a Kimberly-Clark brand).

Irving says the campaign is more geared to overall household penetration, rather than reaching one head of household shopper.

"If you look at how brands grow, you're better off driving household penetration versus frequency," Irving says. She adds that it has also broadened to that more general audience, beyond just targeting a mom doing the shopping, since more people are engaging with the brand and buying household goods through omnichannel.

In 2020, household penetration has risen by 2.8% to 35.5%, Irving says, as last year the category grew with more people at home. Kruger brands in adjacent categories also saw massive increases in terms of in-home usage as consumers shifted their habits there.

The first wave of the new campaign will include two six- and 15-second spots for TV, online video and social channels, part of the brand's year-round activation for a product whose demand is consistent irrespective of season.

Wavemaker is handling media on the campaign, with Scouts Honour on production.