Goemans has a good time with bad people
The appliance retailer aims to shake up its brand image by showing how faulty appliances can make people lose their cool.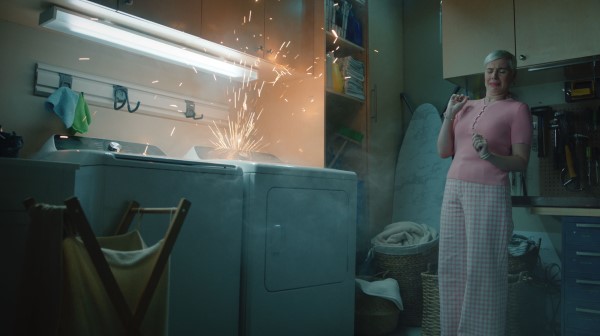 When appliances break down, people can as well.
A new campaign for retailer Goemans Appliances shows how a faulty fridge or dysfunctional dishwasher can transform a Jekyll into a Hyde.
Developed by Toronto agency The Garden, "Do Appliances Right" uses dark humour to show people unleashing their pent-up anger over a broken-down appliance. In one example, a man smashes a "welcome to the neighborhood" casserole after his dishwasher meets the end of its life cycle.
The initiative is a broad awareness campaign, as the brand has a lot of ground to catch up on, admits Andrew Borsk, director of marketing and ecommerce at Goemans/TG Appliance Group. While Goemans has been open since 1978, it has primarily marketed around its selection and expertise, and Borsk says the company wanted to make its messaging come to life and come up with something big.
The edgy new positioning, he says, is a way for it stand out in an often banal appliance retail advertising landscape.
Jennifer Kittmer, strategy director at The Garden, says it worked with media agency Cairns Oneil to arrive at an insight that people were mostly aware of Goemans, but didn't know why they should go there or what they are all about.
When Goemans briefed The Garden, which won TG Appliance Group's business late last year, Borsk says it did not have a media mix in mind, but when it was presented with the "Do Appliances Right" concept, leaning into TV was the way to go, as it's a very visual campaign. To build mental real estate, Cairns Oneil's media plan focuses on storytelling media like TV, YouTube and OOH, as well as targeted programmatic, to reach its core demo: a homeowning, affluent, 35- to 64-year-old living in the suburbs, a "patient pragmatist," that seeks knowledgeable guidance.
The out-of-home ads continue the frustration theme with images of everyday household appliances accompanied by headlines like "Prevent dryers remorse," "Stop nuking your patience," and "Rinse away dishwasher resentment."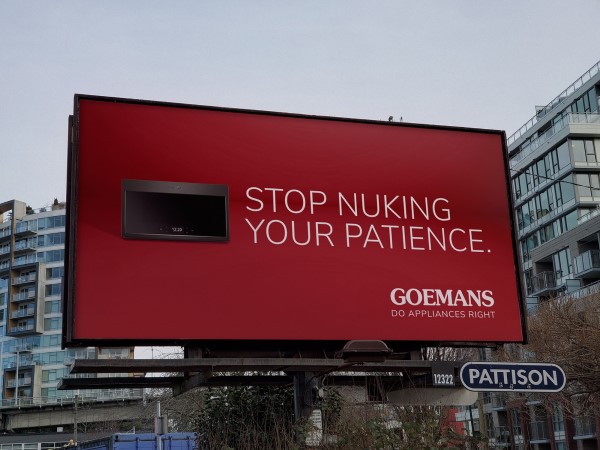 In the current environment, Borsk admits the industry is hurting. There are stress sales, like a broken refrigerator, which have to be made regardless, but there is a contraction on the remodel side of things, more of a discretionary spend in a highly priced market.
According to Kittmer, the importance of making the right decisions and its "do appliances right" messaging is that much more critical in times when consumers are more cautious about their finances and worried about the impact of surprise appliance break downs.
This expertise positioning is also meant to help Goemans compete against big box stores like Lowes and Home Depot – according to Kittmer, the idea is that Goemans is more trustworthy for a big appliance purchase than a more general retailer.
This is Goemans' biggest campaign to date, Borsk says, and that fall is a heavy time for appliance shopping. Someplace Nice handled production.