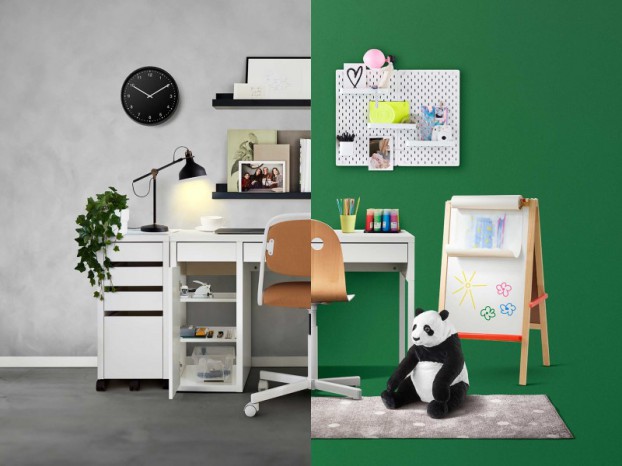 IKEA Canada is once again trying to get shoppers to think about the environment on Black Friday, but this year it using the deals customers crave to do so.
November marks the annual return of IKEA's "Green Friday" campaign, where the retailer tries to draw shoppers to its Circular Hub, a marketplace where customers can buy and sell used IKEA furniture to give it a second life and reduce waste. To reach value-minded customers, throughout November, customers will receive additional savings on used items, including pre-loved furniture, discontinued items and ex-showroom displays.
The retailer is also inviting people to sell back their IKEA furniture for extra incentives, such as double the sell-back value in store credit.
Part of the IKEA Family loyalty program, the retailer claims its Sell-back service has seen strong engagement since it launched in Canada in 2019.
Claudia Mayne, IKEA Canada's director of marketing communications, tells strategy the retailer is on a journey to become a fully circular and climate positive business by 2030. "We are taking Canadians with us on that journey by continuing to keep sustainability and circularity at the core of our offer on one of the busiest shopping days of the year."
Several IKEA store locations will also work with local community partners to host a furniture donation and electronics recycling drive, in exchange for coupons. IKEA Canada is also hosting Virtual Workshops to support customers in extending the life of their IKEA products.
Mayne says that the retailer's strategic approach continues to shift the conversation from mass to considerate consumption and make Black Friday a little bit greener by creating circular solutions. She says it is informed by research showing that over 90% of people want to live a more sustainable life at home, but nearly a third are unsure of what actions to take.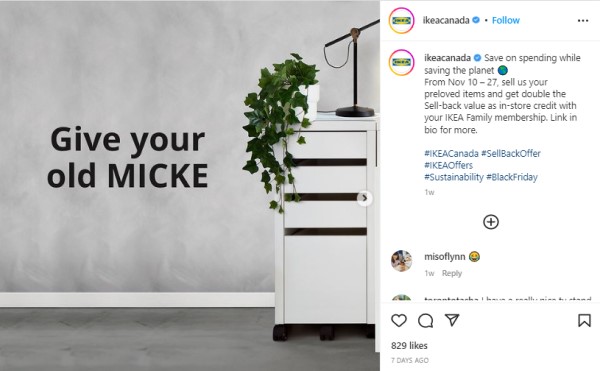 "We know the desire to save money is even greater than before, but consumers still hold the same values and care about their impact on the environment," Mayne claims. So, whether a customer is in the market for new home additions or looking to de-clutter their space before the holidays, IKEA wants to enable all customers to be part of the "conscious consumption" change.
New for this year, it's brought the campaign under its new brand platform, "Bring Home to Life." In line with its strategic focus, IKEA has dialed up online video this year to create awareness for Green Friday and drive click through to the IKEA website. The campaign is also supported through digital display – leveraging contextual signals and sentiment hyper-targeting related to sustainability – as well as social media, email, search and owned channels.
Pigeon led creative for this year's "Green Friday" campaign, with Carat on media, Hill + Knowlton on PR and Wunderman Thompson on customer engagement and loyalty.