Building loyalty with youth
What do HP, Virgin Mobile and Red Bull have in common? By letting youth customize how they want to engage, they're winning true fans.
On the surface, youth are tough nuts to crack. As a result of growing up in a recession-filled, post-9/11, Occupy world, youth are distrustful of brands and companies, cautious and pragmatic, and uncertain about their economic future. Jim Sullivan, a partner at Colloquy, a research company that specializes in loyalty and has been studying youth and measuring benchmark data for the past 10 years, confirms that youth say they aren't loyal and that they push back against traditional marketing.
Youth have become pragmatic, says Sullivan, and the distrust of businesses and their overall economic uncertainty leads to penny-pinching kids who are more preoccupied with saving money than spending it. Strategy's own survey, done by Toronto-based Conversion, a market research firm, and SPC Card, a student loyalty program, found the number one driver for loyalty was low prices – the cheapest brand wins among youth. Thrift aside, like any other demo, what they say and what they do vary.
Youth are loyal – they repeatedly eat the same cereal and use the same hygiene products, says Sullivan. Youth want to belong to a group but also be seen as an individual within it. Since they're wary of being viewed as slaves to brands, the age-old goal of influencing our non-rational consumption choices is paramount, in tandem with creating emotional ties, and treating youth as the individuals they want to be. Sullivan says that companies using social media, for example, can cost-effectively treat audiences as individuals rather than a mass market, pointing to Seattle-based (but Canadian-founded) Jones Soda, which allows consumers to create their own labels and mixes, as a good example of individual marketing. (Its website prominently declares "Even a good dictionary can't define who you are.")
Tailoring programs doesn't mean making individual marketing plans for every single one of the more than 10 million kids in Canada, says Dave Wilkin, the 24-year-old president and founder of Redwood Strategic, a youth-only marketing firm. He points to Virgin Mobile's member's benefits program as a prime example of a brand letting youth tailor their own engagement with the company.
Knowing that youth tend to want more than just discounts on products they already buy, Virgin Mobile created a reward program focused on four key passion points: travel, fashion, entertainment and music (none of which have to do with discounts on phone plans), says Andrew Bridge, managing director, Virgin Mobile.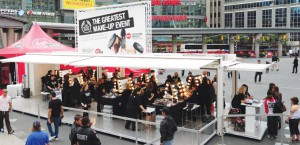 Virgin subscribers, for example, can get traditional benefits such as early access to concert or movie tickets, and discounts at retailers like H&M and the Body Shop, says Bridge, but the brand also dishes out exclusive perks, such as high-end, members-only porta-potties at outdoor events. The entire system is based on listening to what members want and letting them choose what to take advantage of, he says. In other words, members make their own reward programs.
The redemption rate for the benefits is in the hundreds of thousands, with many customers saying they'll stay on board because of the program.
Further, based on their research, customers who take advantage of the membership benefits will tell 14 other people about the program, referring friends and family to Virgin.
This is important, according to Wilkin, who says 70% of Canadian youth look to these referrals when it comes to making decisions on purchases. He adds that brands should also consider giving creative control to youth and see what they come up with to promote the brand.
To that end, HP sought out brand ambassadors at five campuses across Canada to lead local program activation, says Michael McAvoy, director, marketing, HP Canada. While HP's main thrust is sponsored events focused on music and sports, the reasoning behind the ambassadors is simple: students will know how to engage their friends and classmates better than any marketing agency could – they have a finger on the pulse of campus life, says McAvoy.
With the help of Toronto-based youth marketing firm Campus Intercept, HP picks students and trains them in the overall objectives of the company – what features the company wants highlighted, what products it wants promoted, and overall financial goals.
Then the students are let loose, armed with HP computers, weekly task lists and their imagination, says Andrew Au, president, Campus Intercept. How they engage students is up to the ambassadors – they have autonomy. As a result, programs at York University are very different from the ones at University of Waterloo, says McAvoy.
Ambassadors have orchestrated everything from wild dance parties in the university common areas to scavenger hunts around campus, engaging youth with the products in newer, less marketed and, most importantly, fun ways. As a result, when it comes time to replace an old computer, which usually happens in third and fourth year, HP is top of mind.
Addressing the fact that youth have unique micro-niches, Red Bull is another brand with a strategy for reaching far beyond the mainstream music and sport sponsorship menu.
"[Red Bull does] a little bit of advertising here and there, but their program is anchored in a collection of events and happenings that connect with youth-related subcultures," says Vito Piazza, managing partner and VP, Sid Lee, Red Bull's creative agency.
Working with the philosophy of giving people wings, Red Bull aims to support young adults at all levels, from professional to amateur, says Lubor Keliar, director of communication, Red Bull Canada. It's been a successful approach: Red Bull is considered the leader in the energy drink market and its presence is widespread on university campuses across the country.
The company focuses all of its events around music, arts and sports, says Piazza, adding that everything skews towards experiential-based programming.
It hosts events large and small, from the big-draw Crashed Ice festival, a Montreal-based extreme ice skating tournament that draws millions, to smaller events that draw only a couple hundred, such as a movie festival for skiing enthusiasts or bike-riding festival for fixed-gear (fixie) cyclists only. He adds that Red Bull gives youth the spotlight, helps them to be part of a greater movement, and have their voices heard. By supporting smaller niche cultures, such as free skiers or fixie enthusiasts, Red Bull celebrates the subcultures often ignored by other brands.
"[Youth] want to express their uniqueness through brands," says Colloquy's Sullivan. "They want to be able to identify with certain brands. The reasons why music groups are so avidly followed by fans is because the consumer has literally adopted them as a shorthand for what they stand for [and] who they are. Brands have to engage at an emotional level, which is where true loyalty resides."
Jump to:
Infographic: Youth by the numbers