Canada wins 16 more Lions, including Gold
Tribal DDB and McDonald's won three Lions, including the country's first Gold of the week in Cyber, with John St. and Leo Burnett getting multiple wins as Canada also takes prizes in Press, Design and Radio.
By: Jennifer Horn and Val Maloney
Canada won 16 Lions on Wednesday night, including the country's first Gold of the week to Tribal DDB in Cyber for its work on McDonald's Canada's "Our Food. Your Questions." Overall Canada's Lions count now stands at 23 for the week.
Cyber
Overall, Canada won seven Lions in Cyber, with two Bronzes going to Tribal for the McD's project. The project also won a Silver in Promo & Activation earlier this week.
Also taking Lions in Cyber was John St., who won a Silver and a Bronze in the category. Silver for "Carly's Cafe" and Bronze for "Electriphobia" for Mitsubishi. Grip Limited also took a Silver for its The Movie out Here project for Kokanee. 123W also picked up a Bronze for its own website, which uses video in place of traditional text.
Canadian Cyber jury member Nellie Kim, creative director, John St., said the jury liked the transparency of the McDonald's campaign, especially given that it is coming from such a large company.
There were two Grand Prix in the category, the first went to Pereira & O'Dell from San Francisco for its work on the Intel and Toshiba digital video series "The Beauty Inside," which allowed users to be part of the series that showcased a man who woke up as someone new each day (the work was shown to attendees of AToMiC last month when the agency's CCO and co-founder PJ Pereira presented it). The second went to Draftfcb New York for its work with Oreo on its "Oreo Daily Twist" project that looked at what was trending online each day for 100 days (famously launching with a gay pride-based cookie) and created content around those buzzed-about topics to celebrate the cookie's 100th anniversary.
Kim said the Grand Prix winners were an example of one of the big trends across many submissions this year, which was integrating the consumer into the experience.
Design
Canada also had a big night in Design, taking seven Lions, four Silver and three Bronze.
Leo Burnett won two Silvers and a Bronze in the category. The first Silver for its "Canadian CEO Olympic Invite" for Bell and the second for its "Street House" for Raising the Roof. It won Bronze for its "Cook without the Book" self-promotional piece.
Also taking Silver was Cossette for its "The Enablis Effect" for Enablis. Lowe Roche won a Silver for Makehealthlast.ca for the Heart & Stroke Foundation.
Also winning Bronzes for Canada was Baillat Cardell & Fils for its Bian Posters for Bian and Lg2 for its work for F. Menard.
The Grand Prix in Design went to Auchan and Service Plan Munich in Germany for "The Self Scan Report," a sustainability report for items bought at the store that was presented on shopping receipts.
Press
Grey Group Canada took home a Silver Lion for its public awareness ads produced for Moms Demand Action for Gun Sense in America.
In the three print pieces, "Red Riding Hood," "Dodgeball" and "Kinder Egg" a child is shown holding an item that the United States has banned to protect its youth (a Dodgeball, a Kinder Surprise egg and a Little Red Riding Hood story book) while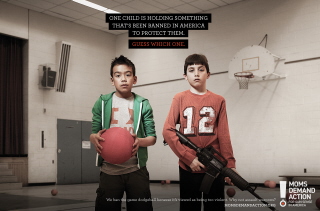 another child holds an assault weapon. The ad asks readers to "guess which one" is the illegal item, and questions America's decision to prohibit trivial items such as toys and chocolate, but not deadly firearms.
Press juror Ali Shabaz, who is the chief creative officer at the Singapore branch of Grey Group, described the campaign as having a "blindingly simple insight" and that there was a "hair's-breadth between a Silver and a Gold."
"Everybody loved it from the start. But I think that in juries, context matters a lot, because you have people from different parts of the world, and not everyone was aware of the whole gun debate in the US," he added.
The Grand Prix for the category was awarded to TBWA/Media Arts Lab in Los Angeles for its Apple magazine back page ads that superimposed the front cover of partner magazines, such as Time, The New Yorker and Wired, onto the screen of an Apple iPad Mini (which was placed at the bottom right hand of the page to show scale).
"It has no logo, no claims, no titles. It just puts the product at the bottom of the page, and it says it all," said Marcello Serpa, jury president and partner/CCO of AlmapBBDO of the campaign that promoted the ability to access magazine content using the tablet. "It's an idea that goes into an old medium and proposes the death of it. But at the same time, it offers a cure: it's the redemption of magazines."
Radio
Y&R Toronto was the only Canuck agency to take home hardware in the Radio category this year.  The creative shop snagged a Bronze for its "Avocado" spot, with sound production by Pirate Radio & Television, for auto brand Ford and its Parts and Service product.
Canadian juror in the Radio category, Jean-Francois Bernier, president and creative director of Alfred in Montreal, said the spot was a "simple idea, clever and well-written." He agreed with comments about the category's level of difficulty (with creatives being challenged to create innovative work using a single-sensory medium) made by jury president and co-founder of London-based Eardrum, Ralph Can Dijk.
"[Also], to make great radio or advertising in general, it takes huge talent, and money to give those people time to work on it," he adds. "As [you get more] local, the less you chance you get at [creating an award-winning ad]. Talented people, most of the time, are in the major agencies in bigger cities and on bigger accounts, and those are the ones you see winning."
The Grand Prix for the category was multiple Cannes award-winning campaign, "Dumb Ways to Die" by McCann Melbourne for Metro Trains in Australia. The three-minute jingle, which was sung by animated characters to discourage teens from being reckless around train tracks, was aired in its entirety during the radio spot, with shorter versions taking home two more Gold Lions in the category.
An earlier of version of this story placed Canada's overall wins for the night at 15. This story has been corrected.