Blue Goose ships in a fresh sampling program
The natural meats company transformed three shipping containers into take-out restaurants for Torontonians to try its products, and plans to launch a permanent store in early 2014.
Blue Goose has only been in stores across Canada for two months, so shoppers are still getting to know the organic and natural meat brand, as well as the taste of its chicken, beef and fish products. In an effort to speed things up, the company brought a fresh new concept in healthy food to Toronto, creating pop-up restaurants out of shipping containers for each of its brands (Blue Goose, Sully's Honest Dogs and Lobster Roll) and branding it as the Common Goods store.
The three Harbourfront Centre makeshift restaurants, with chef David Chystian and a handful of student chefs, offer the chance to sample the company's meat in wraps, burgers, hotdogs and curries. Created and executed by newly launched Jacknife Design, the solar-powered and recyclable shipping containers will sit at the waterfront until October.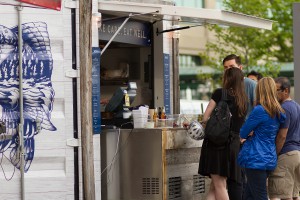 There is no promotional activity at the retail level for Common Goods beyond the brand's on-site ambassadors letting Common Goods customers know that they can find the meat products in Metro, Whole Foods, Sobeys and Loblaw stores.
Sampling of products in stores can help a brand to get their product into the hands and perhaps even the hearts of consumers, but Blue Goose co-owner Jim Bailey wanted to provide something more than just free meat on a stick. "It became a commerce project, rather than give the product away, let's make great recipes [and sell them as meals]," he says. "Organic food can be quite exclusive. But I wanted to make it more inclusive and get it in the hands of consumers at an affordable price."
Bailey most recently spent eight years spearheading experiential marketing at Red Bull as the president of its Canadian arm, which he used as inspiration to help come up with the Common Goods concept store. He says by going beyond simple sampling programs, which sit outside the store level, the company is able to control brand interaction with new customers. "It allows us to control the messaging throughout. We can talk about what we do as a company with our own staff versus what can typically happen in the grocery format where a person who doesn't work for the brand is hired to talk about the brand," he adds.
If all goes according to plan, the Common Goods concept will become a permanent fixture in Toronto, says Bailey. By the first quarter of 2014, the company plans to have a bricks-and-mortar store in the city, which will "build retail around the focal point of a butcher shop that people can walk into, order the product to take home as you would in a traditional butcher shop where they chop up the steak while you wait."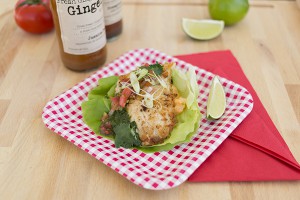 He also plans to get his products into the hands of more than just Canadian consumers. Bailey says in the next few months Blue Goose will be introducing the brand and its portable shipping container restaurants to U.S. territories, including Los Angeles, Dallas and Colorado.