The Strategic Milk Alliance milks every store moment
With help from Shopper DDB, the cross-Canada dairy venture unveiled 10 separate shopper marketing programs, including the introduction of milk fridges in non-dairy aisles.
The Strategic Milk Alliance (a joint venture between the BC Dairy Association, Alberta Milk, SaskMilk, Dairy Farmers of Manitoba and Dairy Farmers of Canada) and Shopper DDB are putting into place the last of a massive shopper campaign specially tailored for 10 individual retail chains.
Working with Loblaw-owned retailers (such as Zehrs, Loblaws and Superstore), Sobeys, Safeway and Metro, among others, the program rolled out over the past month on the heels of the June mass market "Milk Every Moment" campaign. Sobeys is the last major retailer to participate, with creative hitting the floor late last week.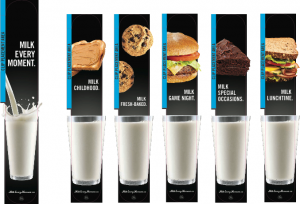 The campaign was built on two insights, according to Jason Dubroy, VP managing director, Shopper DDB. First, with its location at the back of the store milk can easily be forgotten or bypassed. Secondly, based on research with focus groups, they found that consumers genuinely believe certain foods, such as cookies, cake and toast, taste better when paired with milk.
At Loblaw-banner stores, Safeways and Food Basics, the campaign places signage – tailored to each retailer – at various points throughout the store prior to the milk aisle in order to "prime" and remind consumers to pick up a carton or jug, he says. Displays are placed next to 20 food items most likely to be paired with the drink.
They've also piloted a program with Sobeys Atlantic, moving out of the dairy aisle and placing branded mobile coolers filled with full-sized milk cartons (called Mobile Milk Units, or MMU – pronounced Moo) on the floor next to cereal, cookies
and cakes. What was originally meant to be an eight-store test will now roll out across the country at Sobeys West and Sobeys Ontario, Dubroy says.
At Walmart, understanding that its shoppers overwhelmingly visited Walmart.ca prior to a store visit, Strategic Milk Alliance and Shopper DDB launched an online game where shoppers could vote on their favourite pairing and see results in real time. Digital signage throughout the store called back to the "Milk Every Moment" mass market campaign, says Dubroy. Campaigns were also customized for Metro, tapping into the retailer's extensive database for email promotions and Overwaitea Food Group, specifically focused on partnering milk and Oreos.
The entire campaign was built on neuromarketing best practice research, using insights gleaned from studies of consumers' brains using technology like EEG and fMRI, Dubroy says. These technologies scan the electrical impulses and blood flow through the mind, measuring a person's unfiltered response to stimuli and advertising.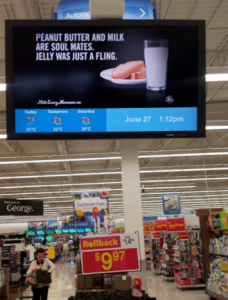 For this particular campaign, they used a specially-designed colour scheme created for "optimal contrast" against the floor and the shelves, as well as rounded edges on all signage, which Dubroy says is more pleasing to the brain.

The campaign, which targets the primary household shopper and is gender agnostic, will run for at least six months, with a second wave of creative set to hit in select regions in August and September in time for the back-to-school season.