Cadbury brings back the clucking bunny
To play up the joy of Easter Egg hunts, the chocolate brand taps nostalgia by sending adults in search of their own samples.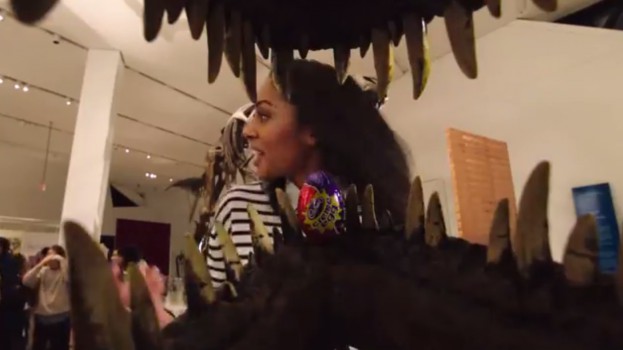 Mondelez's Cadbury brand is bringing the hunt to the masses with this year's Easter campaign, focusing on the iconic clucking bunny – out of a five-year TV retirement – and the joy of finding chocolate eggs.

Launching this week, the brand will roll out a different type of sampling program, getting passersby on the street to go on impromptu hunts to collect their samples. Working with Momentum, the brand will set up shop in cities across Canada for the next six weeks handing out clues.

While sending people to search for a sample might seem a bit arduous, John Slaughter, brand manager, seasonal, Mondelez,  says it was important that every aspect of creative have some sort of "hunt" feel to it.

The overall campaign, called "The hunt starts now," which targets parents with children, plays on the nostalgia of Easter Egg hunts, with the insight coming from an event at Mondelez corporate last year, which sent employees searching for chocolate eggs as part of a team-building exercise.

"It was the insight of all insights to watch the CEO to the brand managers let loose and have fun," Slaughter says.

To help emphasize that nostalgic feeling, the brand decided to also bring back the clucking bunny, which was retired in 2009 from TV commercials. (The bunny still graced packages, but Slaughter admits "If the bunny doesn't cluck, it's just a bunny.")

Launched during the Olympics, the 60-, 30- and 15-second TV spots, with creative by Ogilvy and media by Mediavest and Jungle, follows a giant egg hunt throughout Toronto's Royal Ontario Museum. The first six weeks of the campaign will feature the shortened 30-second spot on channels such as CBC and CTV, and as the holiday approaches, the brand will roll out 15-second versions on specialty channels. The full 60-second version will live online.

The TV spot and sampling program will be supported by OOH, Facebook posts (asking folks to find hidden eggs in the images) as well as a contest to win a giant neighbourhood-wide easter egg hunt. In-store marketing will also roll out closer to the holiday.