Calling out lovers and haters
Brands like Expedia and Taco Bell tap those on both side of the emotional spectrum.
Battle-scarred brands have learned the importance of actively managing social media communities before negative sentiment spirals out of control. Some have even managed to outshine expensive, planned campaigns with simple, timely and seemingly instantaneous activations (think of the reach of Oreo's 2013 Super Bowl blackout tweet).
Now, brands are taking those responsive tactics out of the social media sandbox, creating follow-up ads and filming customized real-life experiences for their most vocal consumers, whether fans or foes.
Toronto-based agency Grip and partner brands like Expedia and Taco Bell are all over this real-time marketing movement. Here's a behind-the-scenes look at how they pulled off these campaigns.
Expedia changes its tune
Expedia and Grip thought they had an ad that was perfectly in tune with the brand's message. But "Escape Winter – Fear," which shows a dad being scared by a winter storm and is set to a screeching, haunting melody being played by his daughter on her violin, struck the wrong chord with some consumers when it was aired repeatedly on TSN during the World Junior Hockey Championship in December and January.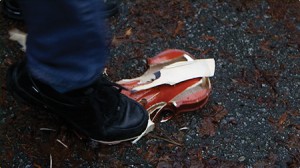 While Christopher Day, senior director of brand marketing for Expedia Canada and Latin America, notes there were many positive comments to go along with the negative on social media, the brand and agency felt there was enough anguish being voiced to warrant a change. They turned a potentially damaging situation around by reworking the TV creative, while speaking more directly to the haters of the spot via social videos.
About a week after most people returned from the holiday break, Expedia and Grip shot a response video showing the father throwing the violin out his front door, with a national, two-week media buy by Mediacom. In another video that ran only on YouTube, the dad smashes the violin to pieces. This version included a message dedicating "this moment of tranquility" to users who had complained about the spot. It was sent to about 300 people, via Twitter and Facebook posts.
Another YouTube clip shows an Expedia rep tracking down freelance sportswriter Cam Charron of Vancouver, B.C. who had commented that he'd like to see an ad of someone smashing the violin. With cameras rolling, Charron got to do it himself.
The campaign resulted in around 68 million media impressions.
Taco Bell makes a permanent commitment
When Taco Bell brought its sought-after Doritos Locos Tacos to Canada in the summer, the QSR said it would be only for a limited time. So, when word came that it would become a permanent menu item in January, Grip turned to social media to cook up a unique execution. Its team knew lots of Canadians had been begging for the taco to remain and it wanted to spark conversation around what people were willing to do to have it be available forever.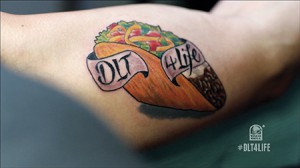 The brand and agency settled on the idea of making a YouTube video and TV teaser spot of one super-fan getting a DLT tattoo in exchange for a lifetime supply of the snack. It reached out to Taco Bell Facebook fan Tyler, who had jokingly referred to himself as the "Santa of burritos," because when he made trips to the city from his home in the Toronto Islands, he'd bring product back for his friends. Before the DLT was available in Canada, he'd made his girlfriend do a cross-border trip just to have one.
Through email conversations, Tyler agreed to a tattoo-for-tacos deal and signed a contract to keep his tattoo – etched at Black Line Studio in downtown Toronto – a secret until after the campaign launched.
Owen Garscadden, director of connections strategy at Grip, says inking a fan was a natural evolution of the agency's deep-dive into its social media communities.
"Even if it's not overtly exposed in a campaign, we are constantly sifting through [social media comments] for insights we can put into the creative product," he says. "This is just one of those times a person ended up getting a tattoo."
Grip says the DLT campaign, from its arrival in the summer (see sidebar) until now, has resulted in steady same-store sales growth, millions of media impressions, a 515% increase in Twitter followers and an increase of more than 30,000 Facebook fans.
Silencing  the doubters
When Taco Bell brought the DLT to Canada, Grip came up with a tasty way to break the news. Canadians had been petitioning for it on social media, so Grip chose three gripes and laser-etched them onto DLT shells. They invited the commenters to a Taco Bell in Oshawa under the guise of a fan appreciation event and videotaped their reactions.
Thanks to the video's 132,000+ views, the brand decided to spend money on a 30-second TV spot rather than adapting a U.S. ad. In the eight weeks following the launch, mentions of DLT increased 625%, according to Twitter analytics by Grip.
*****
Global brands fake it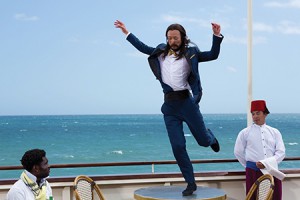 Don't have thrilled or pissed off consumers to respond to? Why not fake some skeptics, like Heineken and Wieden+Kennedy Amsterdam did when they conjured up Twitter trolls to whom they could "prove" the beer's authenticity.

In late January, the beer co released its "The Odyssey" TV spot featuring a guy wowing a crowd aboard a cruise ship. The catch is, it's actually 20 different men playing the same character and doing unique things, from swan diving into a pool to tap dancing. About a week later, Heineken followed up with a tongue-in-cheek YouTube video it said came in response to Twitter users questioning the skills of the cast. As a shark floats by in the canal behind her, a supposed PR rep unveils a few "audition tapes." Viewers can then click through to an interactive version of the clip where they can click each character to see more casting sessions.

Disney in the U.S. also got in on the act recently by staging a Twitter fight. During the Golden Globe Awards in January, it released a one-minute TV spot for Muppets Most Wanted featuring what the ad claims are comments by Twitter users jousting over why the movie (which hasn't been released) wasn't nominated for prizes. The humorous spot tweaks the usual movie trailer by faking controversy, and also gets its digs in about the types of conversations that happen in the Twitterverse.