Top Cannes contenders: Film Craft
Strategy is counting down the campaigns most likely to win big at the Palais at this year's festival.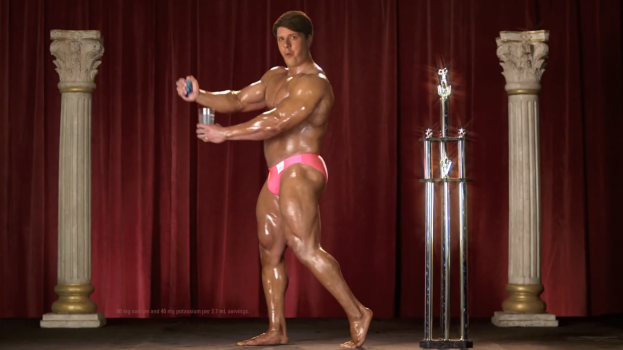 As we count down the days to the Cannes Lions submission deadline (March 28), strategy is rounding out the most likely contenders for each category, tapping the top folks in the industry to help us narrow down the list. This week, we're taking a gander in the Film Craft category. Check back regularly until the deadline to see which campaigns have the best shot in Cannes.

Film Craft

Campaign: Exfeariential
Brand: John St.
Agency: John St.

Chosen by Martin Shewchuk, director, former ECD JWT

In advertising you get to do for a living what a lot of your friends pay to do as a hobby. Art, music, acting, filmmaking, photography, not to mention travelling to the south of France for all the free lunches you can eat as long as you're not too hung over from all the free drinks the night before. I suspect that in the Film Craft category, there is none of the anxiety about marketing issues that come up in the judging room for the other categories – just the pure joy in celebrating the attention to detail.

In Film Craft, I recommend "Exfeariential" be entered  for "Script." Every aspect of this video accurately mimics and perfectly mocks the stunt-video genre, the behind-the-scenes-video genre and the case-study-video genre on top of all that. It will win one of the advertising Lions and is a contender in most of the Film Craft sub-categories, but the decision to make it a hat-trick of mockery was made at the script stage. It deserves Gold.

Most agencies are their own worst client but John St. has been on a Cannes roll. I think "Exfeariential" is another Lion winner.

Campaign: Eye of the Squirter
Brand: Mio
Agency: Taxi

Chosen by Glen Hunt, chief transformational officer, Cossette

If ever there was a commercial that managed to pack a punch in every one of its 30 seconds, it's Mio Sport's tightly edited "Eye of the Squirter."

The idea that there's a squirt for every sport manages to incorporate speed-walking, football, wrestling, figure skating, fencing, synchronized swimming, bobsledding, stock car racing, scuba diving, boxing, hockey, hot yoga, body-building … and an incredible gymnastic leap from a garbage dumpster thrown in for good measure.

And it's all done by one guy. Or is it two guys? Or is it a woman, who has a twin? And how did they stuff that guy into that greased-down, Arnold Schwarzenegger body double? And did he really do that leap? And how did he pour that liquid into the bottle from that contorted position?

The effect is done flawlessly – a combination of great editing, great acting and some kind of film trickery. Paced along perfectly with that recurring squirt … squirt … squirt … squirt music track.

I kept wondering – is it just one guy? Did he really do that jump? I kept looking for the green screen but couldn't find it.

I know it was there, but at the same time I didn't want to know –  kind of like watching a great magic trick. That's real craft.

Campaign: Whatittakes
Brand: Sport Chek
Agency: Sid Lee

Chosen by Frazer Jelleyman, CCO, Taxi

As another Cannes approaches, and the lucky few head to the South of France, there will be those bringing home some metalwork, opening another bottle of rosé and thanking whichever god they pray to for their good fortune, whilst everyone else will be opening another bottle of rosé thinking to themselves perhaps they'll have more luck next year.

Sport Chek's "Whatittakes" Olympian push by Sid Lee looks great. It lacks the extra levels that made last year's Channel 4 Paralympics spot "Meet the Superhumans" world class, but the cinematography is bang on the money. And we are talking craft here.

That being said, I searched in vain for an amazing piece of editing that told a story as never before; a piece of sound design that added another dimension; a "how the hell did they do that" one-shot Old Spice type wonder.

Or, in this day and age of amazing 3D graphics that can really make you believe you are there (see the Framestore's stunning work on Gravity), an other worldly vision.

But as I said, I searched in vain. Perhaps I'll have more luck next year.

Are we missing a strong Film Craft contender? Weigh in below. 

Check out the contenders in the Promo & Activation, PR, Mobile and Film categories.