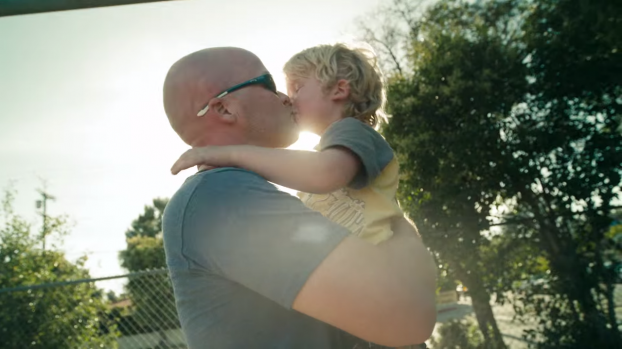 Dads. They're an incompetent, bumbling, stumbling bunch, not to be trusted with the kids, or the housework, or… anything really. They're all a bunch of Modern Family's Phil Dunphy-esque characters (Dunphy once said, "I've always thought that if my son thinks of me as one of his idiot friends then I've succeeded as a dad"). At least that's what you might think while watching commercials.
It sort of drives guys like George Nguyen, managing director at TBWA/Toronto crazy.
"I'm not the first to say this and I won't be the last," he says. "The suburban male is the last bastion of the cheap joke."
Nguyen points to some recent work from Kraft, for its shredded cheese, as symbolic of the trend.
"Dad is not only getting ready to jump off a building, but take his son with him," Nguyen says. "What do ads like this tell the world? 'Mom, if you don't save your husbands from themselves, they are not going to make it through the day.'"
But there have been some shining examples of ads that break from the status quo. So strategy tapped Nguyen, Zach Rosenberg, co-founder and editor of dad blog 8bitdad, and David Grisim, global CMO and Canadian managing director at Exact Media, who recently wrote a piece about the portrayal of men in ads for this publication, to weigh in with some ads that go outside of the "dad is a buffoon" box.
Sadly, none of them could identify Canadian ads, but we found one just the same.
Johnson & Johnson/TBWA Chiat Day
Nguyen threw in this last-minute addition to the list from his partner agency. "Distinctly Dads" highlights the impact fathers have on their kids lives, he says. "It's six minutes of feel good that we just don't see enough of these days."
Dove/Davie Brown Entertainment
This recently-launched campaign for Unilever's Dove Men + Care by L.A.-based Davie Brown Entertainment is already making the rounds. "Calls for dad" recognizes the role dads play in raising their children, says Nguyen. "Unilever cites a study which revealed that only 20% of dads see a reflection of their roles in child-rearing in the media. And if you only look at advertising, I'd guess it's even less," he says. But, it seems like Dove is starting to catch on.
Tide/Saatchi & Saatchi
Tide's showing off a man who steps up to the plate and embraces his responsibility as a father in this spot, Nguyen says. Rosenberg adds that the spot, from Saatchi & Saatchi New York, succeeds just for highlighting the modern reality that dads do laundry. "What's best is that now, P&G has gotten the hint that they simply need to feature a father, without him identifying himself as one," Rosenberg says, like in their "Dad Mom" effort from 2011.
Volkswagen/Deutsch USA 
The force is with dad in this Cannes-Lion-winning spot, which Nguyen says "shows how dad can be a hero just by understanding his son… and having keyless ignition."
 Swiffer/Publicis Kaplan Thaler NY
When this ad ran, Adweek asked, "Most inclusive ad ever?" We have an interracial family, the dad is disabled and he cleans the house, while mom admits she doesn't even like cleaning. "When's the last time a brand would ever have a father humorously saying he cleans better than his wife with only one hand – and then have the wife laugh and admit she hates cleaning?" Rosenberg says. "That's as modern as it gets."
Honey Maid/Droga5
The brand made some noise when its "This is Wholesome" ad featured, among other families, gay fathers. But it didn't shy away from its accurate portrayal of modern-day families, following with a series of short documentaries, including "Team of two," which shows a single father and his son.
"The reality is that single-parent homes not only exist, but are becoming a more common occurrence," Rosenberg says. "Showing more of them in commercials, especially with single dads, is a great way to speak directly to segments of the public that traditional advertising has ignored."
Grisim adds that the campaign redefines the notion of "wholesomeness," which he says has been "co-opted by those wishing to defend prejudice."
"By depicting a range of terrific dads that don't fit any of the stereotypes, they just might make graham crackers seem modern."
Hyundai/Innocean
Grisim says this ad for Hyundai and Innocean "brilliantly demonstrates the heroism of everyday 'dad moments.'"
What he finds most effective, is the brand makes it clear dad isn't the buffoon – he's the hero, and when he's not around, the brand can be there to help.
Cheerios/Saatchi & Saatchi
This Cheerios ad by Saatchi & Saatchi is not without its controversy (Racial hatred? Shouldn't we be beyond that by now?), but Grisim says this ad works for its positive portrayal of a moment between father and daughter. The product is front and centre, he says, adding that the light touch and right amount of humour make for a great balance.
Tim Hortons/JWT
Our own Canadian choice. We dare you to watch this without welling up a bit. Part of the Tims "True Stories" campaign, the story of two generations of dads feeling proud of their sons, even if one shows it differently than the other, makes us long for our fathers to pass us a double-double. Sure, it's a bit stereotypical in its portrayal of the Asian parent being narrowly-focused on academic success (it's "based on a true story," remember) but this captures the father/son relationship beautifully, right down to the dad/granddad demanding his picture back.
Did we miss some key ones? Not enough Canadian content for your liking? Weigh in below with suggestions and recommendations.