Coca-Cola gets personal
A special Coke for Tom, Dick and Harry? The brand is bringing its successful global campaign to Canadian audiences with customized bottles and cans.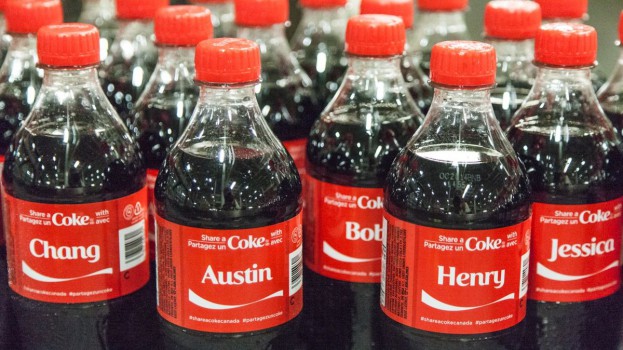 For those who label their food for fear of fridge thievery, Coca-Cola's latest campaign could save them the hassle, and give them the chance to pick up a personalized bottle for a friend too.
Supported by a multi-platform campaign, the "Share a Coke"  program is coming to Canada this month: bottles will don one of 290 of the country's most popular names, while cans will get honourifics such as Mom, Dad, friend, co-worker and coach. The campaign, which has run in 50 other countries to date, has started to roll out in Canada, with the U.S. launch occurring around the same time.
Similar overall to the global executions, the Canadian program localizes its communication and its on-pack titles, says Sonia Bongiorno, senior marketing manager, Coca-Cola Canada, explaining how the Australian market might have more colloquial titles such as Mum or Mate.
"It's all about people taking a moment to share a Coke and connect with one another," she says.
And for those who can't find a name they're looking for in store, the brand has developed Share kiosks, where consumers can make their own mini can with a name of their choice. The kiosks will pop up at 76 locations this summer, such as the Calgary Stampede, the West Edmonton Mall, Canada's Wonderland and the CNE. The microsite Shareacoke.ca will list the specific locations, as well as offer users the chance to virtually customize a bottle of Coke, Coke Zero or Diet Coke, and share it on Twitter or Facebook.
The campaign will be supported by a 30-second TV spot slated to launch Aug. 1 in English and French Canada, a 60-second version to run in cinema, a 15-second teaser running in cinema and as digital pre-roll already in market, social, OOH, PR and in-store.
The Canadian spot is the same as the U.S. creative (check it out below), aside from differences in names on the bottles and campaign information, and centres on the experience of sharing, capturing the successive growth of a group of people who have come together.
"It's very much about being inclusive, and connecting and sharing with as many people as possible," says Bongiorno.
The campaign does not have a particular target and is geared at everyone, she adds.
Agency partners on the Canadian program include UM for media, Gravity for digital and social, Mosaic and MacLaren Momentum for experiential, The Hive for in-store, Environics on PR, Perennial for packaging and Publicis for Quebec adaptation.